As elite college programs continue to recover from COVID-19 outbreaks heading into Week 12, conference schedulers are running out of time to fit in make-up games, leaving the College Football Playoff struggling to justify a pro forma, four-team playoff.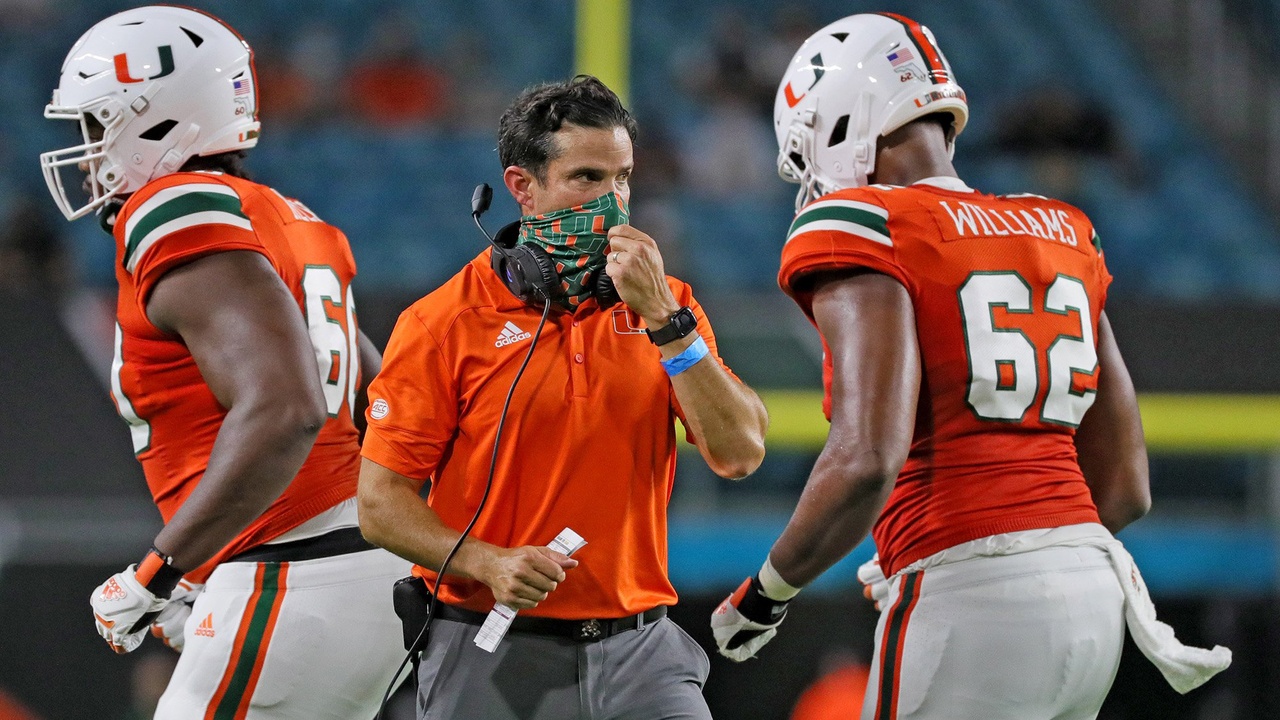 School and conference officials are still holding out hope that the CFP committee might come off the sideline to redirect the 2020 postseason and decide whether or not to continue the status quo, or entertain the option of an expanded, bubble-type playoff to cap the fractured 2020 season.
"In light of the pandemic and the varied schedules, and reduced number of games—including no non-conference games for most teams—the committee will have to evaluate," Pac-12 commissioner Larry Scott said. "I felt it was our responsibility and important to consider an expanded playoff that would include more teams and automatic qualifiers who are conference champions this year."
Playoff Picture Muddled as CFP Digs In
With every program vying for a playoff spot playing a different number of games, having a different number of infections, and having different health statuses, school officials and coaches say it's time to re-examine a four-team selection deadline that's only a month away.
"Whether it's six or eight, at some point in time, it's going to happen," Stanford coach David Shaw said in October. "We all know it; we all believe it. It's the only thing that makes sense."
Despite these questions and the suggestion that an expanded bubble playoff might be the only solution, the CFP semifinals selections are still set for Dec. 20. The four-team affair is still scheduled to kick off on Jan. 1 in Pasadena and New Orleans. The winners would then play in Miami 10 days later for the national championship.
But who would those four teams be? Would one be an undefeated USC, Oregon, Ohio State, or Wisconsin, with fewer than five games on its resumé? What about a one-loss Florida, Clemson, Texas A&M, Miami, or Oklahoma State — all programs that have been affected by critical losses from the virus?
What about undefeated outliers like BYU, Eastern Carolina, Northwestern, Liberty, Coastal Carolina, and Marshall?
"There hasn't been any discussion of a single-site bubble," CFP executive director Bill Hancock told ESPN last week when asked if the playoff committee is willing to revisit its protocols this season. "There's been no talk about a format change in the meetings of the commissioners and the presidents who manage the CFP."
Miami's Pause Shows Schedule Shuffle is the New Norm
College football programs are starting to announce COVID scratches earlier and earlier as infected teams can't field enough scholarship players and know they've no choice but to postpone or cancel sooner than later.
In the wake of last week's squeaker over Virginia Tech, Miami coach Manny Diaz said his No. 12 Hurricanes were "on the brink" of not being able to play. On Monday, the Hurricanes — down more than a dozen players — announced they won't play for the next two weeks in compliance with conference protocols.
The ACC has moved the Hurricanes' Nov. 21 game against Georgia Tech to Dec. 19, but only if the Hurricanes don't make the ACC Championship Game. Miami's Nov. 28 game against Wake Forest is now scheduled for Dec. 5 while their game against North Carolina — initially scheduled for Dec. 5 — moved to Dec. 12. The ACC also rescheduled a trio of other matchups to make room for the Hurricane's path to a perfect season.
Marshall Sidelined as Time to Make a Case Runs Out
No. 15 Marshall, slated to play Charlotte Saturday, also now have a cancellation due to Charlotte's COVID-19 outbreak.
"Marshall has a tremendous team, and it was a big opportunity to compete against them," Charlotte athletic director Mike Hill said in a statement. "It's incredibly disappointing. We will use this week to get healthy and wish Marshall the best this season."
Marshall won't play again until Dec. 5 at home vs. Rice. They'll finish their season at FIU on Dec. 12.
The scheduling gymnastics for Week 12 are just beginning as COVID-19 spikes nationwide. As teams from the five major conferences continue testing, contenders know they're running out of time to finish their schedules. With no changes to the CFP structure in the offing, programs in the hunt may be better off focusing on the health and safety of their athletes, coaches, and surrounding communities.