Our highlights usually focus on the weekend's best and most spectacular plays, but this week, we're looking at some touching moments that took place on the field in Week 11.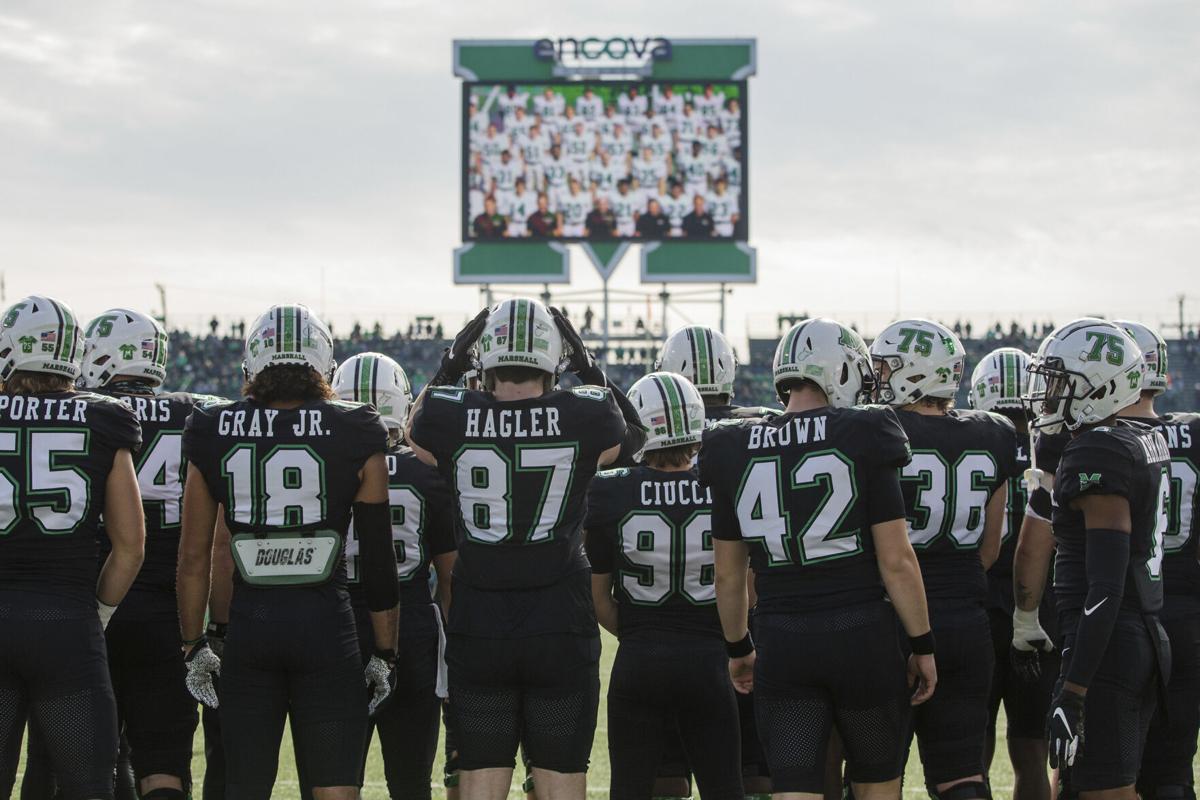 There was Kentucky's tribute for their coach who died earlier in the week, and Marshall's recognition of the 50th anniversary of the 1970 plane crash that killed 75 people, including 36 Marshall football players, and nine coaches and administrators.
There was also a touching moment with Indiana head coach Tom Davis, who quickly turned into a concerned father when his son was hurt. We take a look at those highlights, as well as others below.
Showing Love for Coach
On Thursday, Kentucky offensive line coach John Schlarman died after a two-year battle with cancer. The team was understandably devastated. They honored the 45-year-old uniquely by lining up without a left guard, Schlarman's position when he played at Kentucky.
Kentucky started the game by leaving the LG position open to honor OL coach John Schlarman, who passed away on Thursday 🙏 @UKFootball

(via @SECNetwork)pic.twitter.com/ebosxbG3Wc

— The Checkdown (@thecheckdown) November 14, 2020
After a delay of game penalty, which Vanderbilt declined, Wildcats' senior tackle came out onto the field wearing Schlarman's No. 65.
"John was everything we all strive to be — honest, tough, fair, respected," Kentucky head coach Mark Stoops said. "Kentucky football won't be the same without him, but his legacy will never fade. He was a fighter and we will strive every day to honor his warrior spirit."
Marking Marshall's Tragedy
On Nov. 14, 1970, a plane carrying nearly the entire Marshall football team and nine coaches and administrators, crashed into a hillside, killing everyone on board, including 36 players.
The team has never forgotten the horrific incident, which remains among the world's biggest sports-related tragedies After the current team won 42-14 over Middle Tennessee, they honored those who lost their lives.
Marshall wins and dedicates it to all the lives lost 50 years ago pic.twitter.com/uOIYUaWhK6

— BetOnline.ag (@betonline_ag) November 14, 2020
The team also wore black uniforms and a 75 decal, the number of people who perished in the crash, on their helmets.
"We knew that this game was going to mean so much to this fanbase and this community," Quarterback Grant Wells said after the game. "That's huge, no matter wherever we're playing or whoever we're playing. The fact that we could do this on the 50th anniversary is amazing."
Father First, Coach Second
Indiana head coach Tom Allen was pretty emotional when his son, Thomas, was injured during the team's 24-0 victory over Michigan State. The younger Allen suffered a leg injury and had to be taken off the field by a stretcher.
Indiana head coach Tom Allen embraced his son, Thomas, before the LB was carted off with an injury. pic.twitter.com/JUXn8B25BH

— ESPN (@espn) November 14, 2020
After the emotional moment, Allen talked about his son following the victory.
"He's gonna be all right; he's a tough kid. I love him so much, but it could be pretty serious," an emotional Allen said after the game. "It's hard to see your son out there, and I knew, by how tough he is, I knew by how he was responding that it was serious. It's hard to stand there and see that and have to keep coaching, but that's what you've got to do. You've got to be able to compartmentalize those things."
A Lighter Father-Son Moment
Another father-son moment was much more enjoyable on Saturday. Hall of Famer Jerry Rice's son Brenden caught his first collegiate football touchdown pass.
Colorado upsets Stanford to become 2-0 straight-up & against the spread.

HOF WR Jerry Rice's son Brendan scored his 1st-career TD.

💰COL +9.5
💰COL (+275)
💰over 54.5 pic.twitter.com/ADM4xLAfXh

— SportsBettingDime (@SBD) November 15, 2020
The younger Rice, a freshman for Colorado, helped the Buffalos upset Stanford, 35-32.
What a Toss!
Not the touchdown pass, which was impressive in itself, but the clipboard that Ole Miss head coach Lane Kiffin threw 30 feet in the air.
Never change, @Lane_Kiffin 😂 pic.twitter.com/YV4l8zGs4F

— SEC Network (@SECNetwork) November 15, 2020
The first-year coach for the Rebels celebrated even before the pass was thrown, then chucked his clipboard and ran down the sideline. Ole Miss went on to defeat South Carolina, 59-42.