The Georgia Bulldogs won their first college football national title since 1980 on Monday night, beating Alabama 33-18 in the College Football Playoff National Championship. But even that wasn't enough to unseat the Crimson Tide as favorites to win the crown next season.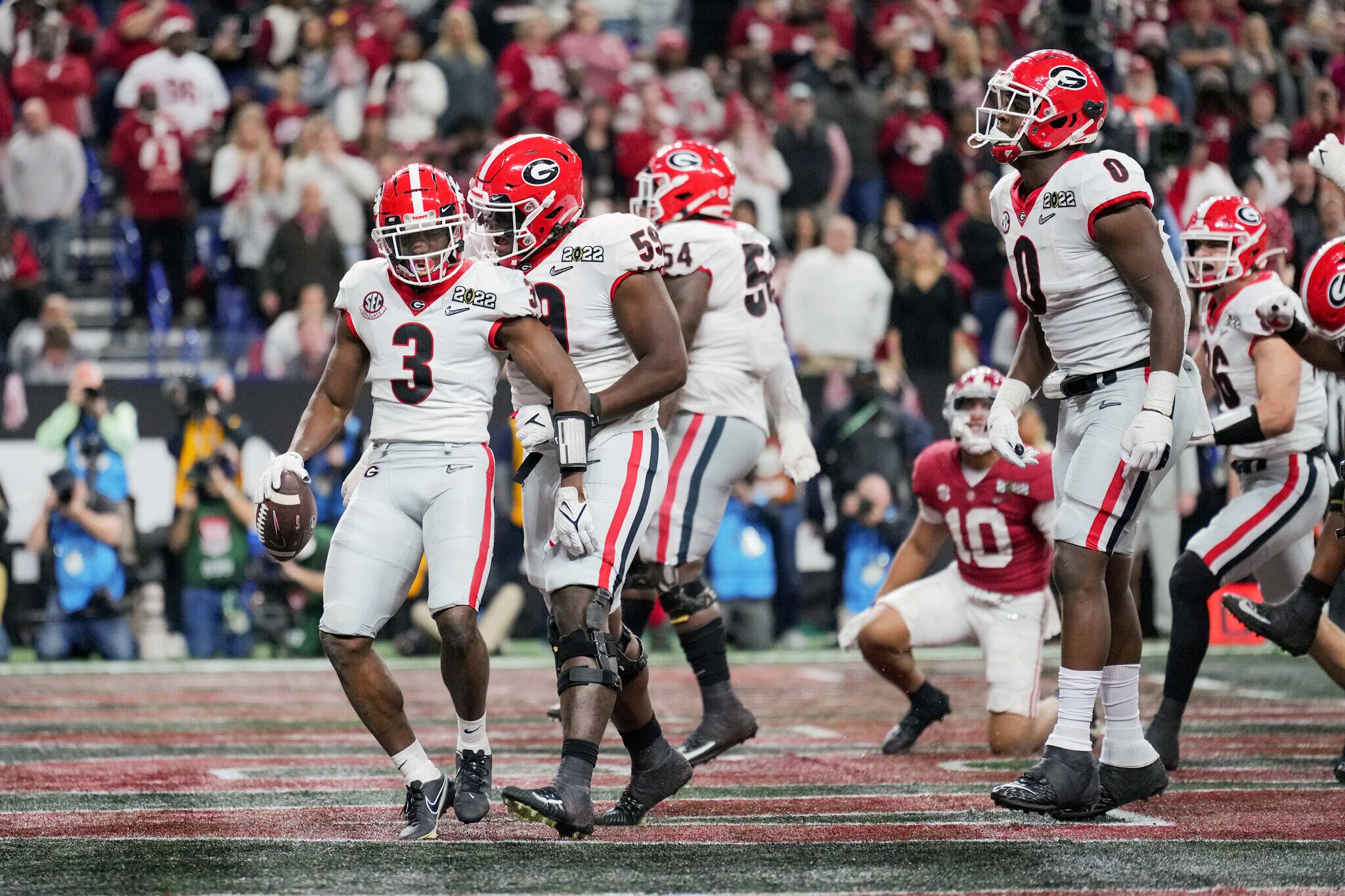 Alabama opened as the favorite to win the 2022-23 national championship at many sportsbooks, even before Monday's title game had ended.
Blue bloods dominate national championship odds
Even in the cold light of day after Georgia's win, Alabama remains on top. FanDuel Sportsbook lists the Crimson Tide at +200 to win next season's championship, just ahead of Georgia (+250).
The bigger story may be how far ahead the two SEC powerhouses have moved ahead of the field. While Ohio State sits as the third choice to win the next national championship, they are fetching +800 odds. Perennial contender Clemson, which has won two of the past six titles, rates as a +1000 pick after a down season.
After the top four, the odds lengthen even further. FanDuel lists Texas A&M, Oklahoma, and Michigan as +4000 picks to win the next championship, with Oregon (+4200), USC (+5000), and Florida (+5000) also among the outside contenders.
---
2022-23 National Championship Odds (via FanDuel Sportsbook)
Alabama: +200
Georgia: +250
Ohio State: +800
Clemson: +1000
Texas A&M: +4000
Oklahoma: +4000
Michigan: +4000
Oregon: +4200
USC: +5000
Florida: +5000
---
Preseason odds and rankings rarely mean much in college football. Michigan famously made the playoffs this year despite starting outside the AP Top 25. But the early odds reflect just how dominant the SEC – and, in particular, Alabama and Georgia – have been.
The College Football Playoff has existed for eight years. SEC teams have won five titles, and four more have been runner-ups. Alabama alone is responsible for six appearances in the CFP National Championship, winning three times. Throw in Clemson – which has won two titles in four appearances – and it's clear just a small number of college football powerhouses have dominated the landscape.
Georgia celebrates first title since 1980
For now, however, Georgia can celebrate a landmark title for its program. Monday's national championship was highly competitive up until the last minute of the game. Alabama led 9-6 at the half as the teams combined for just five field goals. Georgia took a lead late in the third quarter on a Zamir White touchdown run, only for Alabama to score twice to gain an 18-13 advantage with 10 minutes remaining.
From there, it was all Georgia. Stetson Bennett threw a touchdown pass to Adonai Mitchell to give the Bulldogs a 19-18 lead, then threw another with 3:33 remaining to stretch the advantage to 26-18. Bryce Young attempted to lead a final comeback drive in the final minutes, but a Kelee Ringo pick-six sealed the game with under a minute left.
"I hadn't cried in – I don't know, years – but that just came over me," Bennett said afterwards. "That's what – when you put as much time as we do into this thing, blood, sweat, tears, it means something."
Alabama's Heisman Trophy-winning quarterback Bryce Young threw for 369 yards and a touchdown along with two interceptions. After the game, Young took responsibility for the loss.
"We had a lot of opportunities, moved the ball relatively well," Young told reporters. "We didn't execute, and at the end of the day, that's on me."