Kamaru Usman will defend his welterweight championship against No. 2 contender, Colby Covington, in the main event of UFC 245 on Saturday in Las Vegas.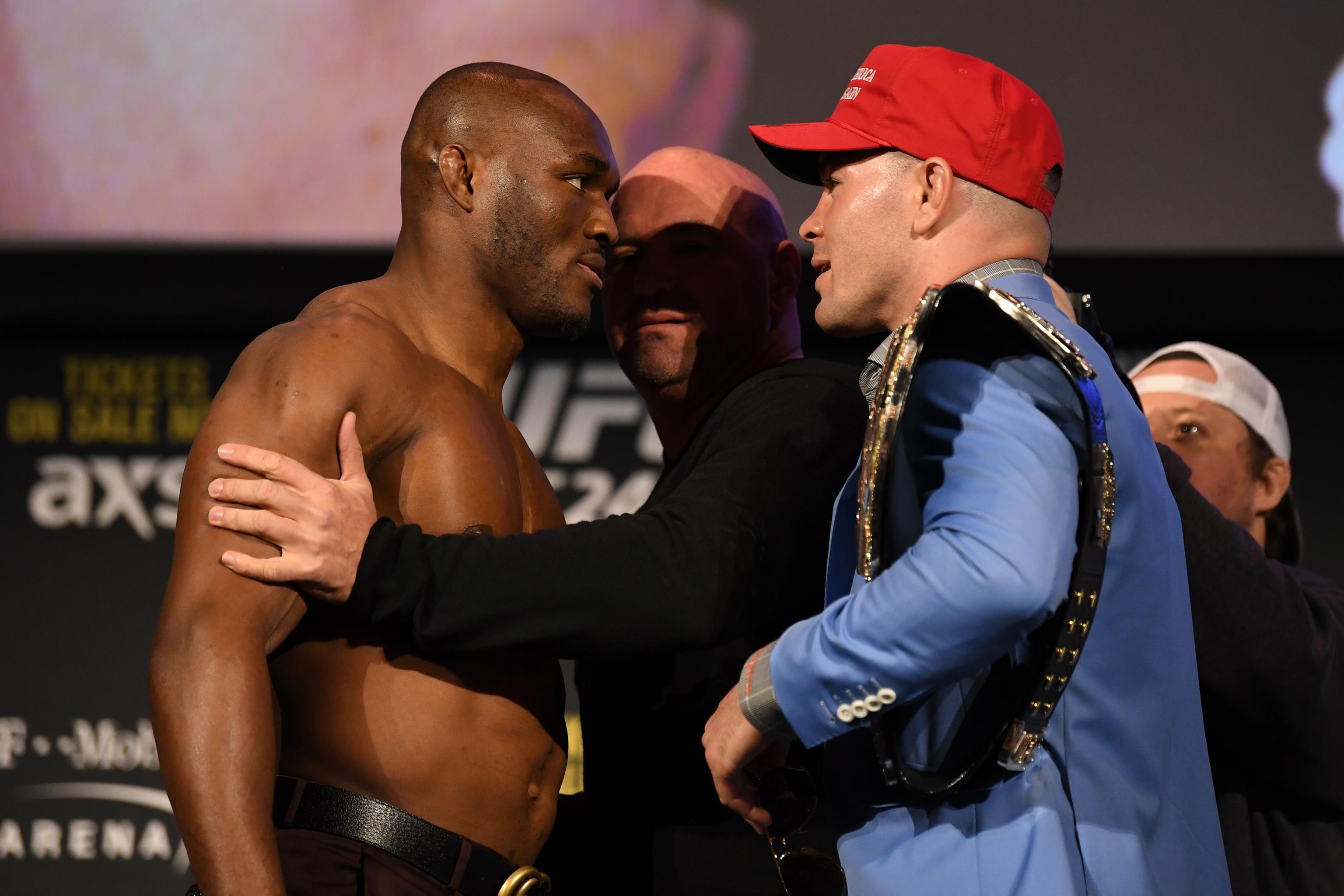 That fight is one of three championship bouts that will take place at T-Mobile Arena on Saturday night, making this one of the deepest UFC cards of 2019.
Usman Irked by Covington Talk
Usman comes into the fight as a -182 favorite over Covington (+148), according to UFC 245 odds posted by FanDuel Sportsbook. Usman (15-1) has a perfect 10-0 record in the UFC, with his only loss coming in just the second fight of his career back in 2013. Covington (15-1) comes in with nearly as impressive a resume, having won his last seven fights to earn his title shot.
Covington will come into the fight as the heel, a role he has embraced as a way to further his MMA career. As Covington himself admitted, playing up his support for Donald Trump and making outlandish statements during press conferences is a way to make sure the UFC keeps him on the roster, as his wrestling-heavy fighting style doesn't always create excitement.
That said, Covington can sometimes legitimately get under the skin of his opponents. That includes Usman, who he recently accused of using the performance-enhancing drug EPO – something Usman said he had never even heard of before Covington brought it up.
"I didn't know what that was, and then somebody explained to me what it was," Usman told reporters. "I haven't changed since the first moment I came to the UFC. I haven't changed from my first professional fight to my last fight."
Both men are excellent wrestlers with strong amateur backgrounds in the sport, but Usman may have the better striking game. That's likely to give the Nigerian the advantage, though it's hard to feel confident about this fight given how much both he and Covington have improved over the past few years.
Holloway, Nunes Also Defending Titles
The UFC 245 co-main event should provide a tough test for featherweight champion Max Holloway (21-4), as he takes on No. 1 contender Alexander Volkanovski (20-1). A former rugby player from Australia, Volkanovski has shown few holes in his game while ripping through the UFC's 145 pound division, culminating in a unanimous decision win over Jose Aldo in May.
"I took out Chad Mendes and Aldo is good, but this is the fight. This is the champ," Volkanovski told BJPenn.com. "If I go and do that, taking out legends of the sport, you can't argue I am one of the best featherweights of all time."
---
UFC 245 Odds
Kamaru Usman (-182) vs. Colby Covington (+148)
Max Holloway (-182) vs. Alexander Volkanovski (+138)
Amanda Nunes (-330) vs. Germaine de Randamie (+250)
Marlon Moraes (-230) vs. Jose Aldo (+184)
Petr Yan (-550) vs. Urijah Faber (+380)
Odds via FanDuel Sportsbook
---
As Volkanovski says, however, Holloway is another step up. The champion hasn't lost at featherweight match since 2013, and has held at least the undisputed title in the division since beating Aldo in 2017. Now, Holloway is looking at this fight – and future chances to take on the top fighters in other weight classes – as a way to ensure he goes down as an all-time great.
"Legacy is built over time," Holloway said to UFC.com. "Legacy is not overnight. You see these guys who think they have a legacy overnight, and then they fall off real fast, and I ain't about that life, so, at the end of the day, I'm going to make sure I'm here for the long haul."
Holloway (-182) comes into the bout as a favorite, but Volkanovski (+148) has a strong, well-rounded game that could pose the champion problems, making this an intriguing fight for fans and bettors alike.
Also on the UFC 245 card is a women's bantamweight title fight between champion Amanda Nunes (18-4) and No. 1 contender, Germaine de Randamie (9-3). Likely the least competitive of the three championship bouts, Nunes (-330) is a clear favorite after having already beaten de Randamie (+250) by first-round knockout back in 2013.