Amanda Nunes avenged her surprising loss to Julianna Pena last December with a dominant performance to reclaim her bantamweight title on Saturday night at UFC 277 in Dallas.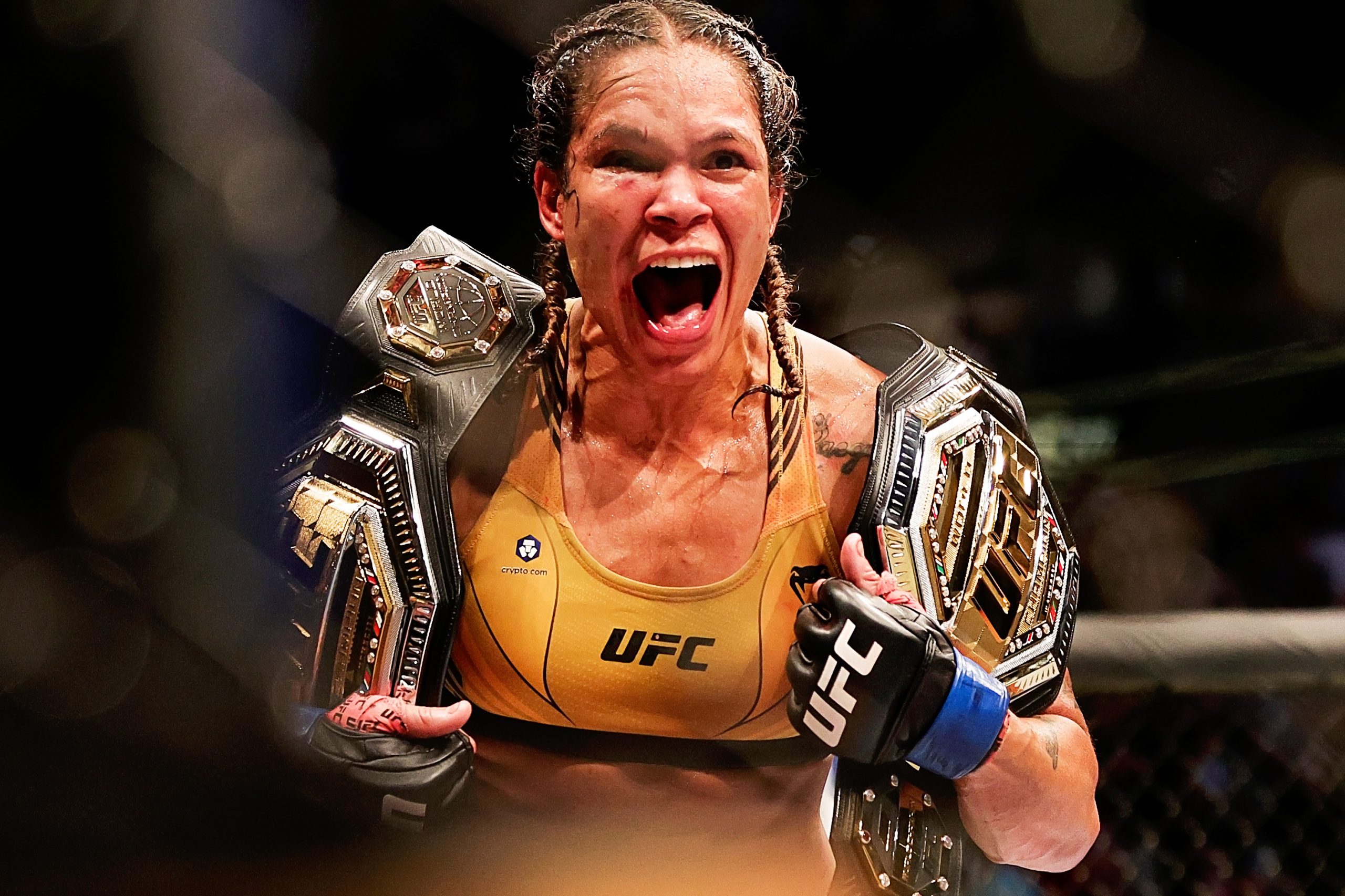 Nunes (22-5) won a unanimous decision over Pena (12-5), with judges scoring the bout 50-45, 50-44, and 50-43 in her favor.
Southpaw stance leads Nunes to clear victory
Judge Sal D'Amato gave Nunes a 10-8 score in the second round. Judge Douglas Crosby did also while adding another 10-8 score in the fifth and final round.
Nunes used a southpaw stance and improved wrestling to confound Pena. She dropped Pena three times in the second round alone, setting a record for most knockdowns in a single round by a woman in the UFC.
"The main thing was my southpaw," Nunes said afterward. "I knew she was not going to be able to adjust to that. She's not a striker."
While Nunes dominated throughout, she never found a way to finish Pena. UFC President Dana White found room to critique Nunes' performance because of this.
"As dominant as Amanda was, and she was dominant tonight – I don't think it was close in any way, shape, or form, I thought it was a complete shutout – she still looked a little gun-shy to me," White told reporters. "She had Julianna hurt many times, had her on crazy legs many times, and never really went in for the kill."
Nunes once again holds two titles in the UFC, as she is also the promotion's women's featherweight champion.
Moreno earns interim flyweight title
Brandon Moreno reclaimed some hardware on Saturday night, stopping Kai Kara-France in the third round of their interim flyweight title fight at UFC 277.
Moreno (20-6-2) scored a TKO win at 4:34 of the third round after dropping Kara-France (24-10) with a left body kick, then following up with ground and pound to force the stoppage.
The win will likely give Moreno a chance to fight Deiveson Figueiredo for the fourth time. The two split three fights between 2020 and January 2022. The first ended in a draw; Moreno won the second to take the flyweight title at UFC 263 before Figueiredo won it back by decision at UFC 270.
"This guy right here, tonight is his night and he is the champion," Figueiredo said via an interpreter after the fight. "I have a lot of respect for him … I want to take this fight home to Brazil."
UFC officials initially planned for Moreno and Figueiredo to fight for a fourth time this summer. However, Figueiredo had to drop out of those plans due to injury.
Commissions updates rules on eye pokes, sleeves
The Association of Boxing Commissions and Combative Sports (ABC) updated its MMA rules on Wednesday, changing the way referees will handle eye pokes going forward.
The new ABC rules will give fighters five minutes to recover after taking an eye poke, provided ringside doctors say the fighter might possibly continue. Previously, referees typically stopped the fight as soon as a fighter said they couldn't see. Referees also had discretion on how much time to give a fighter to recover, rather than the standardized five minutes for low blows. The new rule may allow more fights to continue after eye pokes.
In addition, the ABC approved the use of soft sleeves on knees and ankle joints, a rule that was currently inconsistent across various promotions and commissions. The ABC will also publish and distribute an MMA "scoring ladder" chart to help clarify judging criteria in the sport.