Julianna Pena came into her bantamweight title fight as a +650 underdog to reigning champion Amanda Nunes, according to DraftKings Sportsbook. She left UFC 269 as one of the most unlikely new champions in the promotion's history.
Pena scored a third-round submission victory at 3:26 of the second round to win the UFC women's bantamweight title on Saturday night.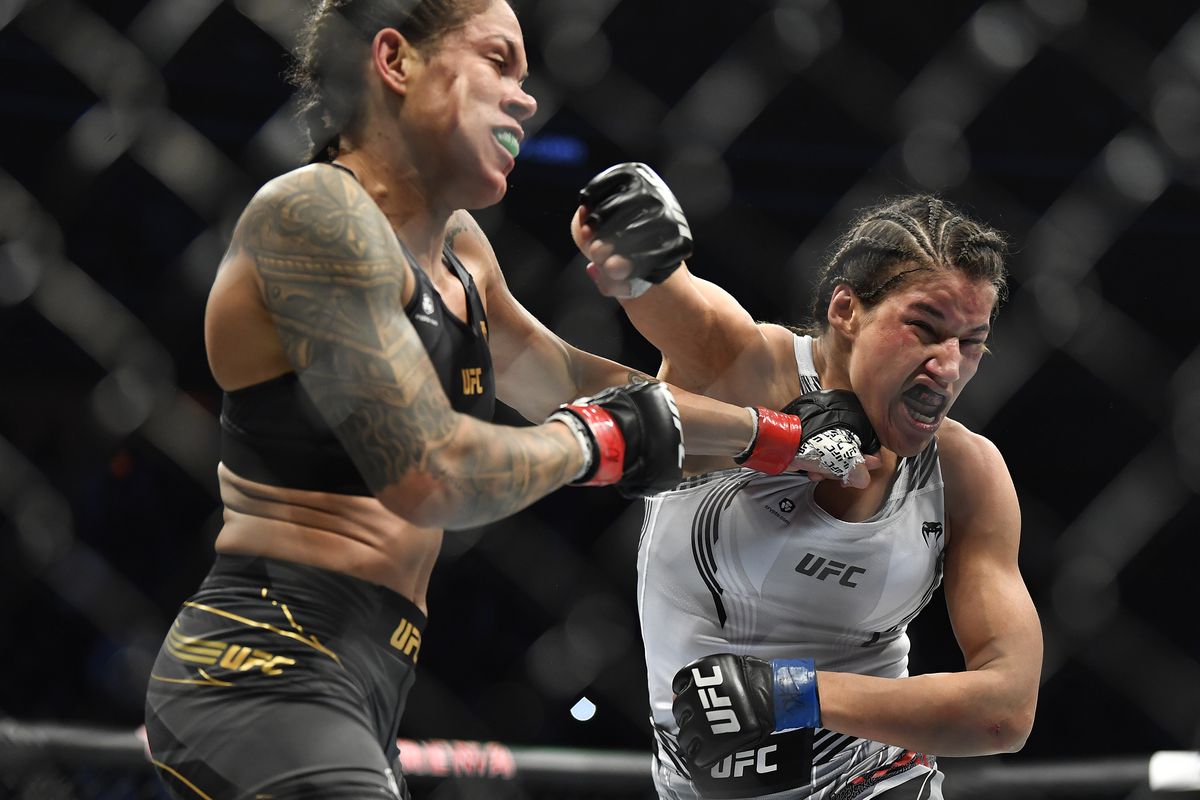 Nunes (21-5) opened the fight strong, dropping Pena with a right hand in the first round. But Pena (11-4) rallied back in the second round, landing effective punches despite her perceived disadvantage in the standup game. That paid dividends as Pena did obvious damage to the champion. She then took Nunes to the ground and landed a rear-naked choke to claim the biggest win of her career.
Pena offers rematch to Nunes
Pena wasn't immediately aware that the fight was over. She didn't feel Nunes tap out and thought the second round had ended.
"I said, 'What happened?'" Pena recalled asking the ringside doctor in a postfight press conference. "He said 'It's over, you're done. Congratulations.' I was like, 'Oh! Gee, I didn't even know.'"
Pena scored the fourth-biggest upset in UFC history, according to ESPN Stats & Information. But even if everyone else believed Nunes would win in a walkover, Pena believed in herself.
"Don't ever doubt me again," Pena said afterwards. "It feels crazy, but I expected to win. The world is my oyster. You have the ability to do anything you want in this life."
Nunes didn't make excuses for her loss, instead bemoaning her own effort.
"I know she's a warrior. I know she can come forward, and I know she can get hit and still keep moving forward," Nunes said afterwards. "I just today checked out. I still need to work on a couple of things. I'm going to keep working until I fix them, and soon I will come back to the gym and come back here."
Pena offered Nunes a rematch and the former champion – who still holds the UFC's featherweight title – quickly accepted.
"I undoubtedly accept the rematch," Nunes wrote on Instagram. "Give me a little time to get my shit together and I will be back better than ever."
Oliveira retains lightweight title as underdog vs. Poirier
Charles Oliveira secured his position as the man to beat in the UFC's lightweight division on Saturday, defeating Dustin Poirier by rear-naked choke at 1:02 of the third round in the main event of UFC 269.
Oliveira (32-8) came in as a slight +126 underdog to Poirier at FanDuel Sportsbook. The champion survived an early onslaught from Poirier, then took control on the ground, living up to his reputation as one of the greatest submission artists in UFC history.
"I don't care what people think. I don't care what they say," Oliveira told reporters via an interpreter after the fight. "So they say I can't take hits. Look at what I've been doing. They say I quit. Look at what I've been doing. So I'm just going to continue to do what I do."
Poirier (28-7) lost again in his second attempt to win the undisputed lightweight title. He was coming off of two straight victories over Conor McGregor.
"I worked hard to get back here and fight for another world title," Poirier told reporters. "I got choked out again. I'm just heartbroken, really."