Julianna Pena stunned the world when she beat Amanda Nunes by rear-naked choke in their women's bantamweight title fight at UFC 269. Now, she'll have to pull another upset if she wants to hold on to her championship at UFC 277 this Saturday at the American Airlines Center in Dallas.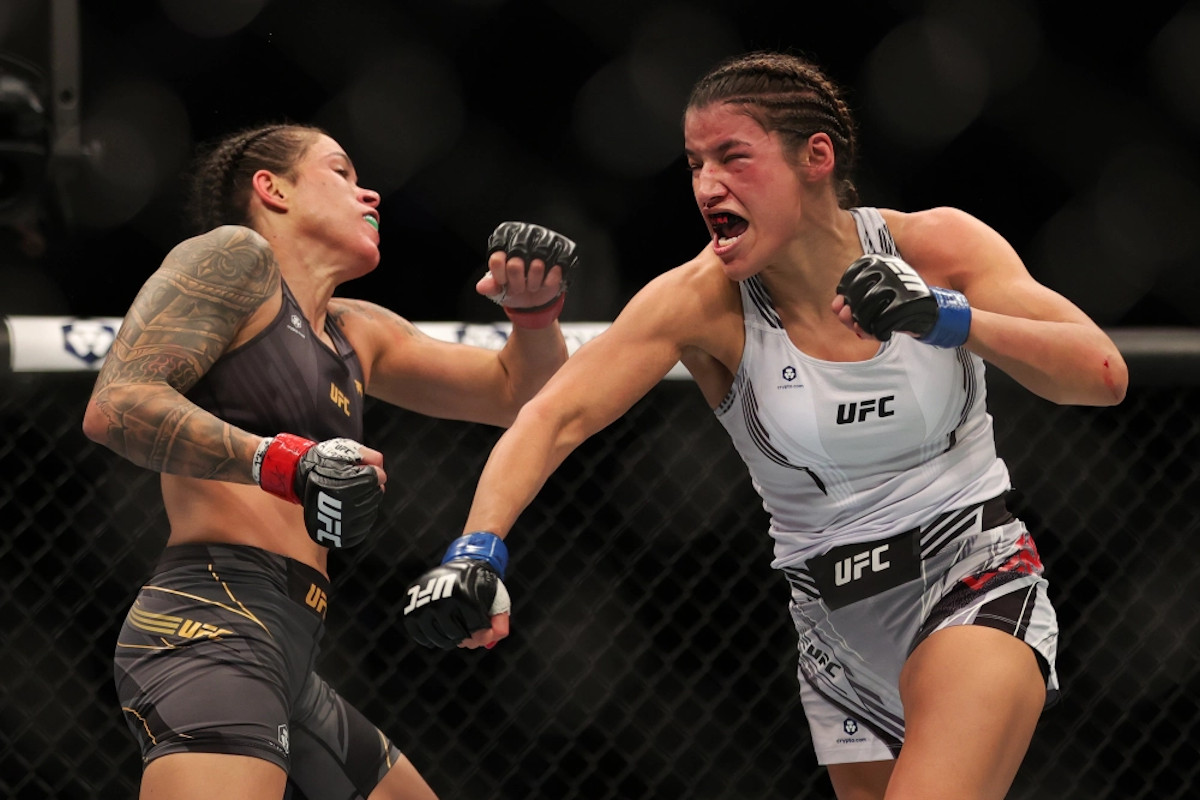 DraftKings Sportsbook lists Nunes as the -260 favorite over Pena (+220) to reclaim her title.
Nunes: I'm '100 percent' for title rematch
Nunes (21-5) came into the first fight against Pena as a more overwhelming -1000 favorite. Yet it was Pena (11-4) who claimed a decisive win over the woman who many believe is the best female MMA fighter of all time. The second-round submission sent shockwaves through the UFC, and set up an inevitable matchup.
Nunes still holds the UFC Women's Featherweight Championship. The 34-year-old Brazilian says she's ready to regain her status as a double champion on Saturday.
"We're here, and Saturday I'm going to be 100 percent, and I'm going to beat her," Nunes told reporters ahead of UFC 277. "Saturday is my opportunity to get my belt back."
Nunes says she won't be making any major changes for the rematch, though she wants to be better than she was last December.
"I just have to be precise with my shots," Nunes said. "Of course, everyone makes mistakes, and I made one. But I adjusted and got everything tight and sharp. Saturday, I will show you guys I deserve my title back."
Champion ready to prove first win was no fluke
Meanwhile, Pena is focusing on defending her new title. While there has been talk that Nunes wasn't at 100 percent for the first fight, the champion says there will be no excuses the second time around.
"It's frustrating," Pena said of the ideal that Nunes was at less than her best in their first fight. "They said that she slipped on a banana peel and that's why she lost that night. But that's not the case, and that's what we're doing here. We're going to run it back and do it again, and maybe you guys will finally put some respect on my name."
Pena wasn't shy in telling reporters exactly the lengths she will go to in order to retain her title.
"I'm going to punch, kick, pull her hair," Pena told reporters. "I'm going to bite her, I'm going to gouge her eyeballs out if I have to. I'm literally going to do everything in there. Trust me when I say I am ready and willing to die. Whatever it takes, I'm going to do whatever it takes."
Most observers agree that Nunes is the more skilled fighter in this matchup. If the fight is just about who can perform better at their best, then Nunes is the clear pick. However, cardio has become an increasingly serious issue for Nunes. Meanwhile, Pena is well-positioned to take advantage of a tired or weakened opponent. The longer the fight goes, the more Pena could enjoy an edge in athleticism.
Or, maybe, Nunes will come back stronger than ever on Saturday. At the very least, that's what she's saying heading into the fight.
"I will be there ready to be even better than her," Nunes said. "She really is going to face a lioness she didn't see last time, so I'm ready."