One of the biggest villains in the UFC will get a chance to prove he deserves a shot at the welterweight title as Colby Covington takes on Robbie Lawler in the main event of UFC on ESPN 5 on Saturday.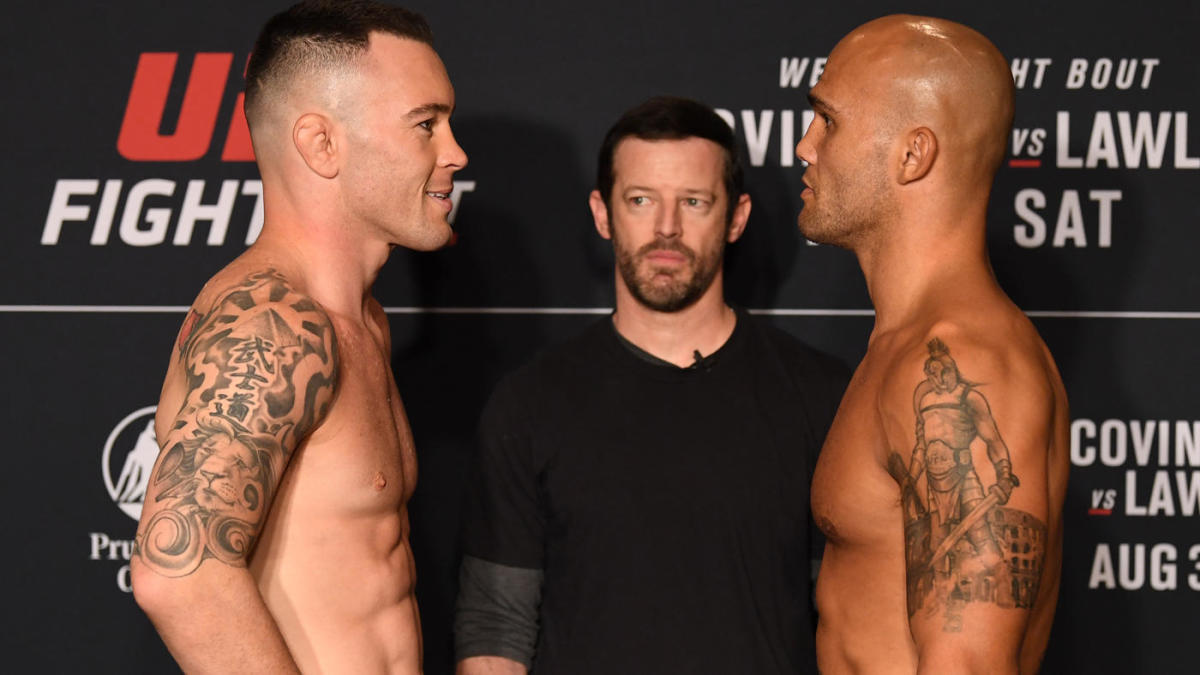 Both Covington and Lawler are former champions, with Covington having briefly held the interim welterweight belt after beating Rafael dos Anjos at UFC 225 last June.
Covington Embraces Role of UFC Villain
Covington was then stripped of that title when he wasn't available for a title unification bout with Tyron Woodley due to nasal surgery. But he remains one of the top welterweights in the UFC, and is currently ranked behind only No. 1 contender Woodley and champion Kamaru Usman.
That means that Covington probably won't have to wait long for another title shot, provided he doesn't slip up on Saturday. But unlike many fighters on the verge of a championship, Covington has a lot of MMA fans rooting against him.
Whether it's for his conservative politics – Covington often wears a MAGA hat, and will have Donald Trump Jr. and Eric Trump watching him fight at UFC on ESPN 5 – his constant trash talking, or his over-the-top shtick, it seems like just about everyone has some reason to root against the 31-year-old former college wrestler.
But that also makes him one of the UFC's biggest draws, and Covington says that's all by design. With a wrestling-heavy style that can sometimes be light on explosive action, he saw playing up his brash personality as a way to stand out.
"A lot of these fighters, they care what people think of them," Covington told ESPN. "I don't care what people think of me. Either you like me or you hate me, but you're going to tune in to watch me."
Covington tried to engage Lawler in some trash-talk after their weigh in on Friday, but the 37-year-old former champ predictably stayed away from rising to the bait. Lawler won the welterweight belt back in 2014 and defended it twice before Tyron Woodley handed him a first-round knockout at UFC 201 in 2016.
Lawler Focused on Fighting, Not Talking
Lawler has now lost three of his last four fights, dropping his ranking to No. 11 in the division. But he remains a dangerous opponent for virtually anyone in the world, and could get himself one last run at the title if he can upset Covington this weekend.
There's a little added beef in this fight, due to the fact that Lawler left American Top Team, which Covington – who still trains there – has tried to frame as a betrayal. But Lawler has remained focused on the fight rather than engaging in a war of words with his opponent.
"I don't have a problem with him or ATT, I'm just not there anymore," Lawler said, via UFC.com. "It's a fight; we're going to go fight and that's it. It doesn't matter what he's saying."
Based on recent form and where both men are in their careers, it would be easy to see Covington has a massive favorite. But DraftKings Sportsbook has Covington as just a -230 pick over Lawler (+185), and a lot of that comes up to stylistic problems that favor the underdog.
Most notably, Lawler is an excellent striker, while Covington's biggest shortcoming is his stand up defense, meaning he's likely to take some punishment while he tries to grind out a decision over five rounds. It's not particularly likely that Lawler will find a knockout, but the potential is there, which means there will be drama even if Covington is well ahead on the cards late.
But while Covington's path to victory might be based around sticking to a game plan that emphasizes his wrestling skills, that's not how he's selling the fight.
"You're going to see crazy stuff from second one," Covington told Sports Illustrated. "High octane. High energy. High pace. It's going to be a show."