The Malibu Stakes is the bow on the 2020 racing season. It gives horseplayers and racing fans a deserving end to this year's wild, unpredictable runaway roller coaster that was Horseracing 2020.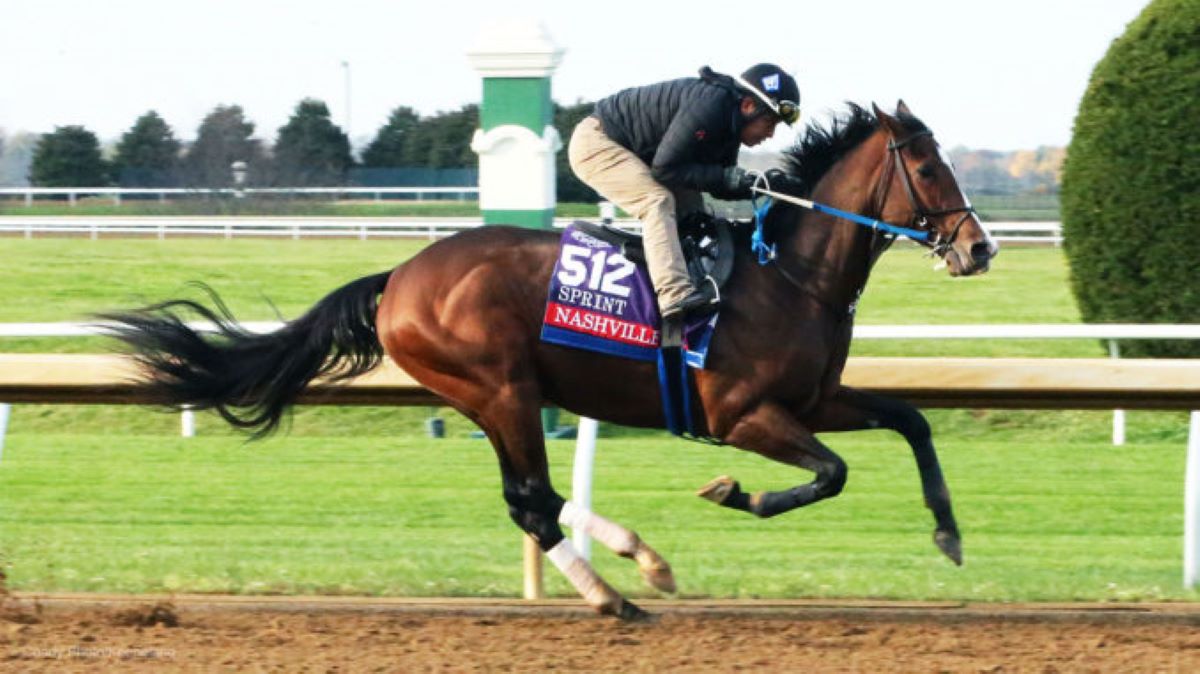 There's Nashville, he of the freakish speed. There's Charlatan, he of the one-time Kentucky Derby favorite status. There's Independence Hall, he of the Derby favorite status this time last year. There's Collusion Illusion, he of the only Grade 1 victory in this field. And there's Thousand Words, he of the, well, who knows?
The Grade 1, seven-furlong Malibu Stakes is the fifth and final graded stakes on Santa Anita Park's opening day to its Winter/Spring Meet. At the same time, it wraps up 2020's Grade 1 races across the US. Come Friday, the six 3-year-olds in the $300,000 race become 4-year-olds.
Come Saturday, however, the Malibu Stakes is the center of the racing universe. In undefeated Nashville and Charlatan, it features two of the most dynamic, exciting runners in the country. In Thousand Words and Collusion Illusion, it features two of the most unpredictable. And in Independence Hall, it features one of the most enigmatic.
Malibu Stakes Brings 'What if?' to Life
Yes, the Malibu isn't lacking in talent or storylines. What better to end a year like 2020 with than a race featuring talent, storylines – and just plain quirkiness? Five of the six horses own stakes victories. Three of them were – at one time – placed on the top shelf of 2020 Derby contenders. And Bob Baffert, the king of Santa Anita trainers who saddles Charlatan and Thousand Words here, is 3-for-46 in the Malibu.
And yet, the favorite never sniffed the Derby Trail and doesn't have a graded stakes victory. That would be Nashville (6/5), who hasn't sniffed much except open space in his three races. In those three races, Nashville went gate-to-wire, destroying his competitors by a combined 24 ¾ lengths. And in those three races, Nashville has led at every call save one: the start in his first race Sept. 2 at Saratoga.
Not that this mattered. Trained by Steve Asmussen, Nashville broke his maiden in that race by 11 ½ lengths.
Nashville Writes Himself a Keeneland Track Record
That was an appetizer for what happened in the Black-Type Perryville Stakes victory on the Breeders' Cup undercard last month. Nashville's 3 ¼-length victory left jaws agape. Even geared down by jockey Ricardo Santana in deep stretch, his 1:07.80 six-furlong time broke Keeneland's track record for that distance by more than a half-second. It also came with a blazing 21.54-second quarter mile, 43.87-second half-mile, 103 Beyer Speed Figure and 115 Equibase Speed Figure.
And yet, expect Nashville to have company at the front of the Malibu Stakes pack. Waiting for him is fellow Speightstown progeny Charlatan (9/5). After his resounding victory in the weaker of the two Arkansas Derby divisions in early May, Charlatan was considered one of the Derby favorites.
Why not? Charlatan won his first three races by a combined 22 lengths. His March allowance victory at Santa Anita came by 10 ¾ lengths and brought a 106 Beyer with it. Then, an ankle injury in June took him off the Derby Trail and put him on the shelf for more than seven months. Right after that, a positive drug test stripped him of his Grade 1 Arkansas Derby victory.
Can Charlatan Regain His Lost Momentum?
Nobody who saw the six-length victory, however, discounts what Charlatan is capable of on the track. You can, however, question what this layoff means to Charlatan vis-à-vis an in-form Nashville.
Once upon a time, the same could be said for Independence Hall (4/1). After winning the Jerome Stakes at Aqueduct on New Year's Day, Independence Hall was 3-for-3 and the Derby Flavor of the Moment. Right after that, the Flavor of the Moment turned sour. Independence Hall finished second to Sole Volante in the Grade 3 Sam F. Davis, then laid a pterodactyl-sized egg in the Florida Derby. He finished fifth, nearly 12 lengths behind Tiz the Law.
That put Independence Hall on the shelf for 7 ½ months and prompted owner Aron Wellman to move him to Mike McCarthy's barn. McCarthy took Independence Hall out of time-out last month and watched him win a 6 ½-furlong Del Mar allowance by 1 ½ lengths.
Independence Hall Sneaking Back Into the Picture
This could mean Independence Hall's previous form can function again. Earlier this month, he ran a bullet 59-second five furlongs, the best of 83 horses covering that workout distance that day.
That brings us to the third once-upon-a-time Derby Flavor of the Moment – Thousand Words (8/1). The $1 million purchase and Bob Baffert stablemate to Charlatan opened his career with three consecutive victories. He's 1-for-6 since, with the Listed Shared Belief Stakes at Del Mar representing his only win since.
A one-time trendy Derby pick, Thousand Words fulfilled his head-case reputation moments before heading out to the Churchill Downs gate for the Derby. He went haywire while being saddled, flipped over and broke assistant trainer Jimmy Barnes' wrist. That got him scratched from the race. His subsequent non-threatening eighth in the Preakness a month later scratched his reputation further.
Collusion Illusion's Form Disappeared This Fall
Speaking of head-scratchers and reputation-scratchers, here's Collusion Illusion (8/1). The owner of the only Grade 1 victory in the field – this summer's Bing Crosby Stakes at Del Mar – Collusion Illusion opened 2020 with three consecutive victories.
Then, his form became an illusion. He finished third by less than 1 ½ lengths in the Grade 2 Santa Anita Sprint Championship. Then, Collusion Illusion checked out of the Breeders' Cup Sprint, finishing a woeful 12th with a pitiful 87 Equibase that marked a 28-point drop from his previous outing.
Malibu Stakes
Morning Line (Jockey)
Collusion Illusion, 8/1 (Flavien Prat)
Thousand Words, 8/1 (John Velazquez)
Nashville, 6/5 (Ricardo Santana)
Charlatan, 9/5 (Mike Smith)
Express Train, 15/1 (Juan Hernandez)
Independence Hall, 4/1 (Joel Rosario)
You could try writing a better ending to 2020's Grade 1s. Instead, let this plot-rich, deep field do it for you.
The pick: Nashville. His slowest Equibase in three races is 106. His Keeneland track-record Perryville time was nearly three-quarters of a second faster than Whitmore's Breeders' Cup Sprint winning time over the same distance later that day. Barring injury or something amiss, you're looking at 2021's best American sprinter.