Oaklawn Park stewards suspended Hall of Fame trainer Bob Baffert for 15 days and stripped two of his prize horses of victories for their positive drug tests for excessive amounts of a banned substance.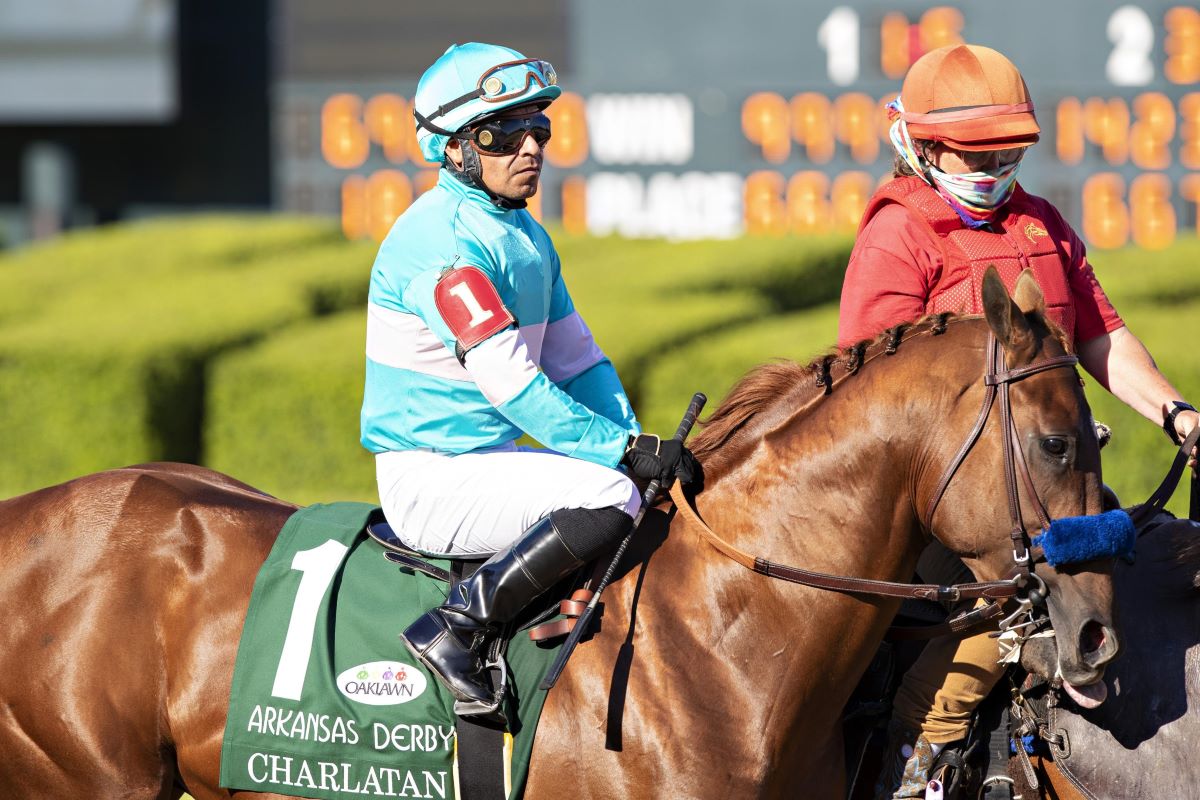 The decisions came down Wednesday, two days after a hearing addressing the excessive amounts of lidocaine found in both Charlatan and Gamine. Stewards directed Baffert's suspension to begin Aug. 1 and run through Aug. 15. They also called for the disqualification of both horses from their victories on Oaklawn Park's May 2 card. Charlatan won the first division of the Arkansas Derby and Gamine, a filly, won an allowance on the Arkansas Derby undercard.
Along with his owners forfeiting the $300,000 first-prize money, the decision docks Charlatan the 100 Kentucky Derby qualifying points he earned for the victory. The points redistribution starts with runner-up Basin, who lost to Charlatan by more than six lengths. Interestingly, Basin – who grabbed 40 for his second-place finish — earned the 60 extra points the same day his connections pulled him and his 110 Derby points off the Derby trail.
The derby trail was fun with Basin. Time to shorten him back up. Hopefully get back on it next year with this guy! Freer looking great! pic.twitter.com/6L3auLOW0L

— Jackpot Farm (@jackpotfarm) July 12, 2020
They made that announcement via tweet on Wednesday after Basin finished a dismal 10th in last Saturday's Blue Grass Stakes.
Derby Points Dominoes Fall Unevenly Among Contenders
Charlatan's 100 points also became dead points since he will miss the Derby with an ankle injury. The falling points dominoes skipped Gouverneur Morris, who was elevated from third to second. He departed the Derby trail last month after suffering a bout of colitis. But fourth-place Winning Impression now has 20 points and sits 24th on the ladder. Anneau d'Or, who went from fifth to fourth, sits in 18th place with 32 points. He's in the field for now.
As for Gamine, her connections surrender $36,000 – her winning share of the allowance purse – and the win to Speech. That filly vaulted off that performance into a runner-up to Swiss Skydiver in the Santa Anita Oaks and a victory in last weekend's Ashland Oaks at Keeneland. Gamine, meanwhile, went out a month later and dismantled her counterparts by 18 ¾ lengths in the Grade 1 Acorn Stakes at Belmont Park.
As for bettors, pari-mutuel wagering isn't affected by post-race drug test results. So bettors who cashed tickets on either or both horses keep their winnings.
Baffert Maintains His Innocence, Will Appeal
That housekeeping out of the way, Baffert and his attorney – Craig Robertson III – both said they will appeal the decision. Robertson maintains it was inadvertent contamination from assistant trainer Jimmy Barnes, Baffert's chief lieutenant, who broke his pelvis. Robertson said Barnes administered a Salon Pas medicinal patch that contained Lidocaine to his back, then transferred the drug to both horses through tongue ties.
"We're just very disappointed because we thought we put on a very compelling defense that it was innocent contamination. We're definitely going to appeal it," Baffert told the Associated Press. "People in the industry are aware that we haven't done anything wrong."
The Arkansas Racing Commission will hear any appeal. There, commissioners will consider testimony and evidence, and then issue their ruling.
Lidocaine Regulated to Prevent Running an Injured Horse
An anesthetic, lidocaine in and of itself isn't banned. But its use is carefully monitored to ensure trainers aren't using it to mask pain in an unsound horse. The Racing Medication and Testing Consortium guidelines – which are followed by the Arkansas Racing Commission — stipulate no more than 20 picograms per milliliter of plasma or serum turn up in a horse on race day. A picogram is one-trillionth of a gram.
The post-race drug tests revealed Gamine's test at 185 picograms – more than nine times the permitted threshold. Charlatan came in at 46 picograms, more than twice the limit.
"The trace levels of lidocaine found in both Charlatan and Gamine would have had no pharmacological effect, much less a performance-enhancing one on either horse. Zero," Robertson told Bloodhorse.