Gamine gets her name from a French word describing a slim, elegant young woman who is perceived to be mischievous or teasing. And her dominating victory at last Saturday's Grade 1 Acorn Stakes at Belmont Park teased racing fans and media into thinking maybe she can run with the boys in the Kentucky Derby.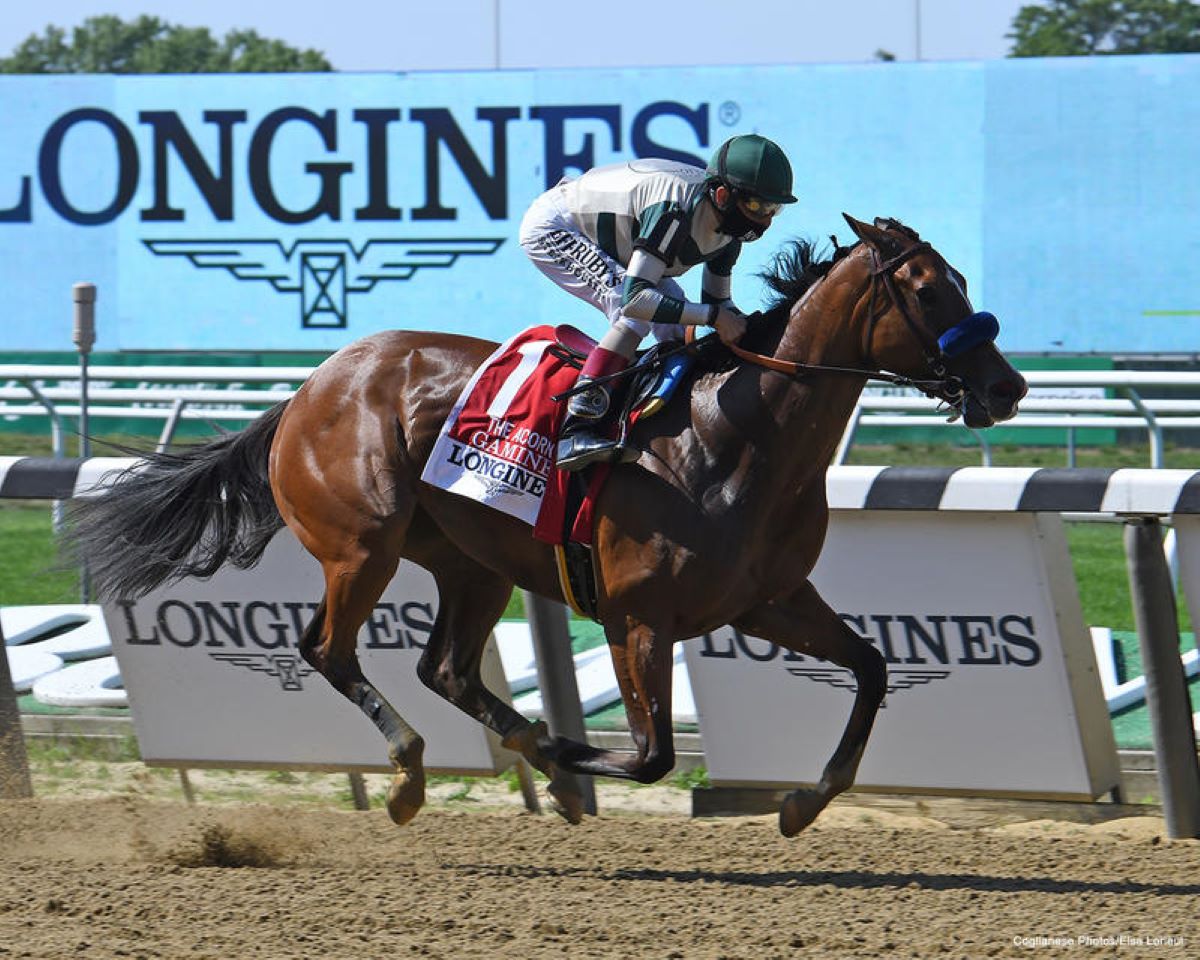 Until her trainer, Bob Baffert, ended speculation about that almost as soon as it began. Baffert told several reporters inquiring about Gamine's possible Triple Crown whereabouts that he didn't nominate the 3-year-old filly for the Derby. Instead, Gamine likely heads to the Sept. 4 Kentucky Oaks where she's your current 7/4 favorite on overseas futures boards.
That's a hefty whittling of Gamine's previous odds, which were 7/1 before she destroyed the Acorn field by 18 ¾ lengths on Saturday's Belmont Stakes undercard. It's easy to understand when you consider Gamine's 110 Beyer Speed Figure was not only 10 points above Tiz the Law's winning Belmont Stakes number, but the best Beyer turned in by a 3-year-old this year.
Gamine's mile time of 1:32.55 shattered the Acorn record by more than a second and was barely a half-second short of Belmont's mile record of 1:32.24, set by Najran in 2003. All this translates into Gamine becoming the Oaks favorite and previous favorite, Swiss Skydiver, getting her odds hiked to 5/1.
Baffert Resists Derby Temptation, but the Preakness?
Baffert told Thoroughbred Daily News, among others, that he didn't nominate Gamine for the Derby because he doesn't want to "be tempted." In the next breath, he didn't rule out running her in this year's third Triple Crown jewel – the Oct. 3 Preakness Stakes.
"Things change and we're not ruling anything out. Maybe the Preakness," he told TDN. "If we take a shot, that would be the most likely race."
If Gamine does run with the boys, doing it at the Preakness makes sense on a couple of fronts, most notably because of geography. Gamine's owner, Danish jewelry tycoon Michael Lund Petersen — one of the founding shareholders of Pandora Jewelry — lives in Maryland. And, because Petersen missed the June 3 late-nomination deadline, he'd have to fork over somewhere around $250,000 to enter her in the Derby.
Had Petersen nominated her before June 3, it would have cost a mere $3,000.
Gamine Still Has Work to Do on Oaks Trail
This likely puts Gamine back on the road again for at least one more start. She picked up 50 points for her Acorn win and currently sits 12th on the Oaks qualifying points list. Churchill Downs limits entries to 14, meaning Gamine needs another Oaks prep to ensure her spot in the starting gate.
Since there are no Oaks qualifiers at Del Mar – where Baffert holds court during the summer — Gamine could run the July 18 Grade 1 American Oaks at Saratoga. That offers 100-40-20-10 Oaks qualifying points and enough of a time cushion between her crushing Acorn victory and the Kentucky Oaks.
A daughter of Into Mischief, the same sire of Baffert's Derby hopeful, Authentic, Gamine went for $1.8 million at Fasig-Tipton's Midatlantic 2-year-old sale last May. Petersen paid the highest price for a 2-year-old at the sale, then watched as Gamine broke her maiden in her March 7 debut at Santa Anita.
From there, Gamine went to Oaklawn Park, where she nipped Speech by a neck in an allowance race on the Arkansas Derby undercard. In the aftermath of that race, however, Gamine and stablemate Charlatan reportedly tested positive for an excess amount of lidocaine. Baffert hasn't commented on the matter other than to express disgust for information on the initial – or "A" sample – being released. He reportedly exercised his right to have the "B" sample tested. Those results have not come back yet.