On New Year's Day, after he romped to a 4 ¼-length victory in the Jerome Stakes at Aqueduct, bookmakers and fans alike considered Independence Hall one of the 2020 Kentucky Derby favorites. On April 6, his connections took him off the Derby trail.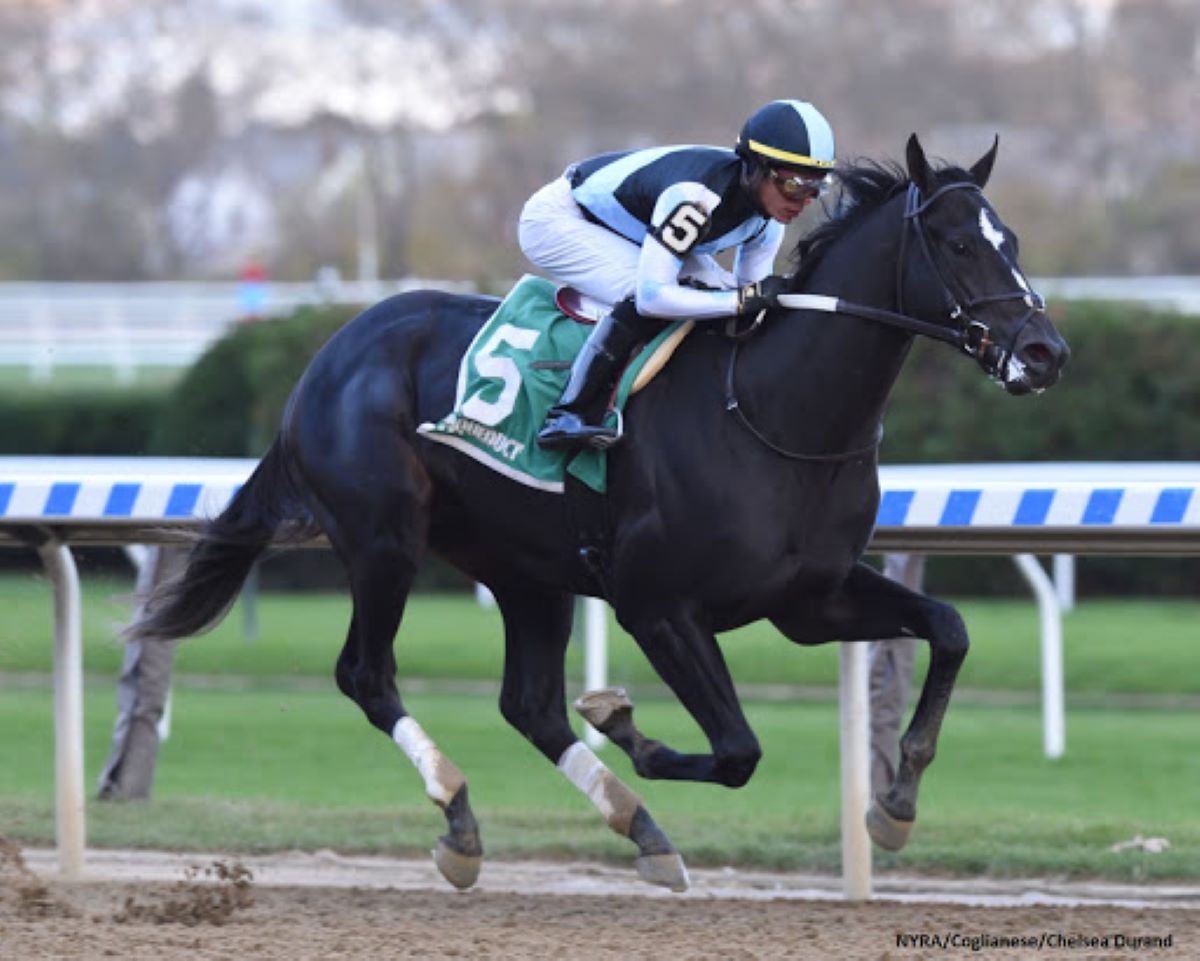 Aron Wellman, the managing partner for Eclipse Thoroughbred Partners, one of the owners of the 3-year-old product of Constitution, said in a statement that Independence Hall returned to his Maryland home and trainer Mike Trombetta. He will likely focus on one-turn races for the rest of the year.
With all the remaining major Derby preps being two-turn races, it appears Independence Hall is off the trail. That decision came after he finished a well-beaten fifth – 10 ½ lengths behind Tiz the Law — in the Florida Derby. That loss came the first time Independence Hall stretched out to 1 1/8 miles, apparently a furlong too far for his comfort zone.
Never Comfortable Going More Than A Mile
"He didn't come out of the gate sharp, which put him behind the 8-ball, and he had to muscle his way by a pack of horses and go four or five wide around the first turn just to get position," Wellman said in the statement. "It just never seemed like he was all that comfortable out there and when the real running started, he really offered up no bid, unfortunately."
That loss came seven weeks after Independence Hall ran second as the favorite in the 1 1/16-mile Sam F. Davis at Tampa Bay Downs. In that race, he lost both his tongue tie and a front shoe.
Independence Hall's Derby Trail exit illustrates the capricious nature and difficult path Derby Trail horses and their connections face — a trail lengthened by the Derby's move from May to September. Putting injuries and other form reversals aside, some horses find two turns a bridge too far. Independence Hall appears to be one of those horses and his savvy connections realized it.
"There's just no margin for error in these Grade 1 races, and things didn't go as smoothly as we would have hoped," Wellman said. "But the takeaway internally for our team right now is that maybe it's best to focus on the big one-turn races for 3-year-olds for the remainder of the season and see if we can recapture his brilliance and explosiveness, and really solidify his residual value as a stallion prospect."
Three Months Can Make a Difference for Derby Prospects
Three months ago, things looked very different for Independence Hall. After winning the Jerome as the 1/10 favorite, William Hill tabbed him the 10/1 second-favorite in its Derby Futures odds list, trailing only Tiz the Law.
With good reason. Independence Hall prepped for the Jerome by winning his second race at Parx Racing in Pennsylvania – a maiden special weight – by 4 ¾ lengths on Sept. 21. Six weeks later, he destroyed the field by 12 ¼ lengths in the Grade 3 Nashua Stakes at Aqueduct, breaking the race record by more than three-quarters of a second. His 101 Beyer Speed Figure was the highest recorded by a 2-year-old in 2019.
There were signs, however, that Independence Hall wasn't flawless. He started poorly in each of his first three races and in his last two of 2019, he didn't respond to the whip. That could illustrate a mental block that, at the end, even his considerable talent couldn't overcome at longer distances against better horses.
It's not like Independence Hall is done. He owns three victories and a second in five career starts. He is a gifted horse with speed aplenty. Just not over two turns.
In the most recent Kentucky Derby Future Wager pool, Independence Hall wasn't among the 23 listed horses.
Plenty Of Options Remain For Independence Hall
So what's next for Independence Hall? That depends on when live racing resumes at most tracks around the country. There are seven-furlong races such as the Grade 1 Woody Stephens and H. Allen Jerkens in New York, the Grade 1 Malibu in California, and the Grade 3 Pat Day Mile in Kentucky that would be in Independence Hall's distance wheelhouse.
"Obviously none of us know what the schedule entails right now, but there's a lot of important, prestigious one-turn races, and he's proven his brilliance around seven-eighths and a one-turn mile," Wellman said. "As much as we would all love to continue to pursue the Derby path, we have to do what's best for the horse and for our partners, and that seems to be the most prudent thing to do moving forward. If he earns his way back into two-turn races, great, but we're going to focus on recapturing his brilliance around one turn for now."