In a significant effort to reduce overbreeding among thoroughbred horses, The Jockey Club implemented a new rule limiting stallions to covering (or mating with) 140 broodmares per year.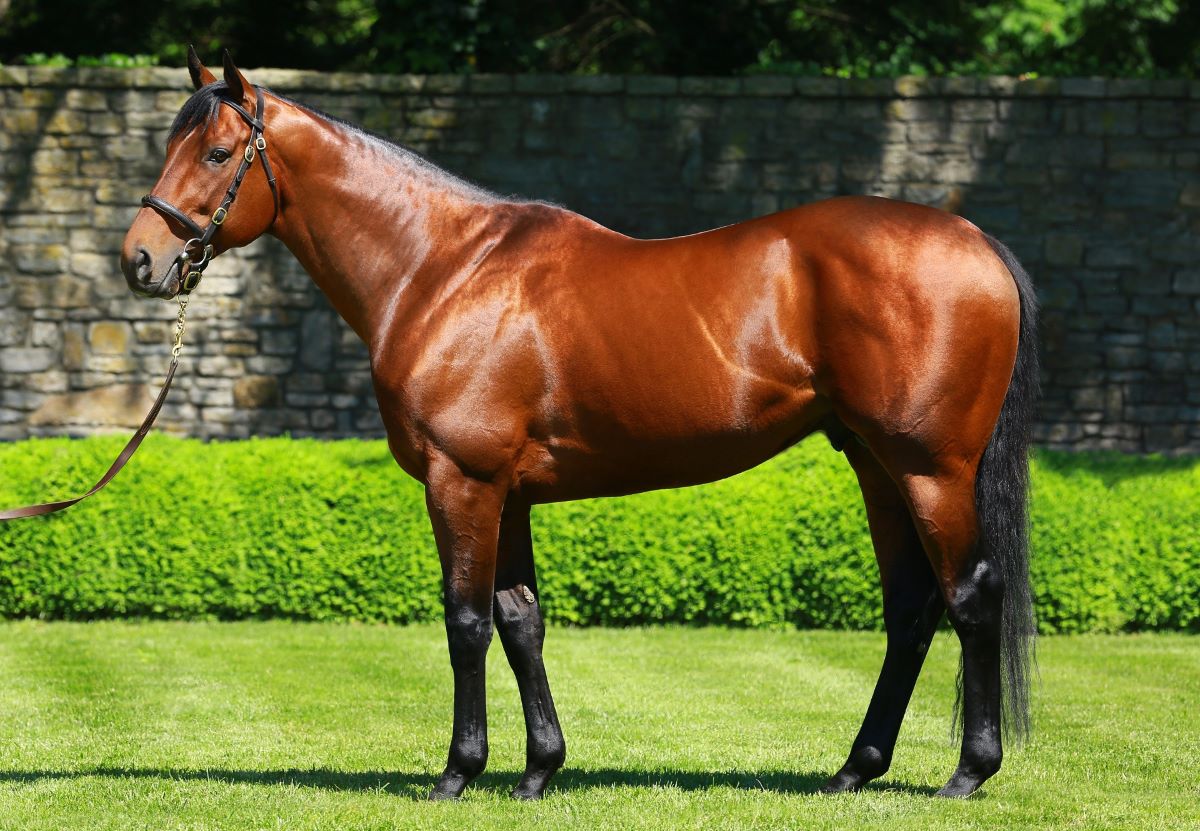 The new rule, which The Jockey Club said is "to preserve the health of the Thoroughbred breed for the long term…" goes into effect immediately. That affects stallions born in 2020 or later.
In its statement announcing the rule, The Jockey Club amended its Rule 14C, adding the following italicized language to the regulations that apply to registering a mare's breeding form. That pre-printed form contains the name of the stallion, broodmare bred, the broodmare's dam and the date of the last cover, or breeding date.
"The total number of broodmares bred per individual stallion whose year of birth is 2020 or thereafter shall not exceed 140 per calendar year in the United States, Canada and Puerto Rico. The Jockey Club shall limit the number of Stallion Service Certificates for such stallions to a maximum of 140 per calendar year."
Showing How the New Rule Works
In its statement, The Jockey Club illustrated an example how the new rule applies:
For stallions born in 2019 and earlier, there will be no limit to the number of mares reported bred in the United States, Canada and Puerto Rico. The Jockey Club will issue stallion certificates for all mares bred by such stallions within the United States, Canada, and Puerto Rico during a calendar year.
For stallions born in 2020 and later, the maximum number of mares covered within the United States, Canada and Puerto Rico in a calendar year will be 140. It would be a violation of Rule 14C for such a stallion to cover more than 140 mares within the United States, Canada, and Puerto Rico during a calendar year. The aforementioned limit will apply to all mares bred during a calendar year, regardless of when The Jockey Club receives a Report of Mares bred (or any amendments or supplements thereto).
This falls under The Jockey Club's domain as maintaining the American Stud Book in a way that protects the integrity of the thoroughbred horse breed in the US, Canada and Puerto Rico.
One Very Large Loophole
At the same time, this will not completely curb overbreeding. It's common for a top North American stallion to finish breeding season in the US – upwards of 200 covers a year — then ship to the Southern Hemisphere and resume breeding. The rule doesn't apply outside of the US, Canada and Puerto Rico.
Dr. Matthew Binns, a British researcher and former professor of genetics at The Royal Veterinary College in London, has researched thoroughbred inbreeding for most of his career. He told the BBC that back in the 1960s, it was common for a stallion to cover 40-50 mares for one season. Binns said since the mid-1990s that number is more than 150.
With good reason. Breeding is a multi-billion-dollar industry, one that far outpaces racing. Before American Pharoah won the 2015 Triple Crown, his breeding rights were sold to Coolmore Farm in Kentucky for $20 million. The giant breeding entity started his breeding fees at $200,000 per mare and it wouldn't be uncommon for American Pharoah to breed up to four times a day. That figure is now private as American Pharoah's first two crops enter starting gates.
Get to the Finish Line Fast, Then the Breeding Shed Faster
This explains why a top-caliber horse often literally retires at the top of his game. He's far more valuable in the breeding shed than the starting gate. Less than a month after Justify won the 2018 Triple Crown, he was retired and shipped off to stud. His barely five-month racing career: six starts, six victories.
And compared to Charlatan, Justify was a slacker. This week, Hill 'n' Dale Farm in Lexington, Ky. bought Charlatan's breeding rights. This, despite the fact he has all of three races under his saddle. While he'll undoubtedly run through the summer and early fall in this COVID-19-era of rescheduled races, watch him while you can now. Come 2021, Charlatan will be in a breeding shed.
"Horses with Charlatan's immense ability combined with superior pedigree, conformation, depth of female family, and star-quality appeal are a very rare commodity," said John G. Sikura, president of Hill 'n' Dale, in a statement announcing the purchase.
Don't Forget the Thoroughbred Sales
And then, there are the sales. In 2019, The Jockey Club recorded 13,759 sales of horses ranging from weanlings to stallions and broodmare prospects. That brought in more than $1 billion.
Charlatan, his sire Speightstown, along with American Pharoah, Constitution, Tapit, Curlin and all the other top-shelf sires don't fall under the limit. They'll continue breeding. Their owners can't afford for them not to.