It was a short career, just six races, but Justify won all of them, and after winning the Triple Crown, will now hang up his saddle. The colt's owner, WinStar Farm, and Hall of Fame trainer Bob Baffert, made the decision to retire the 3-year-old because of health reasons.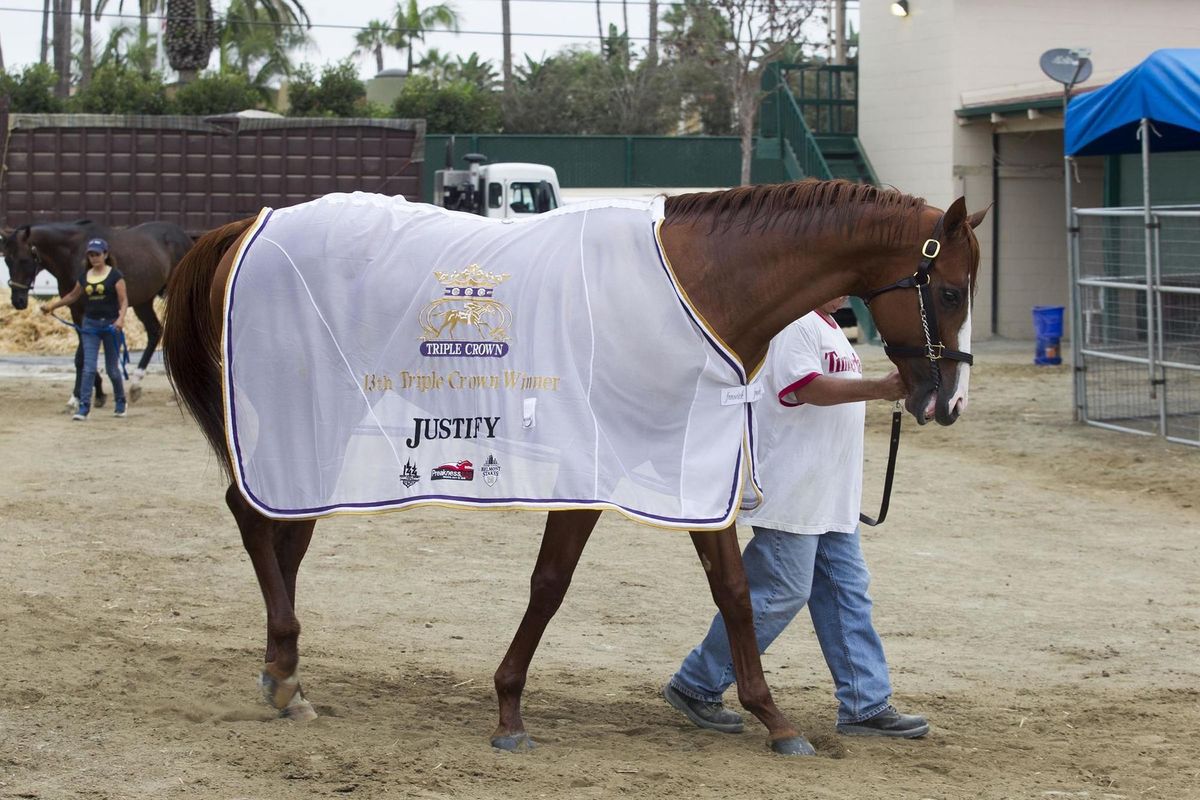 Justify had suffered inflammation – or filling as it is known in horse racing – in his left front ankle, and Baffert did not want to take a chance on injuring the thoroughbred. He made the announcement via a press release on Wednesday.
"Justify had some filling in his ankle, and he is just not responding quick enough for a fall campaign," Baffert said. "We all wanted to see Justify run again, but ultimately it is my responsibility to make sure he is perfect. Without 60-90 days, I can't be definite."
Farewell Tour Ends Early
The plan was to run the undefeated horse in the Haskell Invitational at Monmouth Park in New Jersey on Sunday, or the Travers on Aug. 25 at Saratoga in upstate New York.
After one of those races, Justify would have plenty of rest and practice time before his final race, the Breeder's Cup Classic on Nov. 3 at Churchill Downs. WinStar Farm President Elliott Walden told the Louisville Courier-Journal that he agreed with Baffert's decision.
"The timing is bad for another start in 2018, and therefore we have to retire him," Walden said. "Like (2015 Triple Crown winner) American Pharoah, we can't take the risk of running Justify as a 4-year-old. We all wanted him to finish his career in the Breeders' Cup Classic, but it was not meant to be."
Run for the Ages
What Justify was able to accomplish in seven months was one of the most impressive performances in horse racing, and has given talk about him being the greatest horse of all time. As a 2-year-old, Baffert didn't put him in a starting gate, and many believed the lack of track experience would hurt him in marquee races.
His first two races were minor stake races that he won easily. He first real test was the Santa Anita Derby in April. Ironically he wasn't Baffert's first choice. He had slotted McKinzie for the race, but an injury to McKinzie gave Justify the opportunity. Justify opened as the 4/5 favorite, and many thought he had no chance of beating a seasoned horse like Bolt 'd Oro. He did, and suddenly was the 3/1 favorite for the Kentucky Derby.
Again he was doubted, and again he won convincingly, winning by two lengths. Now the skeptics were believers, and Justify was the 1/2 favorite to win the second leg of the Triple Crown, the Preakness. Nothing seemed to stop this horse, and when the 4/5 Belmont Stakes pick won to become the 13th Triple Crown winner, many were proclaiming him as one of the greatest horses ever.
That debate will rage for years, but one indisputable truth is that his DNA will be highly sought after. Coolmore reportedly paid $75 million for the breeding rights.