The mint juleps are your responsibility, as are the party decorations and hats. But Churchill Downs promised a big event in 2020 on the first Saturday in May — and Kentucky Derby fans will get one, virtually.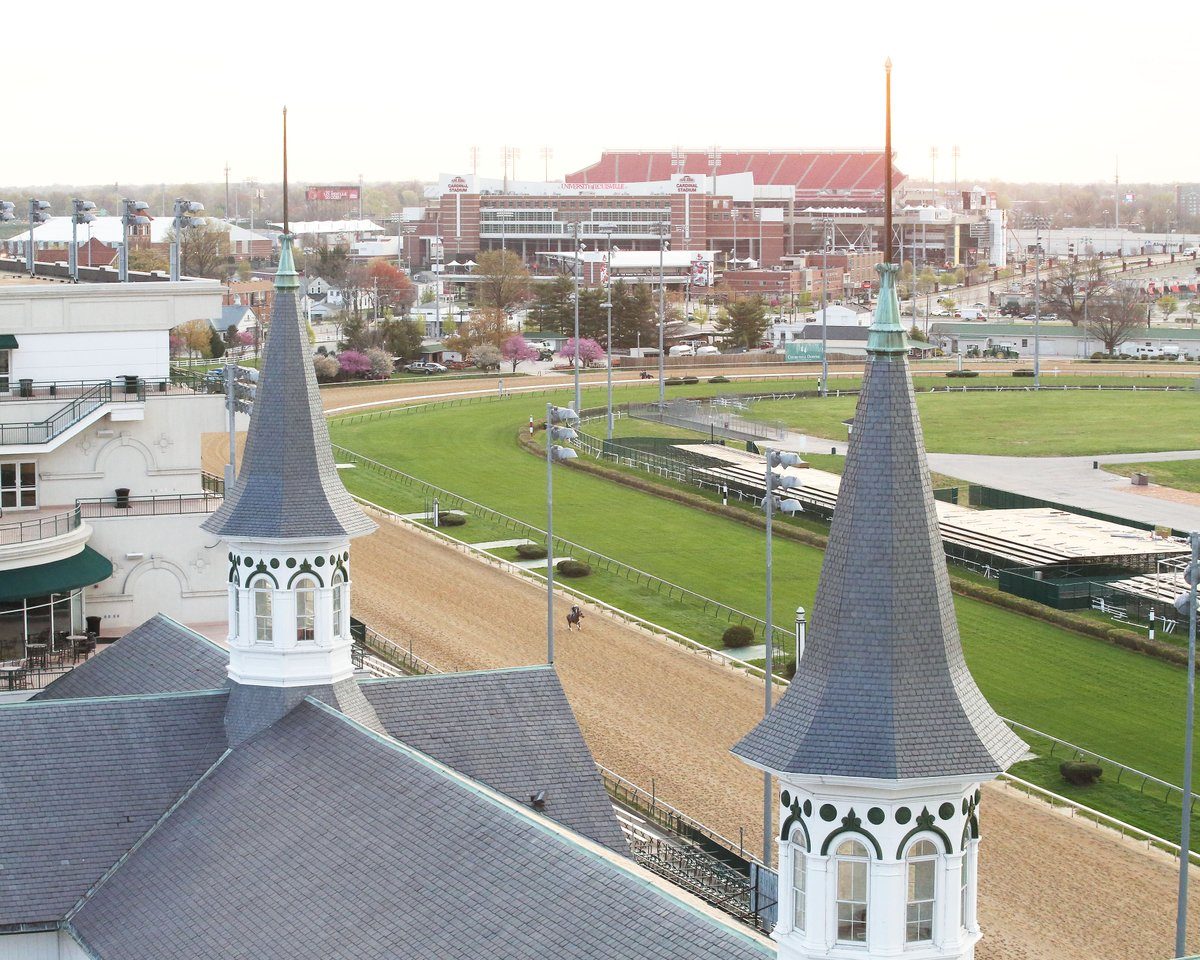 No, the Kentucky Derby hasn't been un-postponed. It's still scheduled to run on Sept. 5, a delay from its originally scheduled date of May 2.
But with NBC still needing content on the first Saturday in May, Churchill Downs announced Thursday that it will hold a virtual Run for the Roses to be televised May 2. The three-hour special on NBC will start at 3 pm ET.
It will feature a replay showing of the 2015 Derby featuring eventual Triple Crown winner American Pharoah. Following that will be the inaugural "Kentucky Derby: Triple Crown Showdown" — a virtual horse race featuring all 13 Triple Crown winners throughout history running from the same starting gate.
With algorithms interpreting historical handicapping data, a computer simulation of such a race will determine which Thoroughbred is truly the greatest of all time. (Alas, there will be no betting offered on this contest.)
Runaway Favorite?
Given Secretariat's incomparable performance in the 1973 Derby, when he beat Sham by 2½ lengths in a record 1:59.4, the winner is almost a foregone conclusion. Who finishes second and third – and how far they finish behind Secretariat – is the mystery.
Affirmed owns the next fastest time by a Triple Crown winner: 2:01.20. That's the 12th-fastest Derby-winning time. Whirlaway, the 1941 champion has the third-quickest time among Triple Crown winners and 17th-fastest Derby time at 2:01.40. The 1977 winner, Seattle Slew, has the fourth-fastest time at 2:02.20. That's 40th among Derby winners.
Among Triple Crown winners, those four own the only winning times in the top 50. By comparison, the two most recent Triple Crown winners, American Pharaoh (2:03.02 in 2015) and Justify (2:04.2 in 2018) aren't in the top 50.
Virtual Success Stories
The Kentucky Derby is following in the tracks of auto racing and other sports in this unusual year by offering a TV spectacle built around an esports alternative.
Earlier this month in the UK, organizers ran a Virtual Grand National race, which saw 18/1 long shot Potter's Corner overcome the runaway favorite, Tiger Roll, who was gunning for an historic third consecutive win. Bookmakers took bets on the virtual race, but with caps of £10 ($12) each-way per horse. They donated £2.6 million ($3.12 million) in profits to National Health Service charities.
Even without betting, Churchill Downs plans its own charitable donations. Beginning April 30, fans can visit KentuckyDerby.com, choose their favorite horse, and make a charitable donation to COVID-19 emergency relief. A portion of that donation will go to the Relief for Equine Industry Needs Fund, which benefits backstretch workers and the horses in their care.
Join us May 2nd for a Virtual #KyDerbyAtHome Party featuring the Triple Crown Showdown where the 13 Triple Crown winners will race one another in a computer simulation under the historic Twin Spires of Churchill Downs.

Details: https://t.co/d3CkQmbpFz pic.twitter.com/tnBjUXxXNI

— Kentucky Derby (@KentuckyDerby) April 23, 2020
Break Out the Virtual Party Hats
In its statement announcing the race and "party," Churchill Downs said it will match up to $1 million in donations. The track plans a day of online activities that include virtual tours of the Kentucky Derby Museum, a Derby cocktail crafting session, a virtual toast, and an online sing-a-long of "My Old Kentucky Home.
Fans can find the latest party schedule at KentuckyDerbyParty.com. The track is encouraging Derby partygoers and hosts to post their experiences online using the hashtag #KyDerbyAtHome.
"For many fans around the country, the first Saturday in May has become a part of their family's yearly traditions," said Kevin Flanery, president of Churchill Downs Racetrack. "While we eagerly look forward to the 146th Kentucky Derby this year on the first Saturday in September, we will celebrate the annual excitement of our traditional date with our fans and community by offering ways for us to join together for a great cause."