He has all of three races and one stakes victory under his tack. And now, Charlatan has a new home once his racing career is finished. Hill 'n' Dale Farm in Lexington, KY. announced it bought Charlatan's breeding rights for an undisclosed amount.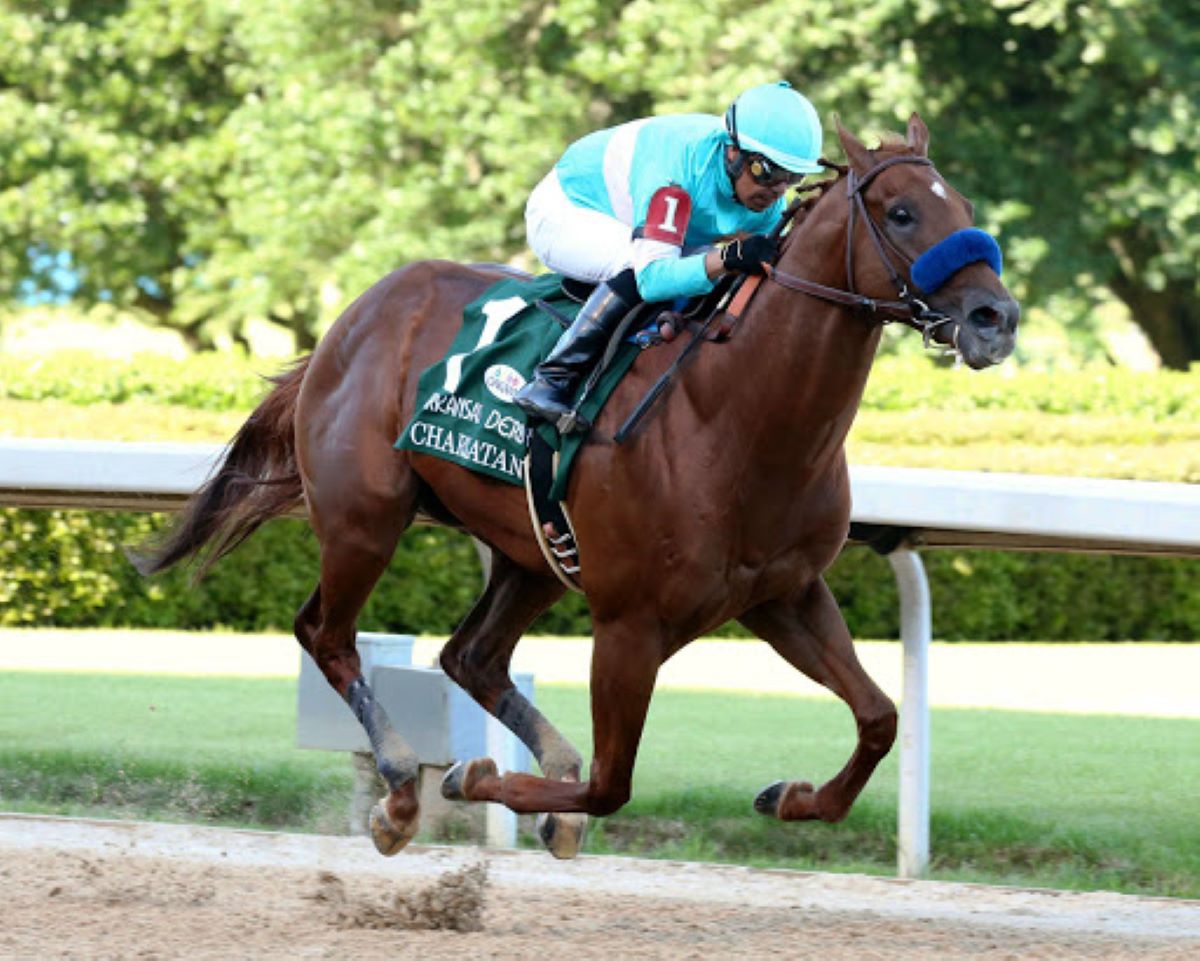 The announcement came less than a week after the 3-year-old colt and 2/5 favorite destroyed the Arkansas Derby's first division field by six lengths. It was Charlatan's first stakes victory after breaking his maiden by 5 ¾ lengths in February, and then dismantling an allowance field at Santa Anita by 10 ¼ lengths in March. Charlatan's three victories came by a combined 22 lengths.
This horse is effortless and gets over the ground so easily. He is just exceptionally fast and does it without asking," said trainer Bob Baffert in a statement. "That's what the great ones do. To ship him to win a Grade 1 in his third start shows you what I think of him. When you see him in person, you say 'Wow.'"
And Baffert should know. He trained 2018 Triple Crown champion Justify, the horse Charlatan is most-often compared to. Like Justify, Charlatan didn't run as a 2-year-old. Like Justify, he debuted with a maiden-breaking race in February of his 3-year-old season and won an allowance in March. In Justify's case, his first stakes victory was the Santa Anita Derby.
Charlatan is the 4/1 Kentucky Derby future favorite at one book — Sports Betting Dime. William Hill has him at 9/2, trailing 4/1 favorites Nadal and Tiz the Law.
Charlatan Got the Best of Both Racing Worlds
Charlatan's pedigree features the best of both speed and stamina. His sire, Speightstown, was a noted sprinter, winning 10 races and more than $1.25 million in 16 starts, including the Breeders' Cup Sprint as a 6-year-old. His dam, Authenticity, racked up more than $883,000 in earnings, along with a 4-5-2 record in 12 starts. That included two Grade 2 stakes victories and hitting the board four times in Grade 1 races, including the Breeders' Cup Distaff.
Authenticity's route-race record, combined with Speightstown's sprinting success, produced the golden pedigree ticket in Charlatan.
"Horses with Charlatan's immense ability, combined with superior pedigree conformation, depth of female family, and star-quality appeal are a very rare commodity," said John Sikura, Hill 'n' Dale's president.
Hefty Price Tag Justified By Early Results
Stonestreet Thoroughbred Holdings bred Charlatan, selling him at the 2018 Keeneland September Yearling Sale for $700,000. The purchasing consortium included SF Racing, Starlight Racing, Madaket Stables, Golconda Stables, Fred Hertrich, and John Fielding. Seeing what they possibly had, Stonestreet kept a piece of Charlatan.
Physically, he's one of the best physical horses we've ever bred. What sets him apart is the way he moves. He moves like a great horse," said Stonestreet Farm bloodstock advisor John Moynihan. "He is just a real athlete. He is the epitome of what we've tried to breed up to this point. Charlatan is a perfect combination of the genes meeting the physical. He is an absolute standout."
For now, Charlatan, his $367,200 in earnings, and his 100 Derby qualifying points wait in California. Baffert hasn't said when he'll run again on what is an unpredictable Derby Trail leading to September.
Embarrassment of Equine Riches for Baffert, Owners
Since Charlatan's stablemate Authentic is running in the Santa Anita Derby, he's unlikely for that race. That's not only because Baffert hates pitting his 3-year-olds against each other unless he has to, but because the same consortium owns both horses.
"Some people are saying they may try to run the Belmont at the end of June. If it's 1 1/2 miles, I wouldn't run any of them. If it's a mile and an eighth I might." – Bob Baffert on 2020 Triple Crown & the course he wants to chart for his terrific trio. https://t.co/422AHJTc6b

— Ray Paulick (@raypaulick) May 4, 2020
"I look forward to watching Charlatan build upon his impressive resume under the management and guidance of their team until his retirement to Hill 'n' Dale," Sikura said.