With the 2020 NFL Draft a couple of days away in a quarterback-heavy year, several QBs could be sleeper picks, including Anthony Gordon (Washington State), James Morgan (FIU), Josh Love (San Jose State), Cole McDonald (Hawaii), Bryce Perkins (Virginia), and Nathan 'Air Canada' Rourke (Ohio).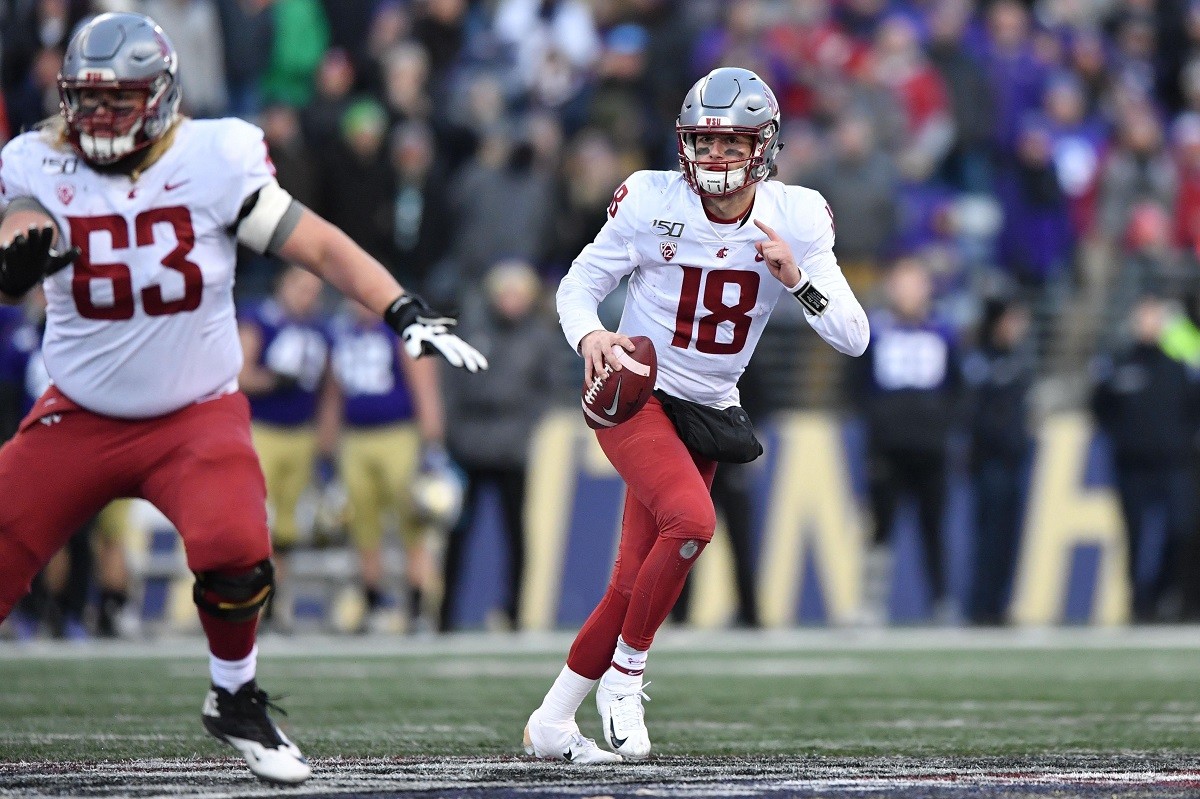 This year's crop of incoming quarterbacks is top-heavy with Joe Burrow (LSU), Justin Herbert (Oregon), Tua Tagovailoa (Alabama), Jordan Love (Utah State), and Jacob Eason (UW).
While four premier quarterbacks might go in the first round, there's still a deep pool of QBs to tap into in later rounds. If a team specifically likes one of those deep cuts over the rest, they might take a flier on someone like Wazzu's Anthony Gordon in an early round. Otherwise, patient organizations have plenty of options to secure a solid QB sleeper in the back end of the NFL Draft.
2020 NFL Draft – QB Sleeper Picks
Anthony Gordon (Washington State)
Nathan Rourke (Ohio)
Josh Love (San Jose State)
Cole McDonald (Hawaii)
Bryce Perkins (Virginia)
James Morgan (FIU)
SJSU's Josh Love and Hawaii's Cole McDonald might not have gone to high-profile programs in the SEC or Big 12, but they both have big arms and represent the pass-happy Mountain West conference.
Sometimes those smaller schools from the MAC and Conference USA are a good place to find undervalued talent. That's where Nathan Rourke (Ohio) and James Morgan (FIU) have been lighting it up over the past few seasons.
Other quarterbacks who are considered sleeper material include Khalil Tate (Arizona), Mason Fine (North Texas), and Kelly Bryant (Missouri).
Wazzu's Gordon Game of the Year?
Mike Leach gets all of the props for architecting the Air Raid Offense, which he perfected at Texas Tech before he took over as Washington State's head coach. Wazzu is a team that always lights it up. Gardner Minshew might have seemed like he came out of nowhere last season in the NFL, but he lit up the Pac-12 the year before while running Leach's modified Air Raid in Pullman, Washington. Minshew, a rookie with the Jacksonville Jaguars, came off the bench to fill in for an injured Nick Foles and the rest is history.
Anthony Gordon is the quarterback who replaced Minshew at Wazzu this season. He didn't disappoint Leach with 48 touchdowns and 5,579 passing yards, while completing an impressive 71.6% of his passes.
In what was dubbed college football's "Game of the Year" in 2019, Gordon threw nine touchdown passes for Wazzu in a 67-63 comeback loss against UCLA last September. He finished with 580 yards, nine scores, and only two interceptions. With nine touchdowns, Gordon broke the previous Washington State record previously held by Minshew.
MAC Sleeper: Air Canada
Nathan Rourke, known as "Air Canada," is trying to become the first Canadian-born QB in the NFL since Jesse Palmer. Scouts compared "Air Canada" to Taysom Hill from the New Orleans Saints because of his dual-threat capabilities as a passer and runner.
Rourke grew up playing Canadian Football in Ontario, but moved to Alabama for his senior year in high school. He led Edgewood Academy in Elwood to the Alabama state championship. After a year of junior college in Kansas, he popped up on the radar for MAC scouts. The Ohio Bobcats offered Rourke a scholarship and his teammates quickly nicknamed him "Air Canada" after witnessing his arm strength. Rourke started all three seasons at Ohio.
As a dual-threat QB, Rourke tallied 60 passing touchdowns and 49 rushing touchdowns in three seasons with Ohio. In his senior year, he threw 20 touchdowns and rushed for 13 scores with 5.6 yards per carry.
Mountain West Sleepers: McDonald and Love
Out in the Mountain West, there are a pair of traditional passers who can sling it with Josh Love (San Jose State) and Cole McDonald (Hawaii).
Don't confuse SJSU's Josh Love with Utah State's Jordan Love. While Jordan Love should go in the first round, Josh Love has become a popular sleeper pick.
Josh Love started the last two seasons with San Jose State and finished his career as SJSU's third-best passer. In his senior season, he tossed 22 touchdowns for 3,923 yards, but only threw eight interceptions. Josh Love set a Mountain West record with five 400-yard passing games in a season.
McDonald, from Hawaii's Rainbow Warriors, finished ranked #3 overall in the nation in passing yards with 4,135. He tossed 69 touchdowns in his last two seasons, and finished with 33 TDs this season.
McDonald had an impressive game against BYU in the Hawaii Bowl with five touchdowns (4 passing, 1 rushing) and 493 passing yards.
Late Fliers: Morgan and Perkins
James Morgan grew up in Green Bay, Wisconsin, and played football not very far away from his idol Brett Favre at Lambeau Field. Morgan started his collegiate career with Bowling Green before transferring to FIU for his final two seasons. He connected on 40 touchdowns with FIU and only 12 interceptions. At 6-foot-4, Morgan has the size and arm strength of a traditional passer, which is making some of the old guard take notice.
"He's the only true developmental quarterback talent in this draft, and that could make him a middle-round pick," read his scouting report on NFL.com.
Scouts are projecting Bryce Perkins (Virginia) as a late rounder. He has plenty of speed when he decides to tuck the ball, which has drawn some comparisons to Lamar Jackson. Perkins threw 22 touchdowns this past season and rushed for 11 more scores. He's a career 64.5% passer.
For more of OG's NFL Draft coverage, take a peek at…
The first round of the NFL Draft begins at 8pm ET on Thursday, April 22.