The 2020 NFL Draft has several key quarterbacks available for teams in need. Joe Burrow (LSU), Justin Herbert (Oregon), Tua Tagovailoa (Alabama), Jordan Love (Utah State), and Jacob Eason (Washington) are the consensus top 5 QBs in the upcoming NFL Draft.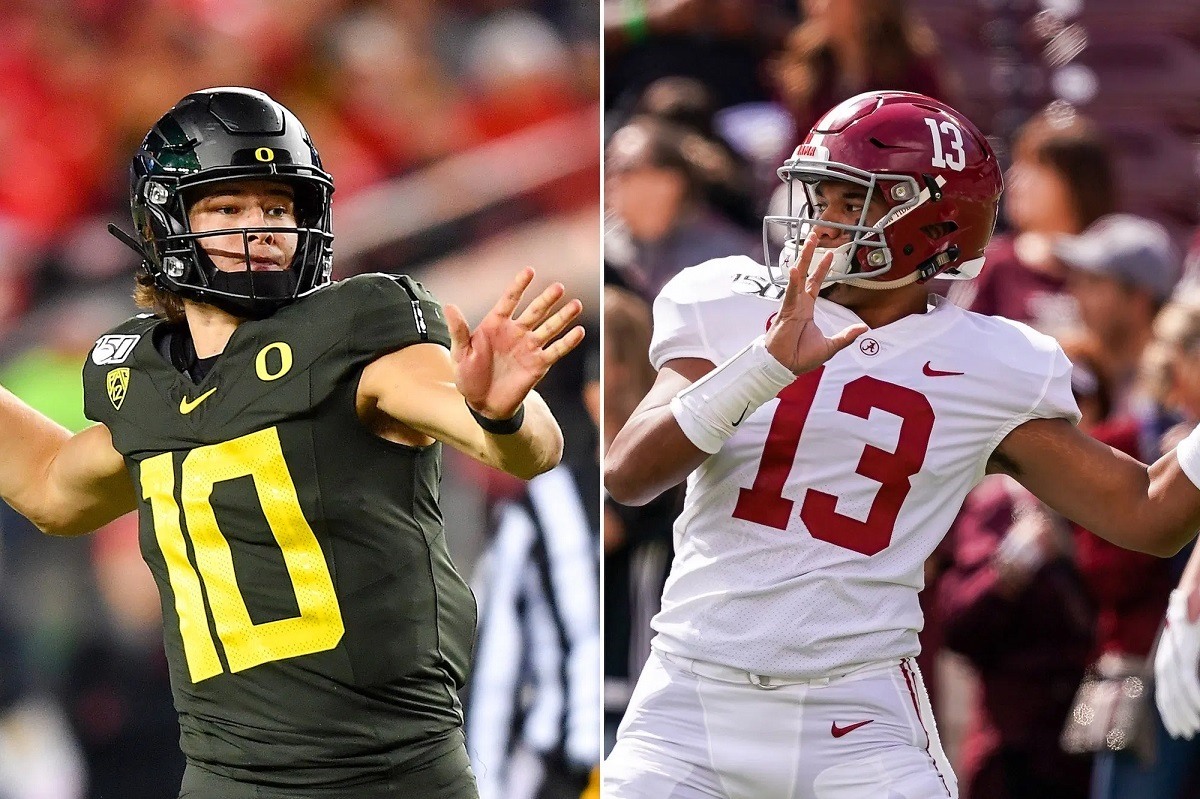 The deep quarterback class also includes Jake Fromm (Georgia) and Jalen Hurts (Oklahoma). There's also no shortage of QB sleepers, including Anthony Gordon (Washington State), Bryce Perkins (Virginia), James Morgan (FIU), Cole McDonald (Hawaii), and Josh Love (San Jose State)
2020 NFL DRAFT — TOP QB PROSPECTS
1. Joe Burrow (LSU)
2. Justin Herbert (Oregon)
3. Tua Tagovailoa (Alabama)
4. Jordan Love (Utah State)
5. Jacob Eason (Washington)
The first round of the draft could include as many as four quarterbacks snatched up by teams in need or looking toward the future. Burrow, the reigning Heisman Trophy winner, will most likely be headed to the Cincinnati Bengals with the #1 overall pick in the NFL Draft.
Tagovailoa's recovery from hip surgery has been a concern, which is why his draft stock dropped. If it weren't for the fractured hip, Tagovailoa would probably go #1 overall.
Herbert and Tua are both expected to go in the top 5 in the NFL Draft. Love has been projected as a late first-round pick.
Three QBs in Top 5?
Heading into the 2019 season, no one expected Joe Burrow would win the Heisman, lead LSU to a National Championship, and become the #1 pick in the NFL Draft. Everyone expected that Tagovailoa would snag the Heisman and lead Bama to another championship on his way to the top pick. But Burrow had a phenomenal senior year and Tagovailoa saw his season end prematurely after a fractured hip.
Once Joe Burrow goes first in the NFL Draft, the question becomes, which QB goes next… Tua or Herbert?
Scouts are skeptical about Herbert. At 6-foot-6, he falls into the category of "tall QB," which has not historically worked out over the past two decades.
"Since 2000, 23 QBs have measured taller than 6-foot-5 at the combine. Just three went on to start more than 50 games," explained Robert Mays from The Ringer.
The quarterback prospects in the 2019 NFL Draft were very thin compared to this season. Herbert could have gone out last year and would have been the top quarterback taken in the 2019 NFL Draft. Instead, he made a wise move and stayed in school another season to avoid getting drafted by the Oakland Raiders.
Another negative about Herbert has been his comparison to Mitch Trubisky. Consider how Trubisky just got run out of Chicago; that's not a good comparison.
West Coasters: Jordan Love and Jacob Eason
Every year at the NFL Draft, there's someone dubbed the "weed guy." Now, more often than not, the weed guy actually works out and turns into an All-Pro like Warren Sapp. But with Josh Gordon and his proclivity for mary jane fresh on everyone's mind, Jordan Love (Utah State) saw his stock slip a bit due to an incident when he got popped for pot. The NFL, run by a core group of ancient and out-of-touch white guys, still refers to marijuana as the "devil's lettuce," which is funny, but sadly true. The NFL relaxed its stance on marijuana testing, but that doesn't mean rumors of marijuana usage won't negatively affect a player's draft ranking.
Love set a slew of passing records at Utah State. He tossed 32 touchdowns as a sophomore in 2018, but had a lackluster junior season with only 20 touchdowns and a huge uptick in interceptions with 17 compared to six the previous season.
If Jacob Eason's last name sounds vaguely familiar, it's probably because he's the nephew of former NFL QB Tony Eason. Much like Herbert, Eason (Washington) falls into the "tall QB" club standing at 6-foot-6.
Eason threw 16 touchdowns as a freshman with Georgia in 2016. After losing the starting job in his sophomore season in Athens, he transferred in 2018. He played one season with the University of Washington. He didn't exactly light up the Pac-12, tossing just 23 touchdowns, but he completed 64.2% of his passes and only threw eight interceptions.
6-foot-2 Guys: Jake Fromm and Jalen Hurts
Fromm started the last three seasons for Georgia. He finished his career at UGA as the school's second all-time touchdown leader and fourth all-time passer. He threw at least 24 touchdowns every season, with 30 touchdowns in 2018. Overall, Fromm tossed 78 touchdowns and 18 interceptions in 43 games. Despite the QB deep class, Fromm decided to skip his senior season and head to the NFL Draft.
Hurts, who commenced his career with Alabama, but who finished with the Oklahoma Sooners, will be worthy of a flier. He went 38-4 in his 42 starts with Bama and Oklahoma.
In 56 NCAA games, Hurts threw 80 touchdowns and 20 interceptions with a 65.1% completion percentage. He also added 44 rushing touchdowns for 124 total scores.
Many scouts think Hurts' numbers are inflated. Oklahoma's offense steamrolls a lot of bad, Big 12 teams. Then again, if you look at his numbers with Alabama, he crushed SEC defenses as a freshman with 23 passing touchdowns and 13 rushing touchdowns.