The Hawaii Rainbow Warriors are no strangers to the Hawaii Bowl, having played in the long-running event on eight previous occasions. The team will make its ninth Hawaii Bowl appearance on Tuesday when they renew an old rivalry against the BYU Cougars at Aloha Stadium in Honolulu.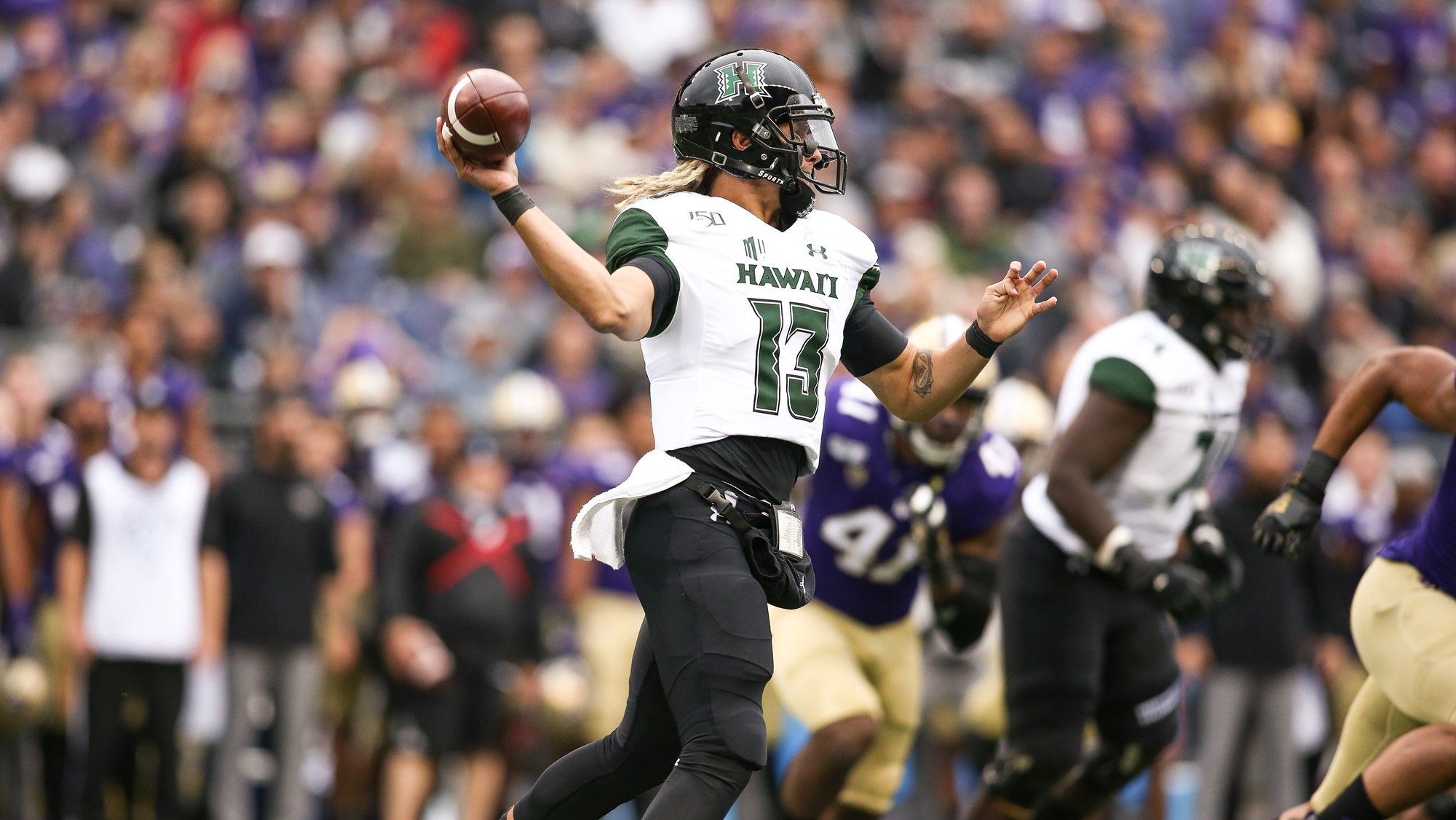 Despite having home-field advantage, the Rainbow Warriors are only 4-4 at the Hawaii Bowl. They have a chance to get above .500 on Christmas Eve against the Cougars. The Rainbow Warriors are a 2-point underdog, and the over/under is set at 64.
Hawaii has an opportunity to post a 10-win season for the first time since 2010. They had a chance to reach that mark in the Mountain West Championship two weeks ago, but lost to Boise State, 31-10.
Hawaii coach Nick Rolovich told reporters this week that getting his team ready for BYU has been a challenge.
"They're not all the way up yet," Rolovich said. "That was as emotional a roller coaster as we've been on in this program. They're very disappointed. We had a meeting about it. They have to get to the mindset the next game is the most important. Boise was an important game for this program. It didn't go the way we wanted. But that doesn't give them the right to not take this (bowl game ) seriously."
Hawaii Bowl Renews Rivalry
Hawaii and BYU were rivals in the Western Athletic Conference before the conference discontinued football after the 2012 season. The Rainbow Warriors joined the Mountain West, while BYU became an independent.
That doesn't mean people have forgotten about the rivalry. Rolovich was a quarterback on the 2001 Hawaii team that beat a then-undefeated BYU squad. He set a school record with 543 passing yards and eight touchdowns in a 72-45 shootout victory that helped Hawaii finish at 9-3, and ruin the Cougars' undefeated season.
"I remember it being a really enjoyable game to be a part of," Rolovich said. "The best memory was watching Chad Owens return two early kicks for touchdowns that really got us jump-started, and energized the crowd."
Hawaii Offense Racks Up Points
Rolovich hopes for a similar outcome in this year's Hawaii Bowl. He certainly has the firepower to score points. The team has scored 30 or more points in nine games this season, including two victories with 50-plus points.
The team is led by quarterback Cole McDonald, who finished the regular season with 3,642 yards and 29 touchdowns.
BYU head coach Kalani Sitake told reporters that McDonald has to feel some pressure from his defense.
"You have to start with their quarterback and the offensive line that is providing them more time to throw the ball, and they're not getting sacked often," Sitake said. "We've seen a lot of teams like this, but regardless we have to find a way to make the quarterback uncomfortable. That's the name of the game."
McDonald told reporters that he and the rest of the team won't be distracted by BYU's defense.
"There's a lot of tradition in that rivalry game, a lot of emotions from past players until now," McDonald said. "We're always going to be ready, regardless the stage, what team we're playing. It's always going to be us out there playing the Hawaii football we know how to play."