In an early "Game of the Year" candidate, Chip Kelly's UCLA squad scored 50 points in less than 19 minutes to rally from a 32-point second-half deficit to defeat Washington State 67-63, despite a record-setting 9 touchdown passes from Wazzu QB Anthony Gordon.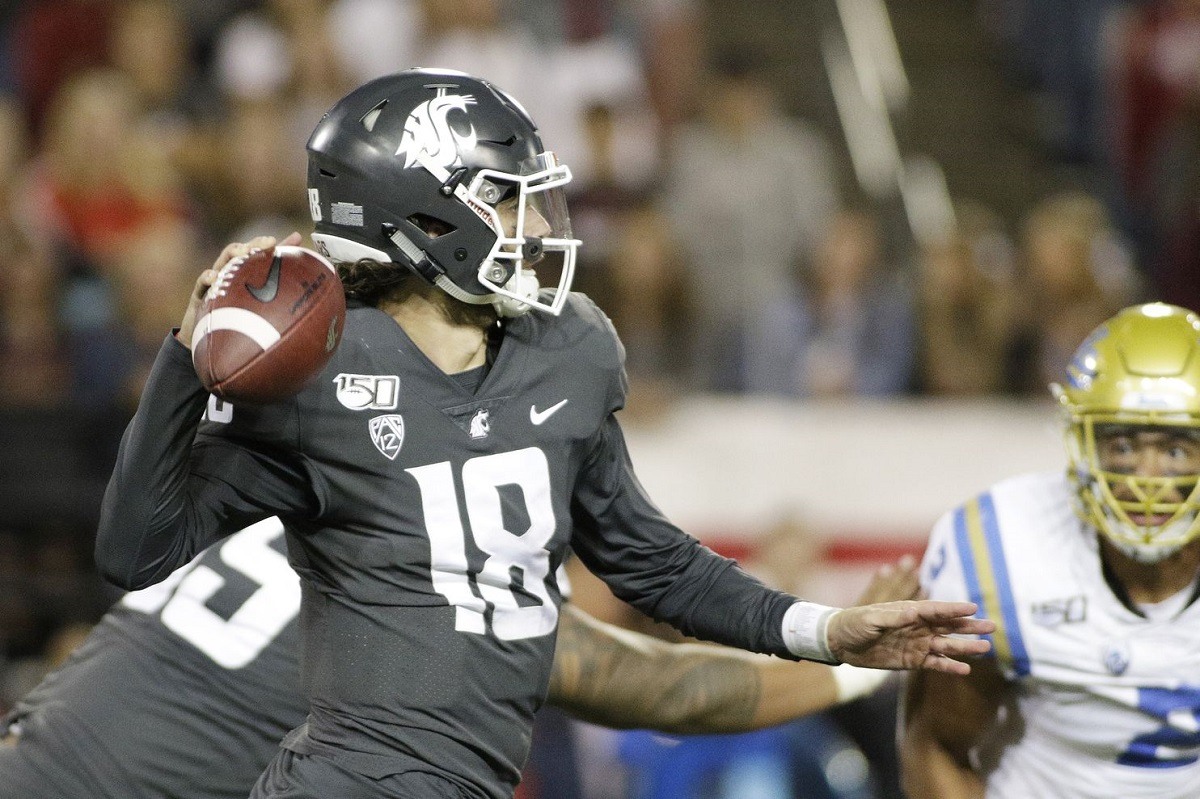 Coming into this Pac-12 conference game, undefeated Washington State (3-0) hosted a UCLA squad (0-3) desperate for their first win of the season. Chip Kelly started out last season 0-5, and hoped he could avoid starting his second season in Westwood with an 0-4 record. Kelly and the Bruins had an uphill battle facing Mike Leach's Air Raid offense, and the #19-ranked Washington State Cougars.
QB COMPARISON
Anthony Gordon (Wash St.) 570 yards, 9 TD, 2 INT
Dorian Thompson-Robinson (UCLA) 507 yards, 5 TD, 1 INT, 2 rushing TD
Despite a record-setting nine scores from Wazzu's Anthony Gordon, UCLA quarterback Dorian Thompson-Robinson (DTR) also generated a new highlight reel with five touchdowns of his own, plus two rushing scores for seven total touchdowns.
Washington State led 35-17 at halftime in a game that many people turned off way too early. Mike Leach's Cougars extended their lead to 49-17 midway through the third quarter, and anyone else still watching at that juncture probably turned off the TV.
The Sick Comeback
Trailing by 32 points on the road, the future looked grim. But Kelly didn't have any doubts his team could come back, despite not yet winning a game in 2019, and despite being unable to generate more than 14 points of offense in a single game.
DTR ignited a comeback for the ages, rushing for a touchdown with less than four minutes remaining in the third quarter, sparking a run of 29-unanswered points from UCLA.
DTR threw three more touchdowns and added a 2-point conversion over the next five minutes to pull UCLA within three points. All of a sudden, Washington State only led 49-46.
The remainder of the fourth quarter resembled a heavyweight bout or something out of a Rocky movie, with both teams slugging each other back and forth with impunity.
Gordon threw his eighth touchdown of the game to break Gardner Minshew's school record. That put Wazzu up 10 points with 10 minutes remaining.
UCLA responded with two unanswered touchdowns, including another DTR rushing touchdown and another returned kick for a touchdown. UCLA's only score in the second quarter was credited to Demetric Felton, who scampered 100 yards to return a kickoff for a touchdown. The Bruins' special teams added a punt return for a score when Kyle Phillips ran back a 69-yard punt for a touchdown. Philips' score put UCLA ahead for the first time since the beginning of the game. But with 7:31 remaining, there was still plenty of football remaining with UCLA up 60-56.
"I always thought we were a good football team if we could be consistent," said Kelly. "When you are battle-tested like our guys are, I think that showed up today."
Gordon still had some gas left in the tank. Less than 90 seconds later, Gordon threw a record-setting ninth touchdown to regain the lead, 63-60.
Don't Call it a Comeback
Wazzu couldn't protect the ball in the rest of the fourth quarter. Numerous turnovers in crunch time gifted the victory to UCLA.
"We kept shooting ourselves in the foot," said Gordon. "It's hard to win any sort of football game when you turn the ball over six times."
The last fumble resulted in a 15-yard touchdown pass from DTR to Felton. UCLA went ahead 67-63 with 1:07 remaining, and locked up the victory.
"I thought UCLA did a good job of attacking the ball," said Washington State's Leach. "I thought we had lousy ball security. Our guys got frantic and panicked. We collapsed in every phase of the game."
On total, both teams combined for 130 points. Bookmakers set the original over/under total at 60 points. Each team smashed the total individually.
UCLA's Felton scored three touchdowns, including two TD receptions. Felton finished the night with 150 receiving yards and 100 return yards.
Wazzu's Easop Winston caught 10 passes for 114 yards and four touchdowns.
UCLA came into the game as an 18-point road dog. Not only did they beat the spread, but they won their first game of the season by picking off a Top-25 team on the road.
Minshew Returns to Wazzu
Ex-Cougars QB Gardner Minshew, riding high off his new-found 15 minutes of fame as the starting quarterback for the Jacksonville Jaguars, attended the game in person.
Minshew has become a cult hero in Jacksonville after he stepped in for an injured Nick Foles, who broke his collarbone in Week 1.
The Jags played and won on Thursday Night football, so Minshew took advantage of his weekend off and flew up to Pullman, Washington to cheer on his alma mater.
Minshew appeared on the sidelines and gladly gave ESPN multiple interviews. Little did he know that starting QB Anthony Gordon would break his record for most touchdowns in a game.
In other Pac-12 action, USC suffered another injury to a QB, yet third-stringer Matt Fink led the Trojans to a upset over #10 Utah.