Sportswomen are subject to some of the most vile and hate-fueled abuse on social media but still manage to perform at elite levels all year round.
However, the unapologetic and cowardly online trolls rarely face consequences for their actions. Over the past six months, we here at OG News have been studying the top 20 trolled sportswomen, hoping to shine a light on the unfair treatment of women in sports. Here's what we found:

Social Media in Sport
Social media in sport is a double-edged sword. For many, it's used to communicate and keep up with the sports stars we see on our screens every week. For some, however, it's an easy way to spew spiteful hate, also known as trolling.
Recent surveys suggest 72% of online users have increased their social media consumption during the pandemic, with 43% posting more. The increased posting during the pandemic should come as no shock, but the treatment of female sports stars definitely should.
Trolling of Sportswomen
Since the pandemic began, 80% of professional sportswomen believe the growth of women's sport has been halted by comparisons to men's sport.
While true, the pandemic's effect on female athletes has been far greater. Professional sports stopped completely last year for a few months, and many female sports are still recovering following such a lengthy disruption.
Despite the lack of action, the trolling of each sport's top female stars hasn't stopped. 30% of UK sportswomen say they have been trolled online, and that's doubled in the past five years.
The trolling is rarely linked to performance and can be hyper-sexualized, threatening, and have damning effects on the athletes' mental health. Here are some of the stars and sports which are subject to the most abuse.
Gymnast Simone Biles Gets the Most Hate
Simone Biles is one of the most famous female athletes in the world. At the age of just 23, she is the third most decorated gymnast in history, with a combined 30 Olympic and World Championship medals.
Of all tweets about Simone Biles during our 6-month study, only 11% of the posts were positive; 60% were negative.
Naturally, a young, highly successful woman will draw jealousy from others. Yet when this is used to consistently attack her character, appearance, and ability, it becomes wholly unnatural.
In January 2018, Biles spoke out against Larry Nassar, a former Team USA gymnastics sports doctor who sexually abused her. An additional 160 women accused him and Nassar was sentenced to up to 175 years in prison. While the gymnast was met with overwhelming messages of support from her fans, there were still trolls who maliciously went after Biles.
Two years earlier, Biles was forced to defend her usage of Ritalin, a medicine used to treat her ADHD. Fancy Bear was the hacker group that leaked this information and the abuse which followed from anonymous users across the web was shocking.
Having ADHD, and taking medicine for it is nothing to be ashamed of nothing that I'm afraid to let people know.

— Simone Biles (@Simone_Biles) September 13, 2016
There is some uncertainty around her appearance at the upcoming Tokyo Olympics, but let's hope Simone Biles does decide to go and show the world why she's head and shoulders above any online trolls.
Point of No Return for Tennis Stars?
Tennis has one of the strongest rosters of female athletes across all global sports; women's tennis is even better to bet on than the men's game, with much better betting opportunities due to greater parity amongst the top players.
With the sport in the more than capable hands of Naomi Osaka, who just won the Australian Open, there is still a problem with abuse aimed at female tennis stars.
Former World Number one Angelique Kerber struggled in Australia last month after her first-round exit. Unfortunately, Kerber is the most trolled tennis athlete in the women's game, with 30% of all tweets about her being negative.
In fact, 10 of the top 20 trolled female athletes are tennis players, while nine of the ten highest-paid female athletes do their business on the court.
With three grand slams left this year, a vaccination rollout, and restrictions to lift, we hope for a more positive response to some of the sports' most exciting and talented stars.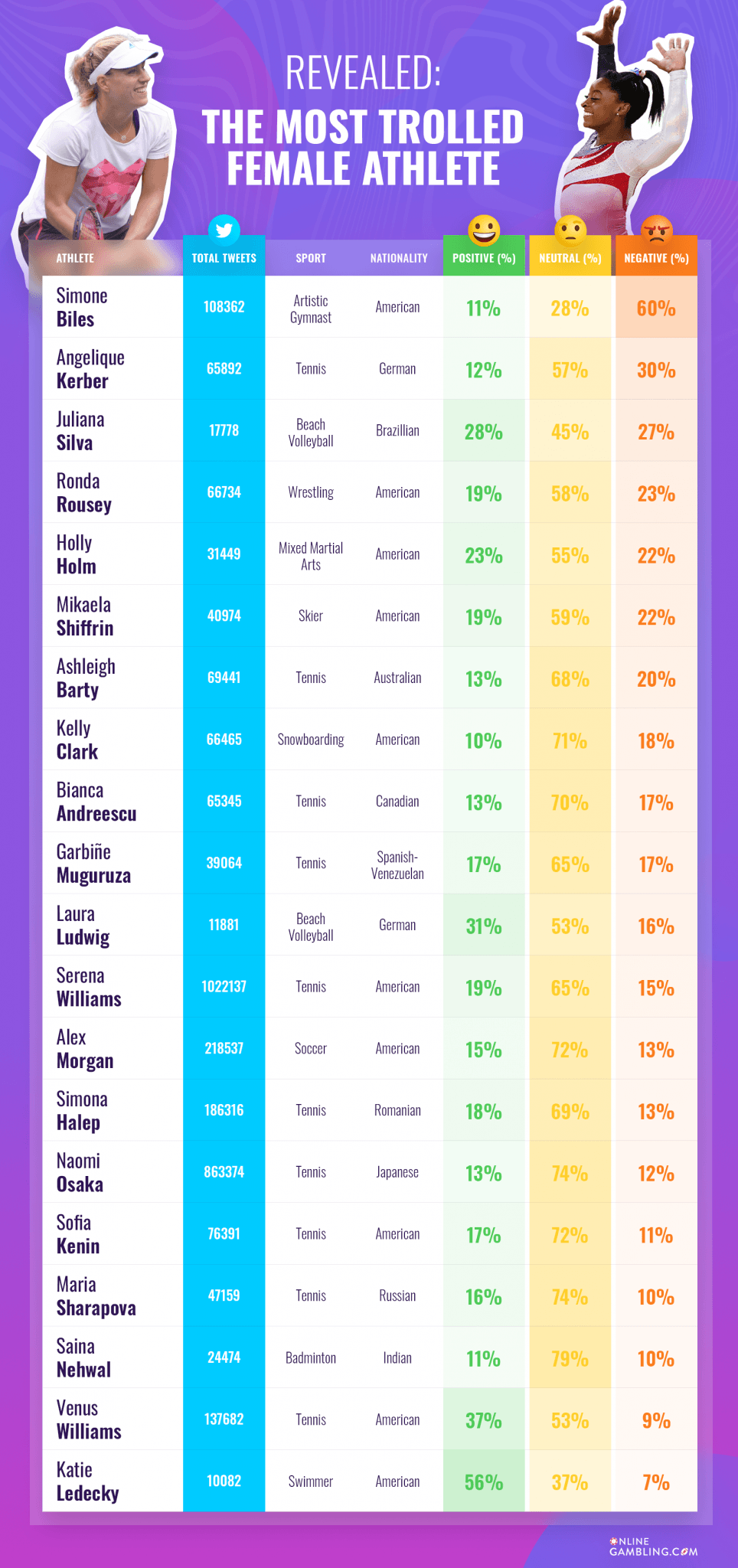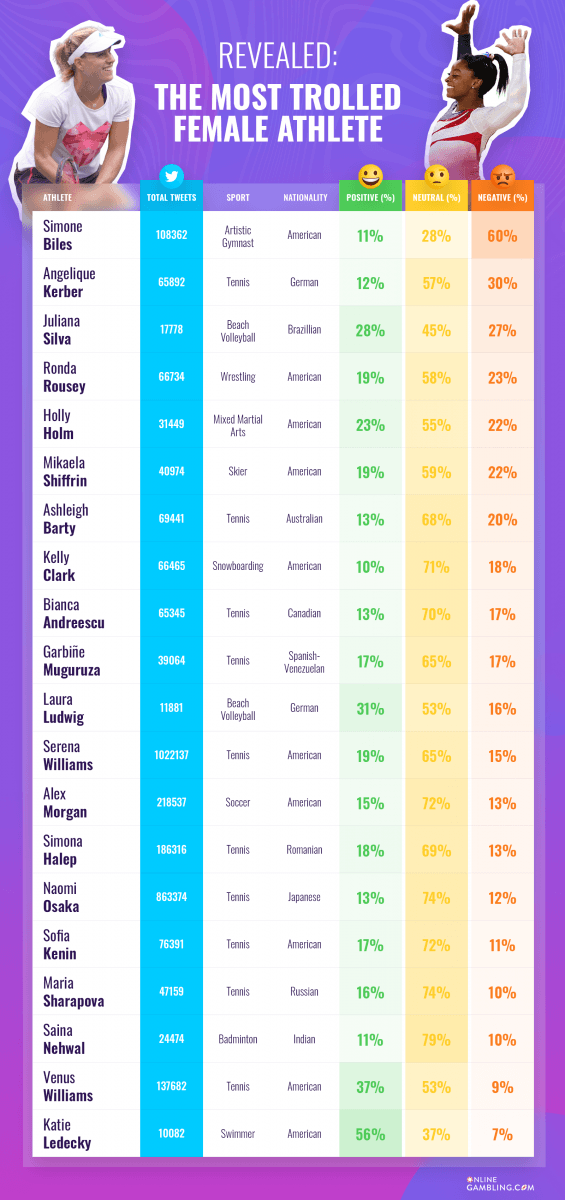 ---
Methodology
We used Ranker's Best Female Athletes list and social listening tool Brandwatch to analyse over 6 million social media posts from a 6 month period (August 2020 – February 2021) to determine how the public were talking about the most famous female athletes. Individuals included were those who had over 10,000 mentions in the 6-month period.
Sources:
https://www.forbes.com/sites/kurtbadenhausen/2020/08/17/the-highest-paid-female-athletes-2020-center-court-takes-center-stage
https://www.bbc.co.uk/sport/53642350
https://www.skysports.com/more-sports/other-sports/news/29877/12212884/womens-sport-80-per-cent-of-female-athletes-say-growth-hindered-during-pandemic-by-inequalities-with-mens-sport
https://www.digitalcommerce360.com/2020/09/16/covid-19-is-changing-how-why-and-how-much-were-using-social-media
https://junkee.com/simone-biles-is-standing-strong-against-online-abuse-after-a-hack-of-olympians-medical-records/85333
https://www.bbc.co.uk/sport/gymnastics/45795697
https://www.ranker.com/list/best-female-athletes-/ranker-sports
https://app.brandwatch.com/