The LA Rams produced a sensational comeback on home turf to beat the Cincinnati Bengals in Sunday's Super Bowl LVI. But it wasn't just Cooper Kupp's late touchdown that wowed the 70,000-strong crowd at SoFi Stadium in Inglewood, California, and millions more watching at home. Rappers who performed at the Pepsi-sponsored Super Bowl Halftime Show also booked a big win — even though they supposedly weren't paid to be there.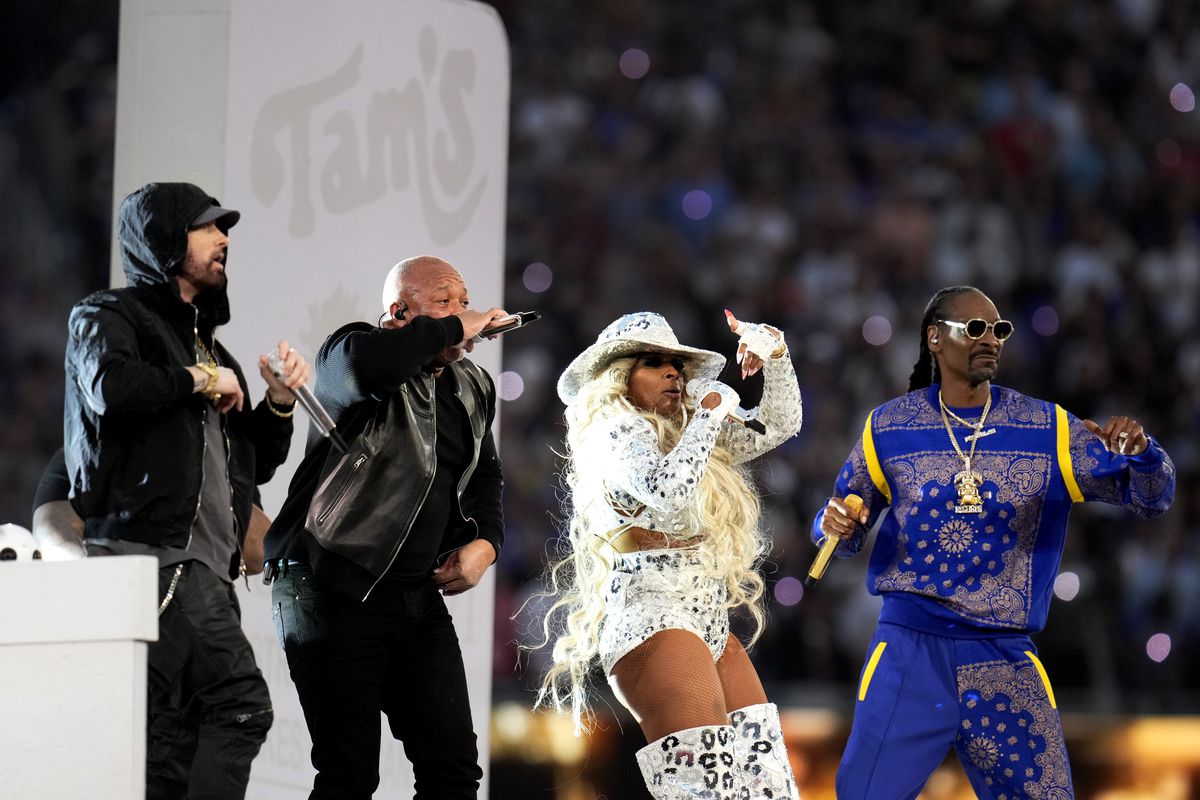 It was a historic gathering of A-list performers all sharing the same stage.
Long-time collaborators Dr. Dre and Snoop Dogg led a star-studded halftime show with a rendition of the 2000 smash hit "The Next Episode." The iconic duo was then joined on stage in a surprise appearance from rap legend 50 Cent.
The 14-minute, 11-song set was a proud mashup of old-school hip hop, with a nod to West Coast rappers, as three of the musicians hailed from Southern California, including Snoop Dog, from Inglewood, site of SoFi Stadium.
According to advertising and analytics company Samba TV, more than 29 million households tuned in to watch the halftime show on NBC, a 19% increase from last year, when The Weeknd headlined.
Happy Dre Day !! @drdre @snoopdogg @maryjblige @kendricklamar @50cent @AndersonPaak 🙏🙏🙏 @NFL #SBLVI #PepsiHalftime https://t.co/PR3WJxVDaK pic.twitter.com/3b7Vdq2zNJ

— Marshall Mathers (@Eminem) February 14, 2022
Growth Industry
In addition to Dre and Snoop, Mary J. Blige, Kendrick Lamar, and Eminem sent fans wild with their performances. 50 Cent made a surprise appearance, as did Anderson .Paak, who drummed for Eminem on his much-loved inspirational anthem, "Lose Yourself."
Produced by Jay-Z and Roc Nation, it was the first-ever Super Bowl halftime show with a completely rap-focused theme.
The all-star show hit the headlines across the globe. And, for some, it even trumped a thrilling Super Bowl that saw the Rams win their second NFL Championship. But just how much of an impact did it have for Dr. Dre, Snoop Dogg, and the rest of the halftime performers?
Online Gambling looked at the data to find out.
Rappers Delight
The highly anticipated Super Bowl halftime show exceeded expectations as some of the music industry's biggest names rolled back the years to deliver a host of memorable tracks from their back catalogs.
Mary J. Blige reaped the biggest rewards in percentage terms from her appearance across music streaming platforms and social media. Her following across Spotify, Soundcloud, Instagram, Twitter, and Facebook almost doubled over the past week as fans flocked to the web in anticipation of the Family Affair songstress taking to the stage.
Snoop Dogg – performing a little over 20 miles from his hometown, Long Beach – also saw a remarkable rise in his online following. His fan base grew by a little over 40%, with the biggest impact apparent on Instagram, where he now has a whopping 68.6 million followers. (And that number is still growing — adding 500,000 followers in the 12 hours before press time alone.)
---
2022 Super Bowl Halftime Show Set List
"The Next Episode" (Dr. Dre and Snoop Dogg)
"California Love" (Dr. Dre and Snoop Dogg)
"In Da Club" (50 Cent)
"Family Affair" (Mary J. Blige)
"No More Drama" (Mary J. Blige)
"M.A.A.D City" (Kendrick Lamar)
"Alright" (Kendrick Lamar)
"Forgot About Dre" (Kendrick Lamar and Eminem)
"Lose Yourself" (Eminem with Anderson .Paak on drums)
"I Ain't Mad at Cha" (instrumental) (Dr. Dre)
"Still D.R.E." (Dr. Dre, Snoop Dogg, Eminem, Mary J. Blige, Kendrick Lamar, and 50 Cent)
---
Compton-raised Dr. Dre and Kendrick Lamar also saw sizeable jumps in their respective followings. Dr. Dre's biggest rise came on Facebook as fans swarmed to check in on updates from the music mogul ahead of the show-closing performance of "Still D.R.E." Kendrick Lamar's Spotify monthly listeners, meanwhile, surpassed the 31million mark as fans got in the mood for his California homecoming.
Eminem has by far the biggest following of the Super Bowl halftime show lineup. His total fans jumped up 14.54% over the past 7 days, to bring his readily reachable fan base to over 200 million. Not too shabby – particularly as the SoFi Stadium showpiece allowed the rapper the opportunity to collaborate with old friends again.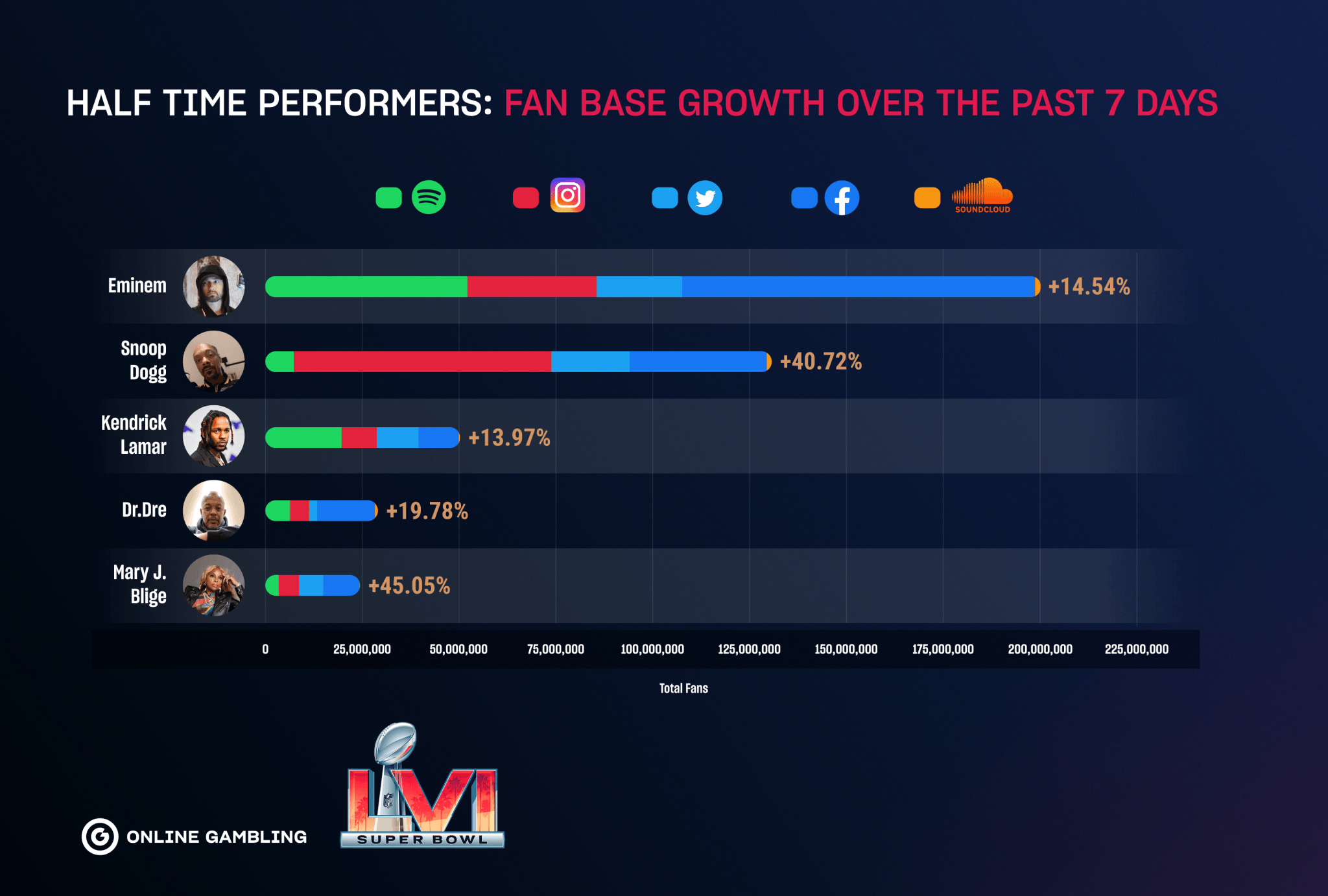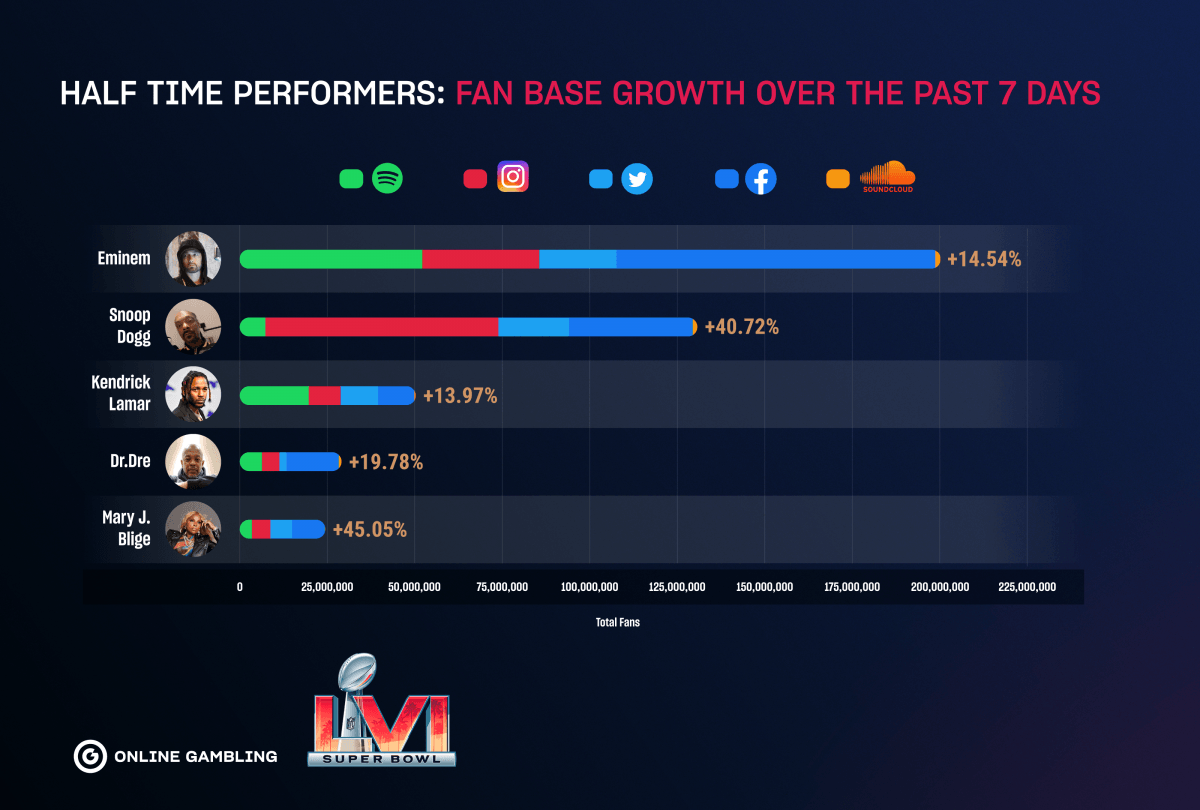 Streaming fortunes on Spotify
None of the icons who performed on Sunday were paid for their performances. But with their names on the lips of NFL and music fans alike ahead of the Rams vs Bengals face-off, this performance was hardly a charity show.
Over the past week, Eminem racked up $101,000 through streams as his hits "Without Me," "The Real Slim Shady," "Till I Collapse," and "Lose Yourself" — all four of which entered Spotify's top 200 charts over the past week.
Dr. Dre also benefited from his headliner role. His newly released track, "Gospel," was streamed more than 4 million times during the past week to land him a tidy paycheck of $18,000.
Dr. Dre and Snoop Dogg's timeless collaboration "Still D.R.E." amassed over 2.7 million streams to give the pair $12,000 to split.
Not necessarily huge money for famous rap stars. But it all adds up.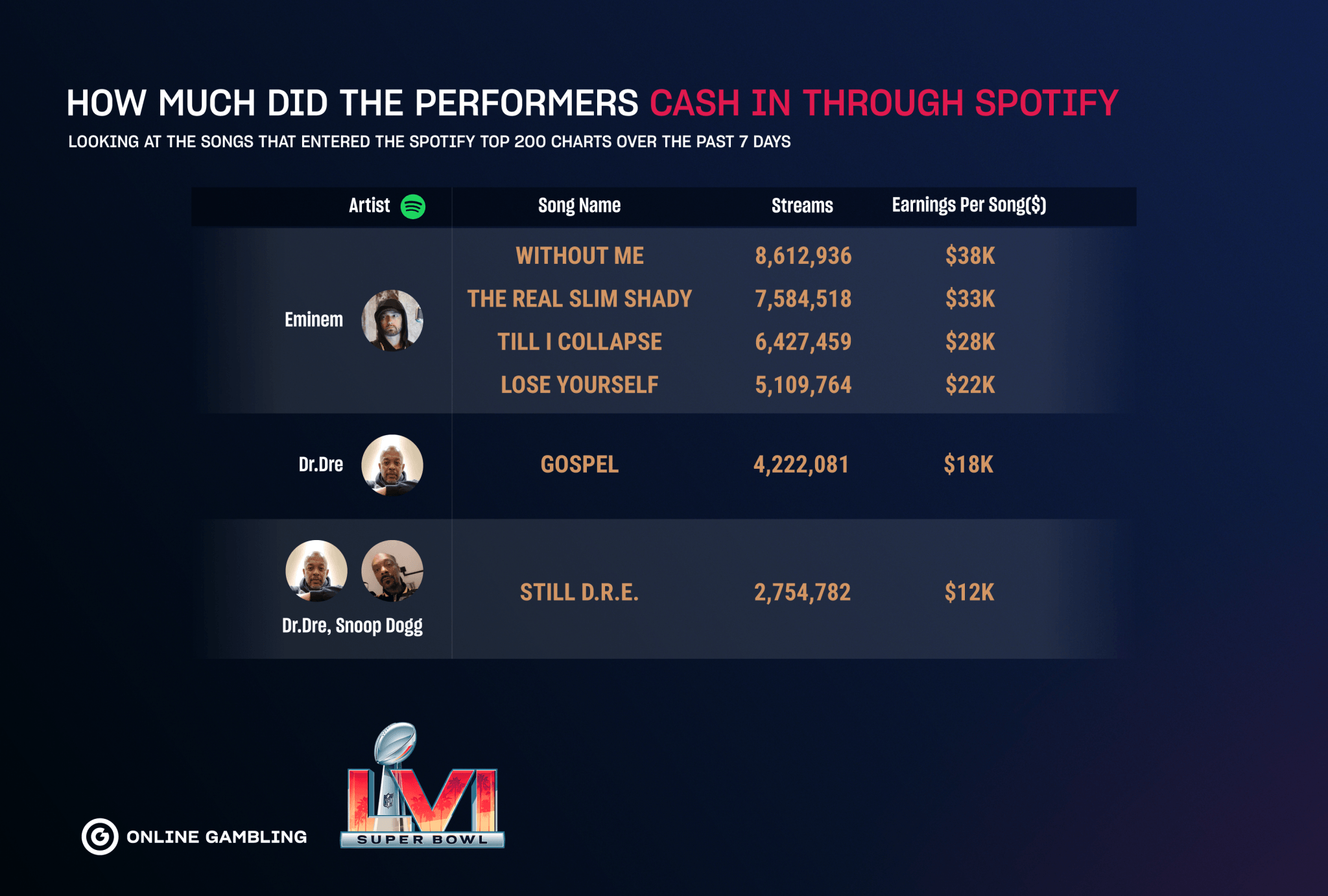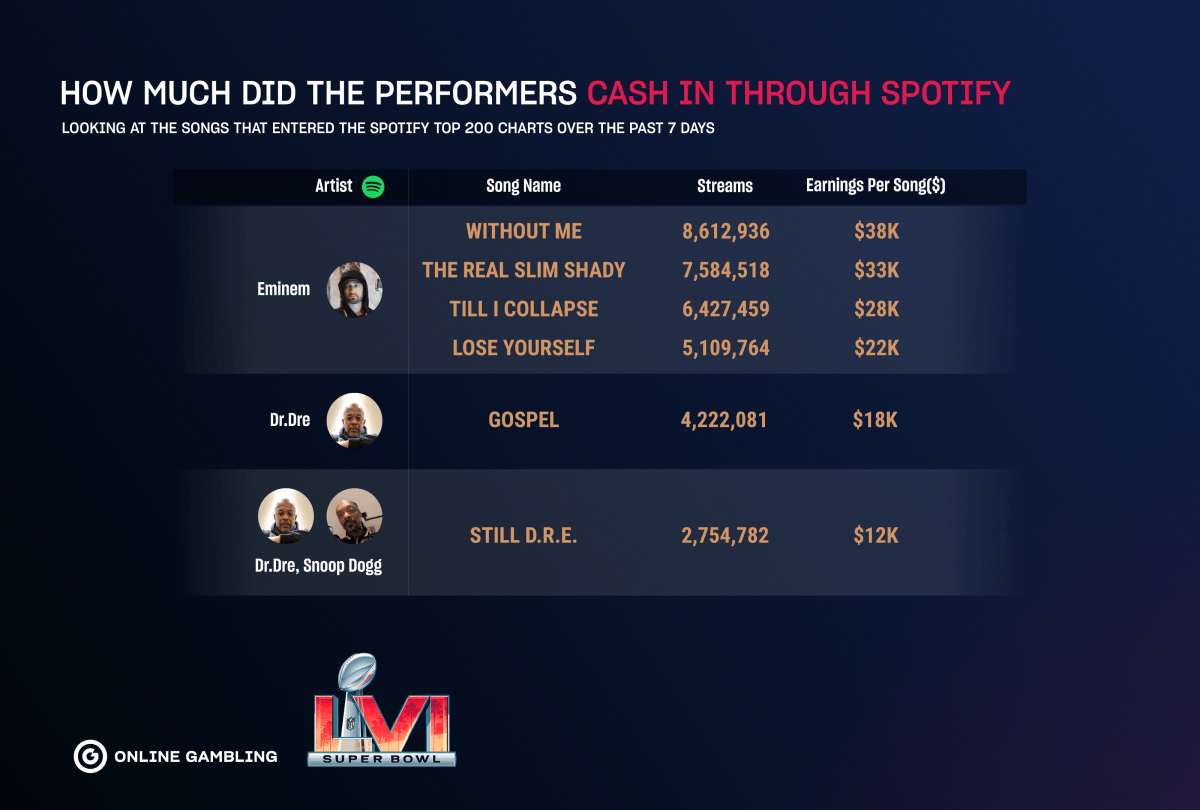 Social media superstars
Streaming isn't the only way these performers stood to profit from the Super Bowl Halftime Show. Stardom on social media also pays.
Snoop Dogg has a massive Instagram following of 68.6 million. The value of a single post to them weighs in at $370,000 for any sponsored post he shares.
Eminem also stands to add to his fortune if he uses the photo-sharing platform to reach his fans with a paid-for promotion. With 34 million followers on the Gram, a sponsored post from him would sell for $184,000.
Not to be sniffed at, $54,000 is on offer to Kendrick Lamar if he chooses to do the same. While Mary J. Blige and Dr. Dre can command $31,000 and $27,000 to send a promotional message to their respective Instagram followings of 5.7M and 4.9M people.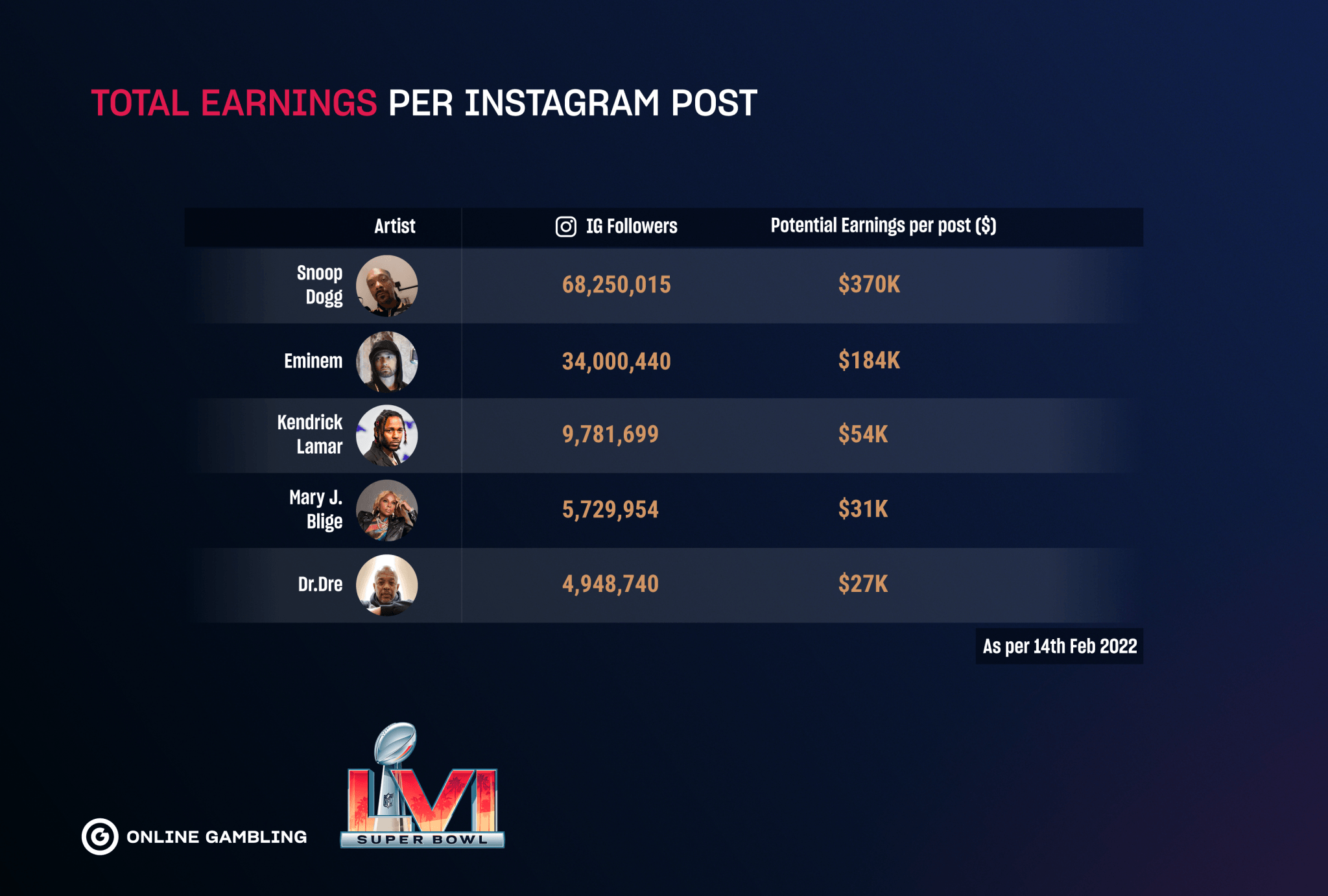 This data, of course, does not confirm that any of these stars were selling their feeds during the Super Bowl. What it shows is that these performers know how to reach the masses. And on Super Bowl Sunday, that's an especially valuable trait.
---
Methodology
Online Gambling used Soundcharts.com to track the growth of Dr. Dre, Snoop Dogg, Mary J. Blige, Kendrick Lamar, and Eminem's followings across social media and music streaming platforms over a 7-day period around the Super Bowl. By monitoring Spotify's top 200 charts we were able to identify how many streams the artists' top tracks received daily. These figures were then multiplied using The Trichordist's earnings per stream calculation, which states artists can earn $0.00437 for every stream of their music. Snoop Dogg and Mary. J Blige did not appear on this list individually as their songs did not enter the charts over the past week. To calculate how much the halftime performers could make via Instagram, we used the Hopper HQ Instagram Richlist. This platform forecasts celebrities can earn $0.00541911 per follower for a sponsored post.