Jon White wants you to know this Kentucky Derby prognostication stuff can get rather tricky. He once picked Point Given to win the 2001 Derby because he simply was the best horse in the field.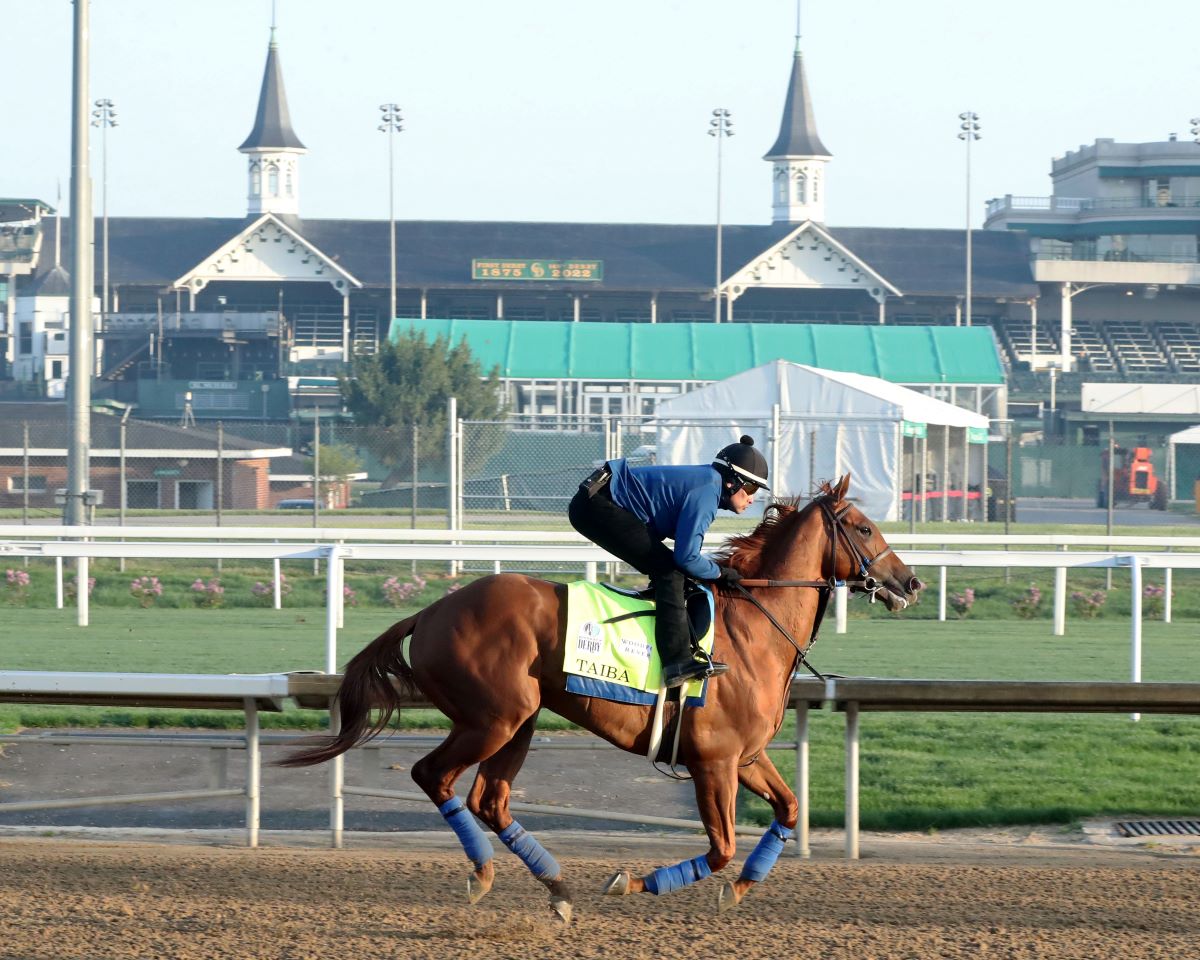 Point Given picked the first Saturday in May that year to run the worst race of his career. He finished a flat fifth – the only time in his career he finished worse than second. White's faith was vindicated on steroids when Point Given ran the major-race 3-year-old table from there. He won the Preakness, the Belmont, the Haskell and the Travers, becoming the first horse in Thoroughbred history to win four consecutive $1 million races.
"This is why trying to figure out pace in the Kentucky Derby is very tricky," said White, Santa Anita Park's morning line writer and Xpressbet columnist. "Once they push the (starting gate) button and the field is on its way, anything can happen."
More so this year, where there isn't a Point Given, American Pharoah, Justify, California Chrome or even a Tiz the Law or Essential Quality to point to. The 148th Kentucky Derby is even more of a free-for-all than the usual shenanigans you find in a 20-horse field. As expected, Epicenter and Taiba (5/1 as of 10:30 a.m. ET) and Zandon and Messier (7/1) are taking most of the early money. But plenty of people like rail-sitter Mo Donegal (8/1). And money is coming in on Cyberknife (13/1), Charge It (13/1) and Smile Happy (14/1). Florida Derby champion White Abarrio's odds drifted from 10/1 to 12/1.
Plenty with capabilities 'to win this thing'
There's even been a flood of cash coming in on Summer Is Tomorrow, the UAE Derby runner up, who is expected to set the early pace. His odds dropped from 41/1 to 33/1.
"The thing about this particular Derby is it's really loaded with candidates that have the credentials to win it. It's a deep, deep Derby," White told OG News after Monday's draw. "You've got kind of the biggies in Zandon and Epicenter. Then, after that, you've got Messier, Mo Donegal, White Abarrio and Taiba. There could be shuffling of odds on that next bunch. There's very live horses beyond even those six I just named. To me, there are going to be further live horses in this race that are going to be really juicy prices. They have the capabilities to win this thing."
Speaking of the UAE Derby, White is in the camp that Japanese contender Crown Pride, the winner of that Grade 2 prep in Dubai, is one of those who can "win this thing." That, despite the fact UAE Derby alums are 0-for-16 in the Derby, with Master of Fencers' sixth in the 2019 Derby being the best finish.
White is bullish on Japan
"The reports I'm getting from people I respect at Churchill (Downs) is he's legit," White said. "This is a serious horse. He could have been undefeated coming into this race. The first race on dirt came on a muddy track. This horse got pinched back and finished sixth. That's a race you could draw a line through. His other three races, he won by clear-cut distances. He's a descendent of (1989 Derby and Preakness winner) Sunday Silence. Will he win? Probably not, but he's going to be a huge price."
Aside from his lengthy background as a writer, broadcaster, publicist and morning line writer, White is known for his Derby Strikes System (DSS). That assigns a "strike" to a horse who fails to meet a specific marker among the eight factors he deems necessary for Derby success.
Check your favorite horse in the Derby Strikes System
His criteria are these:
Graded Stakes: a horse ran in a graded stakes race before March 31.
Win in a Graded Stakes: a horse won a graded stakes race. Since 1973, when graded stakes races were incorporated, only four horses: Ferdinand (1986), Alysheba (1987), Funny Cide (2003) and Giacomo (2005) flunked this test. And White points out Alysheba won the Blue Grass, but was disqualified to third.
The Eighth Pole Category: White puts the most emphasis on this factor. Was a horse either in first or second at the eighth pole in either of their last two preps at 1 1/16 miles or 1 1/8 miles? White said 53 of the last 56 Derby winners checked this box. Animal Kingdom (2011), Giacomo and Grindstone (1996) were the only three who didn't.
The Gameness Factor: This tests a horse's tenacity. Was the horse's finish position in both of their last two Derby preps no worse than their position at the eighth pole? Only five horses in the last 67 years missed this one: Kauai King (1966), Sea Hero (1993), Charismatic (1999), Giacomo and 50/1 shot Mine That Bird (2009).
No Adding or Removing Blinkers: White put this one in to screen out trainers searching for answers coming into the Derby. He said no winning horses from 1973 on have earned this strike.
The Raced As A 2-Year-Old Factor: Self-explanatory, since only Apollo in 1882 and Justify in 2018 earned this strike and found the winner's circle. This year, you've got Taiba, Zozos and Charge It angling to join them.
The Not A Gelding Factor: Again, self-explanatory. The only three horses with the "ultimate equipment change" winning the Derby were Mine that Bird, Funny Cide and Clyde Van Dusen (1929).
Like golf, fewer is better here
White's system is proprietary, but generally, a horse with zero or one strike has a much better chance to win the Derby than one with two strikes or more. Going back to 1973 and taking out the September pandemic Derby of 2020, White said 83% (40 of 48) Derby winners had either zero or one strike.
Medina Spirit, who crossed the finish line first last year, did so with zero strikes. Mandaloun, who officially became Derby champion when Medina Spirit was disqualified for his betamethasone overage, had one strike.
Further proving his freak-show status, Mine that Bird won his Derby with four strikes. No horse has won with more. Among this year's field 12 of the 20 horses have zero or one strike. Six have two and two have three or more.
White's pick is …
So who is White picking for this year's Derby?
"There is one horse here, one, who could be a superstar and he is my pick to win the race: Taiba," White said. "I was going back and forth between Taiba and Messier and I settled with Taiba because if I pick Messier and Taiba wins, I'll be irked. But if I pick Taiba and Messier wins, I can live with that more. … The eighth-pole argument. This is something where both Taiba and Messier fit the bill. They both have that tactical speed that, barring a bad break – which happened to Rock Your World last year – that can carry them."