As expected, Essential Quality checked in as the 2/1 morning-line favorite for the 147th Kentucky Derby. And Tuesday's post-position Derby draw sends the undefeated colt and his favorite status into post 14 for Saturday's 2021 Triple Crown opener.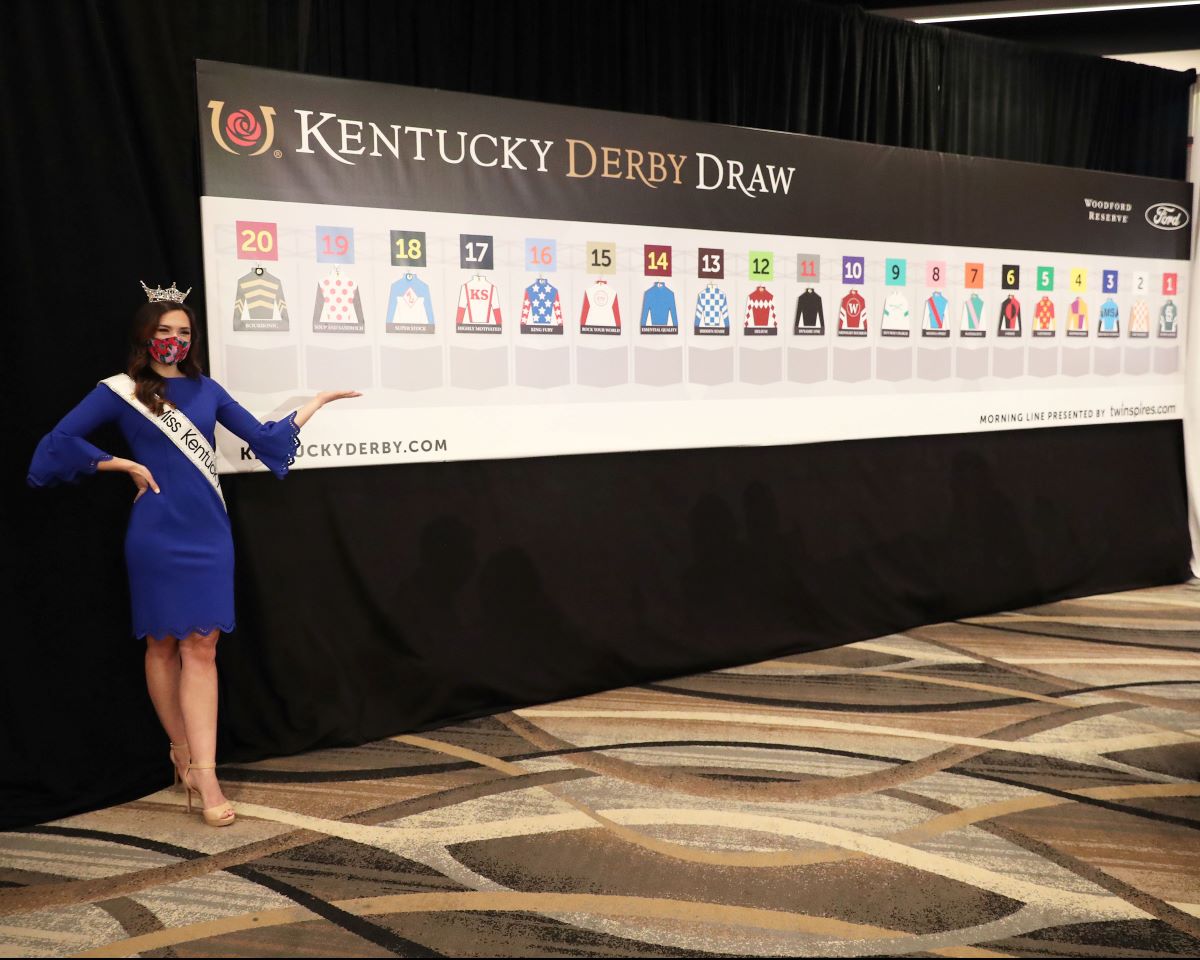 As he watched the posts fill up on Tuesday morning, this put Derby rookie trainer Brad Cox on the proverbial pins and needles. Both his Derby prospects, Essential Quality and Mandaloun (15/1), were live late in the pill-pull format draw.
And so was the dreaded post 1.
"It got a little nerve-wracking with both horses still go to and the rail still being out there," Cox told Churchill Downs. "I think it'll be a good spot (14). He's got good tactical speed that he'll be able to get into a good position from there."
Is drawing Post 14 a poisoned chalice?
Essential Quality brings a 5-for-5 record into post 14. He is among the most versatile and adaptable horses in the field, but post 14 isn't exactly the express lane to the winner's circle. Just ask Tiz the Law's trainer, Barclay Tagg. That's where last year's prohibitive 3/5 favorite started.
And while every trainer dreads the rail, it carries an 8.8% win percentage: 8-for-91. Compare that to Post 14's 3.1% (2-for-64). A horse hasn't won from post 14 since Carry Back in 1961.
Mandaloun drew post 7, one of the prime spots. Cox said that Mandaloun's tactical speed makes this an ideal place for him and jockey Florent Geroux to operate from.
Can Known Agenda break the Ferdinand curse?
That said, someone had to get the rail, and that someone was Todd Pletcher's Known Agenda. Linemaker Mike Battaglia still made the Florida Derby winner the 6/1 third favorite, even though no horse since Ferdinand in 1986 went from the rail post to Derby champion.
"Obviously, it's not what we were hoping for. But, of course, this is one of the things you can't control," Pletcher said. "With the new (20-stall) gate, we're hopeful that things will be better than they were in the past and the post won't be that bad. He had an inside trip in the Florida Derby and he handled it very professionally."
Pletcher drew the short end of the straw on both ends of the gate. His Bourbonic (30/1) wound up on the far outside in post 20.
"We wouldn't have chosen this post, but he will be OK. He's going to drop back and make one run, so it'll work out," Pletcher said about the Wood Memorial champion.
Derby draw always a zero-sum game
In a zero-sum game like Derby draws, for every Pletcher putting the best face on a bad spot, there's a John Sadler thanking the equine gods. His undefeated Santa Anita Derby champion, Rock Your World, starts next door to Essential Quality in post 15 as the 5/1 second favorite.
"It's a good post and we're happy with it," Sadler said afterward.
So is Hot Rod Charlie's trainer, Doug O'Neill. The Louisiana Derby winner opens at 8/1 from post 9. His speed and Flavien Prat's riding skill make this a great draw to see where the pace takes the race.
"We're delighted with the nine. It's a real good post," O'Neill said. "And the way they load the field, it means we won't be standing in the gate very long. They'll put us in, then one other, and we're gone. We're real happy with it."
---
Grade 1 147th Kentucky Derby/Churchill Downs
Morning Line (Jockey/Trainer)
Known Agenda, 6/1 (Irad Ortiz Jr./Todd Pletcher)
Like the King, 50/1 (Drayden Van Dyke/Wesley Ward)
Brooklyn Strong, 50/1 (Umberto Rispoli/Danny Velazquez)
Keepmeinmind, 50/1 (David Cohen/Robertino Diodoro)
Sainthood, 50/1 (Corey Lanerie/Todd Pletcher)
O Besos, 20/1 (Marcelino Pedroza/Greg Foley)
Mandaloun, 15/1 (Florent Geroux/Brad Cox)
Medina Spirit, 15/1 (John Velazquez/Bob Baffert)
Hot Rod Charlie, 8/1 (Flavien Prat/Doug O'Neill)
Midnight Bourbon, 20/1 (Mike Smith/Steve Asmussen)
Dynamic One, 20/1 (Jose Ortiz/Todd Pletcher)
Helium, 50/1 (Julien Leparoux/Mark Casse)
Hidden Stash, 50/1 (Rafael Bejarano/Vicki Oliver)
Essential Quality, 2/1 (Luis Saez/Brad Cox)
Rock Your World, 5/1 (Joel Rosario/John Sadler)
King Fury, 20/1 (Brian Hernandez Jr./Ken McPeek)
Highly Motivated, 10/1 (Javier Castellano/Chad Brown)
Super Stock, 30/1 (Ricardo Santana Jr./Steve Asmussen)
Soup and Sandwich, 30/1 (Tyler Gaffalione/Mark Casse)
Bourbonic, 30/1 (Kendrick Carmouche/Todd Pletcher)
---
Battaglia's Derby line goes from Essential Quality at 2/1 to six 50/1 horses. Interestingly, four of those long shots are next to each other. Like the King (post 2), Brooklyn Strong (post 3), Keepmeinmind (post 4), and Pletcher's third of four entries, Sainthood (post 5). Connections for all four were generally pleased with the inside draws.
"He's a come-from-behind horse, so it really doesn't matter where he draws," trainer Wesley Ward said about Like the King. "If he had gotten the one post, that might have been a problem if they started playing bumper cars out there."
The other two 50/1 shots also start next door to each other: Tampa Bay Derby champion Helium from post 12 and Hidden Stash from post 13.