About the only thing faster than Life Is Good on the track was the rush of horses piling into the Santa Anita Derby the moment the Bob Baffert supercolt departed the Kentucky Derby Trail with an ankle injury.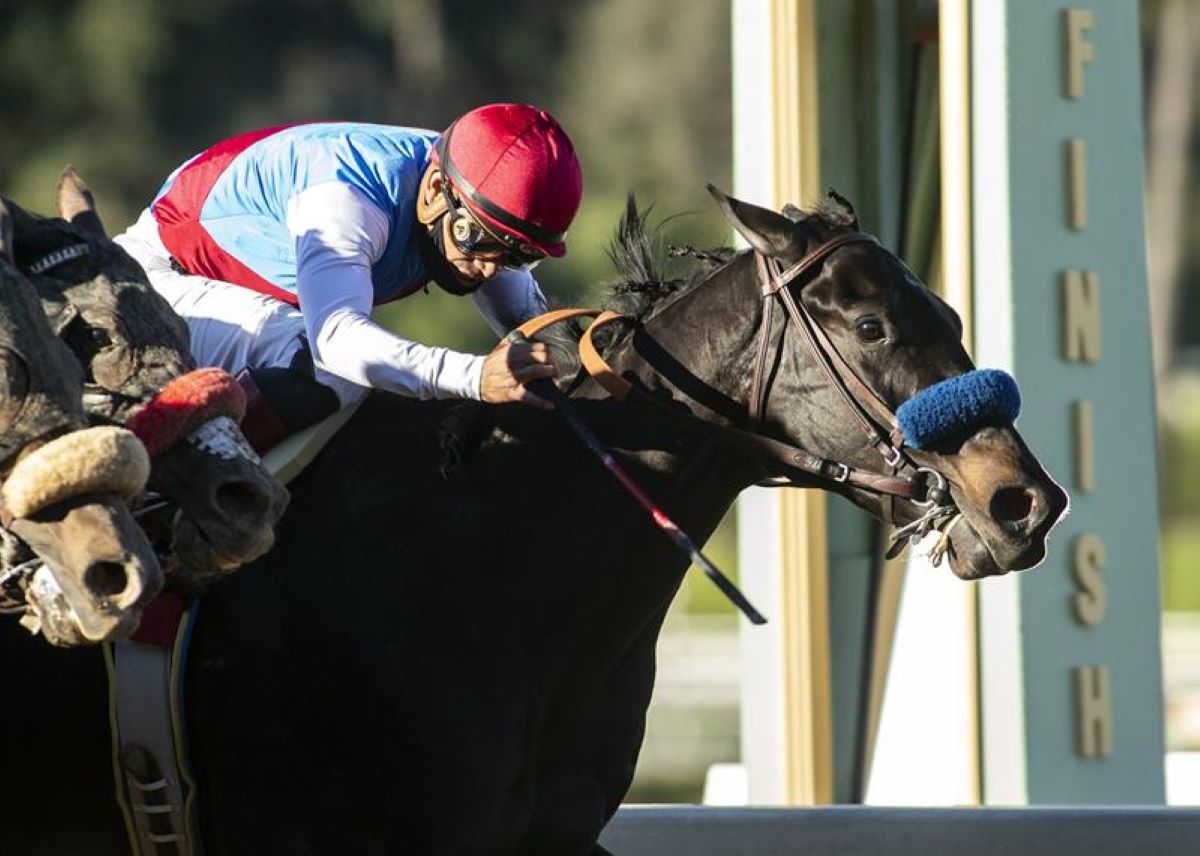 Now, all of a sudden, horses like Dream Shake, Parnelli, Law Professor and The Great One find their calendar for the first Saturday in April free. You could say that Life Is Good's absence made their chances grow fonder for hitting the board in one of the country's premier Derby preps.
A huge 12-race card Saturday at @santaanitapark, including the Santa Anita Derby, Oaks and four other (two graded) stakes races. Temps expected in the 80s. First post is noon.

— Art Wilson (@Sham73) March 31, 2021
Of course, there are the 100-40-20-10 Derby qualifying points up for grabs here. Then again, Bob Baffert still occupies Barn No. 1 at Santa Anita Park. And Baffert trains one Medina Spirit, who steps up, inherits 5/2 morning line favorite status and becomes the horse to beat. After all, at Barn No. 1, when one Derby threat goes down, there's always two or three more to replace him.
And so it goes for this edition of the 1 1/8-mile Grade 1 Santa Anita Derby. One of the country's most historic and prolific Derby preps, the Santa Anita Derby remains a reliable Kentucky Derby barometer. Just like it has since the 1950s, when the Santa Anita Derby provided the Kentucky Derby winner three times in four years. That came from Hill Gail (1952), Determine (1954) and Swaps (1955).
Santa Anita Derby spawned many of the sport's icons
The Santa Anita Derby is the race that gave us 19 Kentucky Derby winners and its own Hall of Fame wing. It's the race that gave us two Triple Crown winners: Affirmed (1978) and Justify (2018). The race that gave us Santa Anita Derby/Kentucky Derby winners Majestic Prince (1969), filly Winning Colors (1988), Sunday Silence (1989), I'll Have Another (2012) and California Chrome (2014).
The race that gave us the legendary closer Silky Sullivan and Triple Crown race winners Snow Chief, AP Indy, Point Given and Exaggerator. And the race that gave us last year's Derby winner and Horse of the Year, Authentic, who finished second to Honor AP.
Win the Santa Anita Derby and there usually isn't an East Coast bias following you to Churchill Downs. That's how legitimate this race is in the big picture.
Yes, Bob Baffert remains prominent in this picture
Of course, this being a West Coast Derby prep in Baffert's backyard, the Santa Anita Derby is usually Baffert's world. He's won nine of these, including three of the last six with Dortmund (2015), Justify (2018) and Roadster (2019).
Jon White, Santa Anita's morning line author and an XBTV commentator, listed Baffert's dominance of Santa Anita derby preps. Starting with Roadster's 2019 Santa Anita Derby victory and running up through the 2021 San Felipe, there have been 10 Derby preps at Santa Anita. Baffert has won nine. Only John Shirreffs' 2020 Santa Anita Derby victory with Honor AP spoiled the streak.
That dominance should continue with Medina Spirit. He is 2-for-4, with both losses coming to stablemate Life Is Good: by less than a length in January's Sham Stakes and by eight in the San Felipe. Nobody has come that close to Life Is Good and the 99 Beyer Speed Figure and 109 Equibase Speed Figure from that race top this field.
Medina Spirit already beat a third of the field
Those two finishes sandwiched Medina Spirit's determined victory in the Robert B. Lewis, where he refused to let Roman Centurian and Hot Rod Charlie pass him in deep stretch. He is a gritty, tenacious, tested horse who can press the pace or set it, depending on the race dynamics.
The versatile Medina Spirit has already beaten three others in the field and a fourth – Roman Centurian – who scratched Friday. He beat Dream Shake (third), Roman Centurian (fourth) and The Great One (fifth) in the San Felipe. Parnelli finished 19 ¾ lengths behind Medina Spirit in the Lewis.
Dream Shake is the most likely contender. The inexperienced, but fast, Twirling Candy colt has only two races under his belt. But he ran decently in the San Felipe, finishing only 2 ¼ lengths behind Medina Spirit.
"Obviously, I think stamina was a big deal for him in the second start," trainer Peter Eurton said. "I believe the two turns was something. Obviously, everything is new for him right now. He got some dirt, he ran inside, it was all new to him. So I don't think anything to take from the race was a negative thought."
Can Rock Your World rock dirt like he rocks turf?
The intriguing candidate here is John Sadler's Rock Your World (4/1). Unlike everyone else in the field, Rock Your World is unbeaten. He's also a non-Baffert who had this race circled before Life Is Good's injury.
Rock Your World's two victories came on turf, which gives cause for pause. His pedigree leads Rock Your World to the grass and some horseplayers don't think this translates to dirt. It may not here. Then again, Rock Your World does have the speed to hang with this field, as his 98 Equibase Speed Figure from his one-mile February victory in the Pasadena Stakes attests.
If Rock Your World is the X-factor here, Defunded (8/1) is the Y-factor. The "other Baffert" finds himself in a nine-furlong Grade 1 with only two sprints under his hooves. But the fact Baffert thinks this gelding is ready for these deep waters means there's more there than meets the casual eye. So was his bullet, 1:12.8 six-furlong workout March 24 XBTV chronicled.
Grade 1 Santa Anita Derby/Santa Anita Park
Morning Line (Jockey/Trainer)
Roman Centurian, SCR
Dream Shake, 7/2 (Flavien Prat/Peter Eurton)
Rock Your World, 4/1 (Umberto Rispoli/John Sadler)
Parnelli, 20/1 (Edwin Maldonado/John Shirreffs)
Back Ring Luck, 20/1 (Tyler Baze/John Sadler)
OttotheLegend, 12/1 (Mario Gutierrez/Steve Asmussen)
Medina Spirit, 5/2 (John Velazquez/Bob Baffert)
Law Professor, 10/1 (Kent Desormeaux/Mike McCarthy)
The Great One, 8/1 (Abel Cedillo/Doug O'Neill)
Defunded, 8/1 (Mike Smith/Bob Baffert)
Throw on Hall of Famer Mike Smith, who has won the last three Santa Anita Derbies aboard Justify, Roadster and Honor AP, and Defunded is worthy of more than intrigue. He's worthy of down-ticket presence on your exotics. .
The pick: Medina Spirit. The Daily Racing Form reported Medina Spirit had a minor operation to assist his breathing. Like he needed another edge in a race where his versatile running style, speed and connections – read Baffert – make him a worthy substitute for Life Is Good.