That Jon White would come up with something like the Derby Strike System (DSS) makes sense when you consider its creator spent hours surreptitiously handicapping races during his high school classes.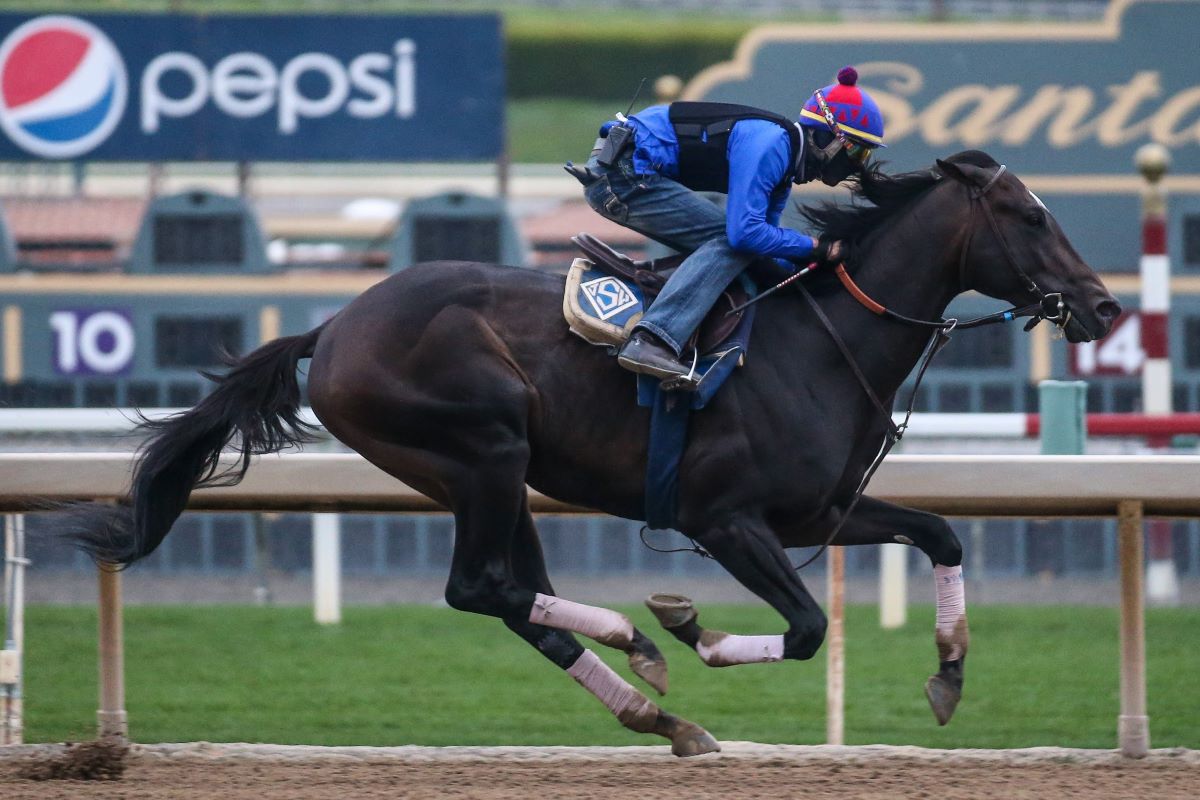 "I'd hide it from my teachers. But I'd hide it from my fellow students as well," said White, Santa Anita Park's morning line author and Xpressbet columnist. "I knew if they saw me handicapping races, they'd never leave me alone. They'd be asking me questions all the time."
Now, when it comes down to breaking down Kentucky Derby hopefuls, White asks the questions. His answers led him to create the Derby Strike System for Xpressbet, triaging a horse's chances of winning the Run for the Roses.
"It's not just historical perspective. It's tactical perspective and tactical perspective is extremely important," White told OG News.
Derby Strike System brings history, tactics into play
That's because tactical speed wins Derbies in the points era. In 2013, Churchill Downs replaced graded-stakes earnings as a qualifying standard with points gained in designated races. Those races were route races, not sprints. This took the lightning pace out of the race, reducing speed duels and therefore, reducing closers' chances.
No kamikaze fractions means no pace meltdown. No pace meltdown cuts the knees off most closers' chances of swooping out of the clouds and stealing the Derby.
Since 2013, Orb remains the only winning Derby closer. From California Chrome in 2014 to the disqualified Maximum Security in 2019, pressers/stalkers crossed the wire first. Pace-setting Authentic broke the string last year.
Eight categories, eight ways to earn a strike
White considers this – and several other elements — with his Derby Strike System. The DSS consists of eight categories that define or refute a Derby horse's chances of immortality. Horses either pass or fail each category. Fail a category and you earn a strike.
White said you can't tally up strikes until the prep races conclude.
---
Jon White's DSS categories and what they mean
Graded stakes: The horse ran in a graded stakes race before March 31. This illustrates a horse tangled with top competition more than a month out from the Derby.
Winning a graded stakes: Self-explanatory — the horse won a graded stakes race. This shows a horse possesses the requisite class to beat the sport's pinnacle. Since the introduction of graded stakes in 1973, only Ferdinand (1986), Alysheba (1987), Funny Cide (2003), and Giacomo (2005) failed this test. And Alysheba brings an asterisk. He won the Blue Grass Stakes, only to get disqualified to third.
The eighth pole category: White said this is the most important category because 52 of the last 55 Derby winners have this on their resumes. Horses checking this box ran either first or second with a furlong to go in either of their last two starts before the Derby. This displays a horse with the requisite running style and stamina to go 1 ¼ miles. The only horses flunking this test since 1962 were Grindstone (fourth) in 1996, Giacomo (sixth) in 2005, and Animal Kingdom (third) in 2011.
The gameness category: That's a simple term for describing a horse's tenacity. Horses passing this category finished no worse than their position with a furlong to go. This illustrates horses like Medina Spirit, who refuse to get passed in deep stretch. Seven horses since 1960 take this strike, most recently Super Saver in 2010.
The distance foundation category: The horse hit the board in a 1 1/8-mile or longer race before the Derby. Another stamina measure, testing a horse's ability to handle 10 furlongs. Five horses since 1960 missed this box: Kauai King (1966), Sea Hero (1993), Charismatic (1999), Giacomo (2005), and Mine That Bird (2009).
The no adding or removing blinkers category: Again, self-explanatory. The horse hasn't added or removed blinkers in their last pre-Derby start. White includes this because he says it shows that a trainer isn't throwing the kitchen sink at a horse late in the Derby prep game. History backs him up. White said since the Daily Racing Form began including blinkers in past performances in 1987, no horse adding or removing them in their last pre-Derby start wore roses.
The raced as a 2-year-old category: The horse made at least one start as a juvenile. Dating to the Derby's 1875 inception, the exceptions to this rule are easy to find: Apollo in 1882 and Justify in 2018. Since 1937, unraced 2-year-olds are 1-for-63 – and it took a Triple Crown winner in Justify to break the schneid.
The not a gelding category: White isn't being "genderist" here. He's being surgical – pun intended. Only three geldings since 1929 found the Churchill Downs winner's circle: Clyde Van Dusen (1929), Funny Cide (2003), and Mine That Bird (2009).
---
Fewer strikes = greater chances for victory
Like in golf, fewer is better. Sweep the board without strikes or get one and you're likely a live Derby contender. Since 1973, 39 of the 48 Derby winners came in with zero or one strike. That doesn't include Authentic's win last year. White said the September Derby made the DSS unworkable.
Get two strikes and your odds diminish, but don't disappear. Seven horses since 1973 – not counting last year's pandemic Derby – won carrying two strikes:
Cannonade (1974), Categories 3 and 4
Ferdinand (1986), Categories 2 and 4
Sea Hero (1993), Categories 3 and 5
Funny Cide (2003), Categories 2 and 8
Giacomo (2005), Categories 2 and 5
Justify (2018), Categories 1 and 7
Country House (2019), Categories 2 and 3
You've already put the asterisk on promoted Country House, who finished 1 ¼ lengths behind Maximum Security. He came in with zero strikes, but was disqualified for interference.
A glaring outlier in a popular Derby winner
"Once you go past two strikes, you're really playing with fire," White said. "The vast majority of winners have zero or one strike. Two isn't impossible, but the odds are against you. Once you get past two, you're in Mine That Bird territory."
Derby aficionados smile at the mention of the popular 2009 Derby winner, who flipped everything on its ear when he won that Derby at 50/1. He also became the only Derby winner with more than two strikes. Mine That Bird missed Categories 1, 4, 5, and 8.
Where are some of this year's horses?
As you'd expect from the presumed Derby favorite, Essential Quality comes in with zero strikes. Hot Rod Charlie checks in as one of five horses with one strike. His only miss came in Category 4.
Rock Your World is one of the front-row Derby contenders with two strikes. He flunks Categories 1 and 7. Then, you get to White's "Mine That Bird" neighborhood: Dynamic One and King Fury. Each brings three strikes to the gate. Dynamic One takes his strikes in Categories 1, 2, and 4. King Fury's come in Categories 4, 5, and 6.
Some strikes more equal than others
Where this gets interesting is with a horse like Rock Your World. He has two strikes because he didn't run a graded stakes until the April 3 Santa Anita Derby. And he didn't race as a 2-year-old. Compare him with one-strike Super Stock, and things begin to look a little different.
Nobody who's watched either horse run claims Super Stock is a better horse than Rock Your World. The latter owns the only triple-digit Beyer in the field (100). Super Stock's best Beyer? A 92. And while Beyers aren't everything, as White repeatedly illustrates, some strikes are more equal than others.
"That eighth pole (category) is something that not a lot of people pay attention to," White said about Category 3. "I come out of the Kentucky Derby every year and that's one of the most interesting aspects to me. Where was the winner at the eighth pole?  Year after year, it's first or second. Even horses you wouldn't think were first or second because they came from way back. … Beyond the strikes, I've learned to focus on No. 3."
When you focus on the DSS, focus on No. 3. Focus on how everything fits in context with recent Derby history. And focus on what White did: how history and tactics can foretell Derby success.