Mikaela Shiffrin caught the media up on her current physical and mental state on New Year's Day, saying she'd instead focus on getting stronger physically and focusing on individual races rather than competing for the World Cup overall this season.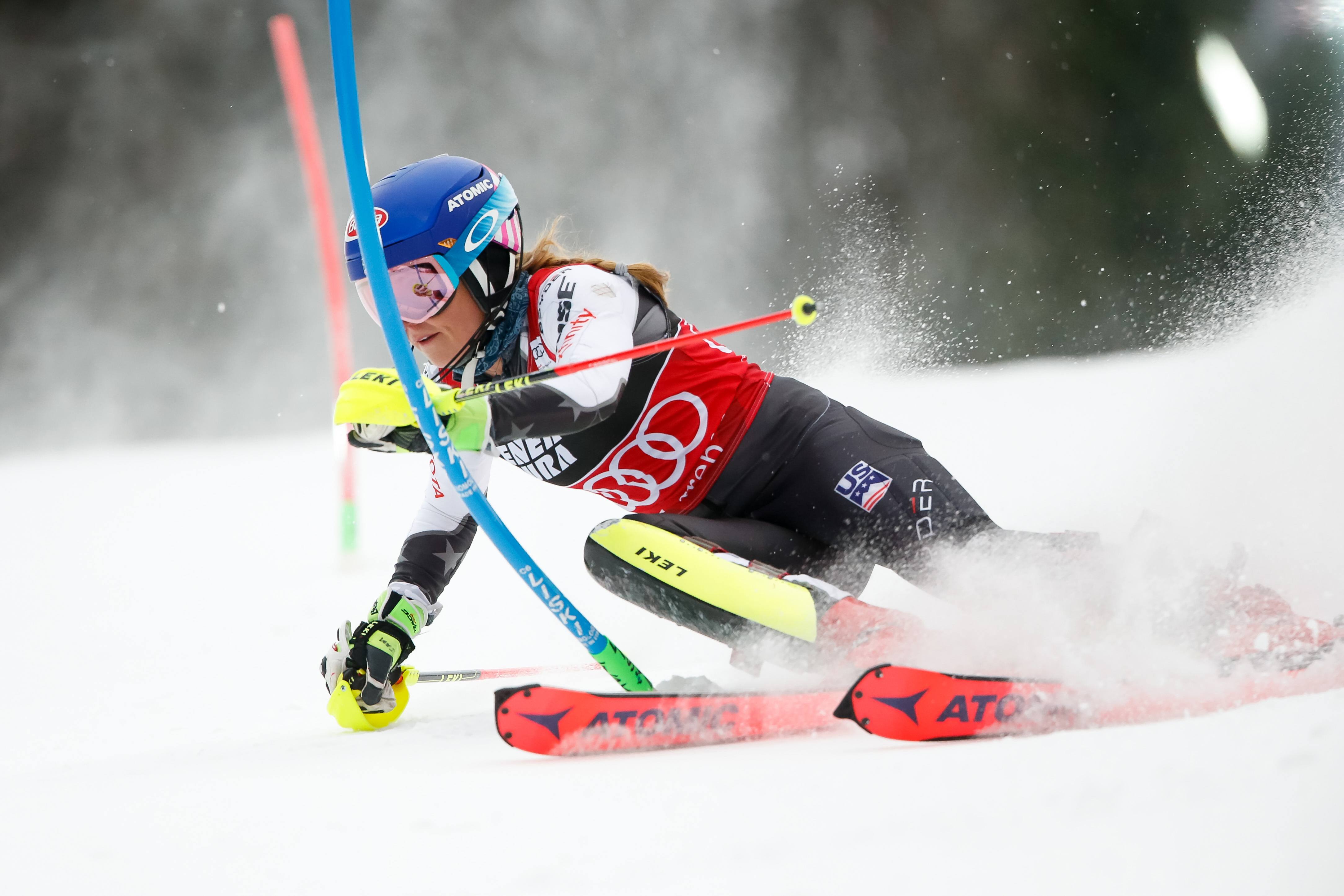 Shiffrin, who experienced a 320-day pause from skiing in 2020 due to mourning the sudden passing of her father, a significant injury, and navigating the new world of the COVID-19 pandemic, returned in November and seemed to be picking up right where she left off—at the top of the podium.
By mid-December, she had taken her 67th career World Cup win in the Courchevel giant slalom and wrapped the season with a podium finish in the slalom last week.
Slovakian speed specialist Petra Vlhová, and Shiffrin's main rival in the sport, is currently the leader for the overall, with Swiss Olympic combined champion and Semmering slalom winner Michelle Gisin sitting second. Shiffrin, who has sat out several races thus far this season, is 180 points off the pace in third.
Shiffrin Going Back to Technical Events and Will Build from There
Shiffrin said she still isn't 100 percent and will attempt to build a base back with technical events rather than focusing on speed.
"I have not had time for speed training yet," she said via an extensive online press conference. "It's kind of busy this next couple weeks, but next race after Zagreb will be Flachau and then Maribor's like right after that. And then there might be a chance to get one or two sessions on the Super G skis before Kronplatz. We'd like to target that. But there's just a lot up in the air still, and I'm just trying to manage everything."
Shiffrin also alluded to her teammates' rise on the US Ski Team, who thus far this season have notched some surprise podiums and competitive finishes on both the men's and women's side. "I've talked with my coaches and the team about what my plans would be," she said. "It's a little bit difficult to know exactly because we have a really strong speed team right now, and we only have a certain number of spots."
The 25-year-old Colorado native ski superstar said she's yet to decide whether she'll defend her Super G crown at the World Championships in Cortina Feb. 8-21.
"Is World Championship speed out of the cards? It's not out of the cards, but it's not a certainty right now," she said.
Shiffrin confirmed she would start 2021 off at the World Cup event in Zagreb, Croatia Sunday.
Croatia Earthquake Almost Halts Event, Shiffrin Tweets Out Relief Effort
The event is set to take place even through a 6.4 earthquake that happened on Dec. 29, 50 km away in Petrinja—organizers gave the event the green-light Friday.
"They were talking about maybe not being able to host the race, but the organizers have pulled it off, and it shows how much they want to have the World Cup here," Shiffrin said. "This is one of the classics.
"This is a special race in ski racing history, and for them to push that hard, not only through a pandemic but also through a natural disaster, is pretty incredible."
Here is how you can help with your donation after #CroatiaEarthquake 🙏🏼 Thank you pic.twitter.com/WUzRKEuybt

— Janica Gipsdottir-Kostelic (@janicak) December 30, 2020
The event's winner will hoist the Snow Queen Trophy in honor of Croatia's four-time Olympic champion Janica Kostelić.
Vlhová, Gisin, Shiffrin May Go One-Two-Three at Snow Queen
Vlhová (+175 on BetMGM) is a favorite to defend the event's title after her win last year. She's been skiing technical events strong thus far this season, her fourth-place finish last week in Semmering the worst of her current campaign to date. She's on an unbelievable hot-streak after having finished on the podium in 15 of her previous 18 World Cup slalom events. In Zagreb, she's had a podium finish in three of her six World Cup slalom races during her career.
Fresh off the top of the podium Gisin (+400) is set to try for a second successive slalom win after topping the podium in Semmering last Tuesday after nine previous World Cup podium finishes. She can become the first Swiss skier to win consecutive women's slalom World Cup events since Vreni Schneider won six in a row in 1994. Gisin's best finish at the Zagreb slalom in the World Cup was a seventh-place on Jan. 5, 2018.
Before Gisin's victory in Semmering, every women's World Cup slalom since January 2017 had been won by either Shiffrin or Vlhová.
Shiffrin (+175) has won 43 World Cup slalom events, already a record among men and women. In her last 46 slalom starts in the World Cup, she has finished on the podium 43 times with 34 wins. Only Austrian Marcel Hirscher has won more World Cup slalom events in Zagreb with five.
Swiss Slalom Specialist Holdener Seeks Top of the Podium for First Time
Those looking for a long-shot play should check in on Swiss technical specialist Wendy Holdener (+2000), who has amassed 24 World Cup podium finishes in the slalom but has yet to claim her first victory.
Holdener holds the record for most World Cup podiums in a single discipline without winning, six more than the previous record held by eighties Austrian ski legend Hubert Strolz. He had 18 podium finishes without a win in the men's giant slalom during his prime.
COVID-19 Protocol Breaks One of the Wold Cup Circuit's Favorite Traditions
Sunday's women's race slalom and Wednesday's men's slalom will occur without spectators following governing body FIS rules. The Snow Queen tradition of a public draw of starting numbers in Zagreb's main square is also off. This will be the first time that the race will be held without an audience.
All participants have to produce a negative COVID-19 test no later than 72 hours before the start gates. First run on Sunday is at 12:30 p.m. local time 2nd run starts at 4 p.m. North American viewers can stream the races live on NBC's Peacock app.