It had been 323 days since one of the best Alpine skiers in history skied a World Cup event. In that time, 25-year-old Mikaela Shiffrin endured her father's death, the worst injury of her career, and being off the mountain due to a pandemic.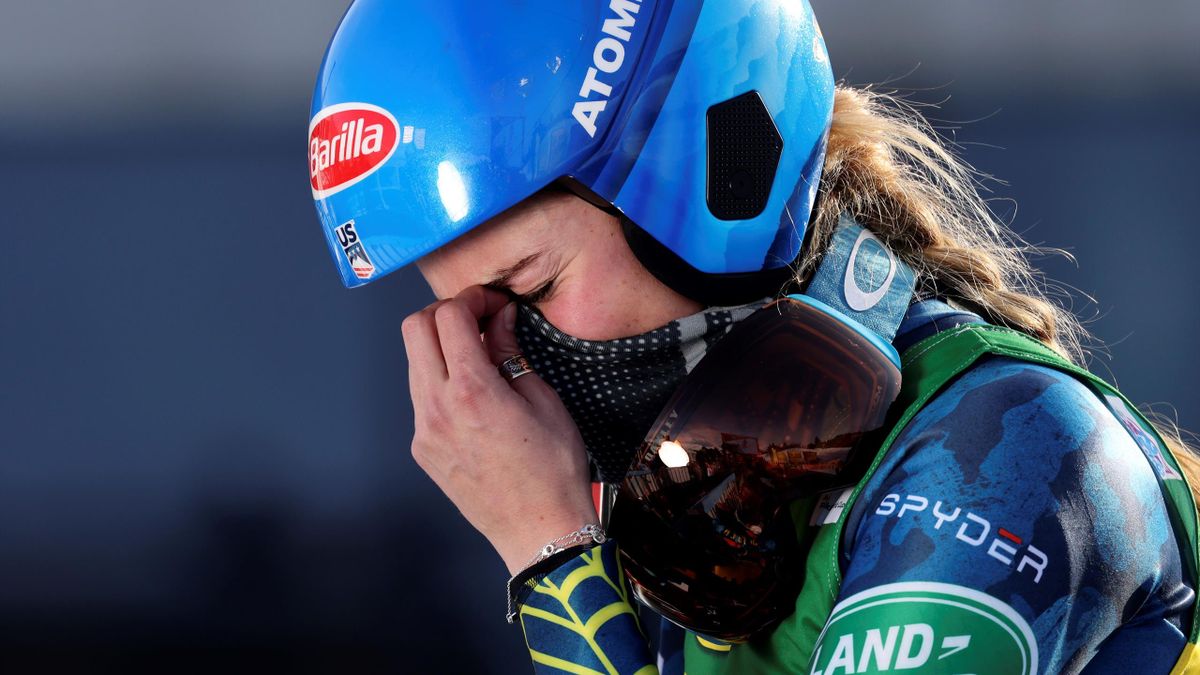 As she crossed the line after her second run, it all seemed to hit her at once, and the moment got the better of her. The Vail native fell to her knees at the end of her race and had a hard time keeping it together in the post-race interview.
Shiffrin finished her first run in the lead with the Italian duo Bassino-Brignone just 14-hundredths of a second behind her, and her closest competitor, Petra Vlhova out. By the time her final run arrived, the event was hers for the taking giving her a blazing start to the season with four straight podiums and two wins. She's also been in the top three in two out of four speed races. Shiffrin currently leads the overall women's World Cup standings by 165 points after 10 of 41 scheduled races.
Cheers to the wonderful and kind people who said I lost my fire forever. This one's for you. Also this one's for every single person who is helping me get the fire back. pic.twitter.com/PeJvNmiQli

— Mikaela Shiffrin (@MikaelaShiffrin) December 14, 2020
This week, Shiffrin admitted she isn't skiing the way she wants to and skipped downhill practice in the French Alps, opting instead to head home to keep her fitness up and enjoy the holidays, Shiffrin announced Thursday she will sit out this weekend's speed races in Val D'Isere,
"Wellllll I wanted to try for @valdisere. I was pretty excited, really-and it would have been the first time that I made that schedule work…but I have to get some work done now, so Merry Christmas and see you in Lienz!" she posted Thursday.
This once again opens up the field as the World Cup continues in the French Alps with speed week in Val D'Isere running Friday through Sunday, starting with the downhill on Friday.
Swiss Skiers Love the French-Italian Snow
Swiss speed queen Corinne Suter (+700) won the downhill and super-G crystal globes last season, and was the first woman to win both speed globes in one season since Lindsey Vonn in 2014-15.
The 26-year-old has also seen six World Cup downhill podiums in her career, all in her last 10 starts. The Swiss women love the mountain, winning 13 of the 31 women's World Cup downhills in Val d'Isère—which is eight more than the next closest country, the US, with Five.
Czech multi-sport athlete Ester Ledecká (+1400) finished second in the downhill overall last season, winning the first event in Lake Louise and finishing third in Garmisch-Partenkirchen.
Look Out for Ledecká
Ledecká can become the first Czech skier, male or female, to win a World Cup standings. Those who recall the 2018 Olympics in Pyeongchang may remember Ledecká won a gold medal in the super-G in skiing, and the parallel giant slalom in snowboarding.
Ledecká already holds seven titles in Snowboard: four parallel overall, and three in the parallel giant slalom. With a win Friday, Ledecká would be the third Czech skier to win multiple World Cup races.
Italian and Slovenian Women Will Rise
Italian Federica Brignone (+1200) finished third in last season's downhill standings and can become the third Italian woman to win the downhill crystal globe after Isolde Kostner in 2000-02, and Sofia Goggia in 2017-18.
Brignone has achieved four World Cup podiums in the downhill, but has yet to win one this year. Of those four, three came in her last five starts.
Slovenian Ilka Štuhec (+2200) has won nine World Cup events, including five in the downhill. Only Tina Maze (26) has won at least 10 among skiers representing Slovenia. More importantly, Štuhec won the most recent World Cup downhill held in Val d'Isère in 2016. The last woman to win straight downhills at the resort was Vonn in 2006 and again in 2010.