The women's alpine World Cup moves on to Slovenia with a pair of giant slaloms in Kranjska Gora this weekend. And, the major story going into two days of skiing is the reemergence of American Mikaela Shiffrin, suddenly back on top coming off a career-defining slalom win Tuesday under the lights in Flachau.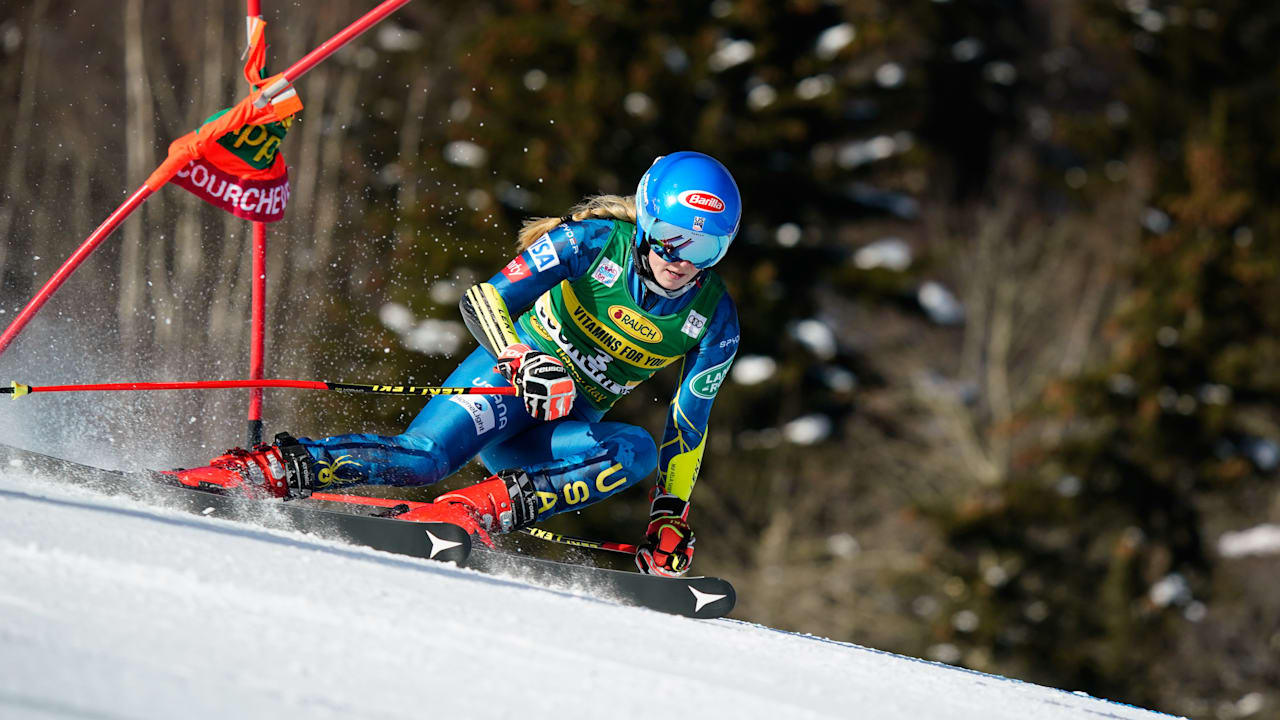 Shiffrin has been slowly working her way back to full mental and physical strength after a 10-month skiing hiatus spawned by injury, her father's February death, and the COVID-19 pandemic.
Tuesday was the Colorado native's first win since a giant slalom victory in France in December. It was also her first slalom victory in more than a year — the longest drought in the favored discipline of her career.
"All of the pieces that go into race day came together," she said in an emotional post-race interview. "It's amazing, but it doesn't mean it's fixed yet. Tonight was really, really good."
Her near-perfect second run deserves a second look.
.@MikaelaShiffrin earned her 68th World Cup win today, officially breaking her tie for third on the all-time career list and her reaction at the end says it all. 👏

This is her first victory in her trademark discipline in over a year. pic.twitter.com/vCpgxrUyry

— #TokyoOlympics (@NBCOlympics) January 12, 2021
While Shiffrin's speed is coming back, it's Italian giant slalom specialist Marta Bassino (+250 on Bwin) who is the pre-race favorite. Bassino won the first two women's giant slalom World Cup races this season, one in Sölden in mid-October, and the other in Courchevel last Dec. 12.
Despite a Resurgent Shiffrin, Italy's Bassino the Favorite
Bassino DNF'd in the second race at Courchevel, leaving the door open for Shiffrin's other victory this season. Bassino is currently in second place in the giant slalom World Cup standings, trailing Italian teammate Federica Brignone by five points. The 24-year-old looks to take a fourth career World Cup win this weekend. If she does, all of her wins will be in the giant slalom.
She could also become the first Italian woman to win at least three women's World Cup giant slalom races in a single season since Denise Karbon won five in 2007-08.
Shiffrin Made History Tuesday, Can She Break Records this Weekend?
Shiffrin's Tuesday comeback notched her name in the history books and provided her with a boost of confidence. In Flachau, she became the eighth alpine skier in World Cup history to reach the podium 100 times. It was also the 25-year-olds 68th win, putting her ahead of Marcel Hirscher (67) for third place on the sport's all-time list. Only Ingemar Stenmark (86) and Lindsey Vonn (82) have won more World Cup events.
Her 12 career victories in the giant slalom give Shiffrin a tie for 10th place in this event among women, alongside Hanni Wenzel.
The record is 20 by Vreni Schneider. December's giant slalom win in Courchevel means that Shiffrin (+350) has won at least one giant slalom race in five successive seasons.
Don't Ever Count Vlhová Out  
Four of current World Cup overall points leader Petra Vlhová's (+500) 18 career World Cup victories are in the giant slalom.
In the discipline this season, Vlhová finished third in Sölden, and then third in the first of two races in Courchevel in December. As a result, her odds are slightly ahead of Italy's Federica Brignone (+700), who currently leads the giant slalom World Cup standings after finishing second in both Sölden and in the second race in Courchevel, and fifth in the first race in Courchevel.
Brignone, with seven career giant slalom World Cup victories, is looking to come off a mini-slump. Last season, Brignone won five World Cup races, but she has yet to top the podium this campaign.
Liensberger Comes Close on Tuesday, Will Kranjska Gora Bring Victory?
Another skier close to that top spot is 23-year-old Austrian Katharina Liensberger (+1400), who finished in the top six of the giant slalom in both Courchevel races this season after DNF'ing in Sölden. Including Tuesday's third-place finish in Flachau, Lineberger is the only skier to finish on the podium in all five women's slalom events this season.
Those looking for a bit of a long shot should take a chance on Tessa Worley (+1600). The French technical specialist has won 13 World Cup races, all in the giant slalom.
No other female skier on the circuit is dominant in a single discipline, and Worley's skiing favors a steep and technical course like the one in Kranjska Gora. Saturday's race will be broadcast at 2 am ET on Peacock.
---
Kranjska Gora Odds: Women's World Cup Giant Slalom Race 1
| | |
| --- | --- |
| | Odds |
| M. Bassino | +250 |
| M. Shiffrin | +350 |
| P. Vlhová | +500 |
| F. Brignone | +700 |
| M. Gisin | +1400 |
| K. Liensberger | +1400 |
| T. Worley | +1600 |
| S. Hector | +1600 |