After a pair of men's downhill races and one slalom scheduled for Wengen, Switzerland, were called off due to concerns that too many cases of the British strain of COVID-10 had come to the area, neighbor Austria stepped in and picked up two of the three disciplines in Kitzbühel.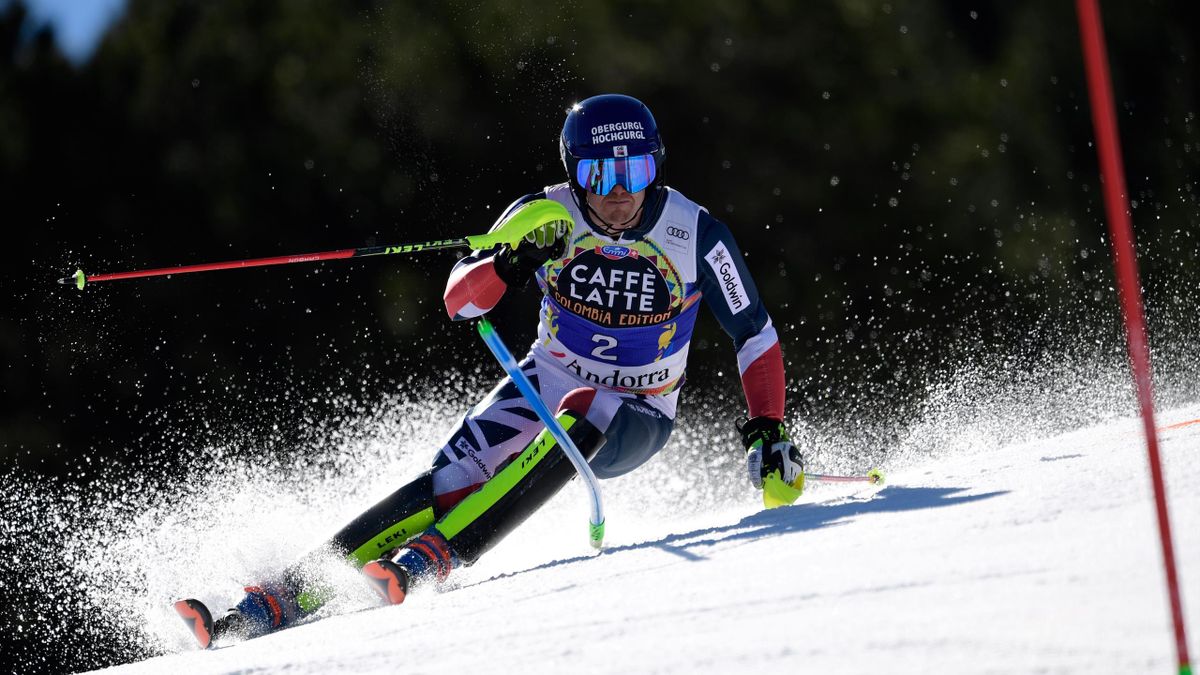 Then, a small outbreak of the strain happened in Jochberg, 11 miles outside of Kitzbühel midweek among British ski instructors. One day later, the races were moved again, this time to the slopes at Flachau, which just played host to the women's slalom on Tuesday where Mikaela Shiffrin roared to a first-place finish in the discipline for the first time in 13 months.
With all that juggling, the men's slalom races will run in Flachau on Saturday and Sunday. The two downhill races in Kitzbühel, along with a super G, have been bumped to next Friday through Sunday, provided there are no more outbreaks.
Got it? Good.
---
Flachau Racing Schedule
The following events will all stream on Peacock.
Saturday, Jan. 16, 2021
Men's slalom, first run, 3:30 am ET
Men's slalom, second run, 6 am ET
Sunday, January 17, 2021
Men's slalom, first run, 4:30 am ET
Men's slalom, second run, 7:45 am ET
---
Variable Conditions and Course Changes Create Rotating Cast of Winners
There's usually an emerging winner or two who surface as top contenders at this point in the season. This year though, relatively little snow, icy-to-slushy conditions, and constant course and schedule changes have resulted in a rotation of winners.
Top contenders Daniel Yule, Clement Noël, and Alexis Pinturault have yet to podium in slalom this year. In the meantime, German Linus Strasser has emerged as a top contender seemingly out of nowhere. Through the races so far this year, eight different racers have occupied the 12 podium spots.
Schwarz the Favorite in Flachau at +500
Ski bettors should keep an eye on Marco Schwarz (+500) this weekend. His odds seem long, but the tight course and unpredictable conditions leave the 25-year-old Austrian technician as the favorite. Schwarz is looking for another win coming off a Jan. 10 victory in Adelboden where he became the fourth winner of the four slalom events so far this World Cup season.
The last Austrian man to win successive World Cup slalom events was Marcel Hirscher in 2019.
Strasser Within Striking Distance of German Slalom Record
Strasser (+600) is on a hot streak with two, top-two finishes in the last two slaloms. This weekend, he can become the fourth German skier of all time to win multiple slalom events in a season.
Henrik Kristoffersen (+1000) has won 18 World Cup slalom events, ranking him fourth all-time among men behind legends Ingemar Stenmark (40), Alberto Tomba (35), and Marcel Hirscher (32).
The 26-year-old Norwegian has won six World Cup slalom events in Austria, and 10 of his World Cup wins in the slalom have come in January. Kristoffersen has won World Cup slalom events in seven different years, and he may be on the hunt for number eight this weekend under conditions that will promise to be faster in Flachau than earlier venues, favoring the Olympic medalist's speed and precision.
Is this the Weekend Britain's Ryland Gets the Win? 
Others to watch include Clément Noël (+600), who's won six World Cup slalom races and is looking to top the podium. He last tasted victory on Feb. 8, 2020, in Chamonix. Five of Daniel Yule's (+1000) 10 podiums have been won in Austria, and he's also scheduled to break out.
Ramon Zenhäusern (+1600) is skiing well this season. After winning this season's first slalom event in Alta Badia, he trails only Yule (4) with World Cup slalom wins among Swiss men.
Italian Alex Vinatzer (+1200) can become the first Italian man to win a World Cup slalom event since Manfred Mölgg in Zagreb in 2017. And why not take a flier on Manchester's own Dave Ryding (+3300), who still strives to become the first Brit to land atop a World Cup podium. Ryding is skiing well this season with a third-place finish in Adelboden last week.