In the latest installment of NBA High Guys, Nikola Jokic makes a repeat performance after posting the first 50-point game of his career with the Denver Nuggets. Luka Doncic, Nikola Vucevic, and Kelly Oubre also set career-scoring highs over the weekend.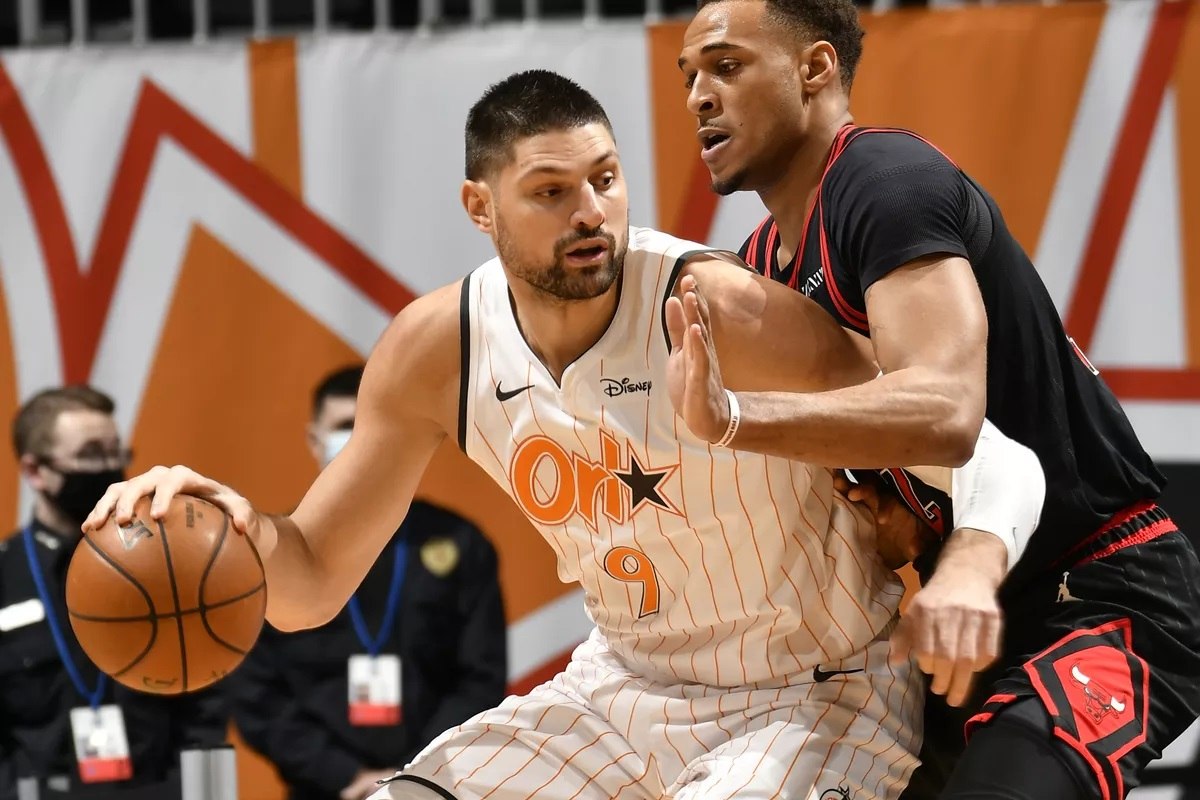 Vucevic, the Orlando Magic's big man, heard his name mentioned as trade bait over the past few weeks. One rumor had him involved in a three-team trade for Zach LaVine with the Chicago Bulls and New York Knicks. If Chicago is truly eying Vucevic, he made a great impression on the Bulls with a career-high 43 points on Friday night.
Typically, Steph Curry leads the Warriors in scoring, especially from 3-point land, but Oubre took over in the first game of a two-game trip to Dallas. Oubre set a new career-high with 40 points in a 31-point blowout.
In the second game of that Dallas homestand, the Mavs edged out the Warriors, but Curry exploded for 57 points in the loss. Doncic got the last laugh by tying his career-high with 42 points in the 2-point victory.
---
NBA High Guys
Team
Points
3-Pointers
Rebounds
Assists
Steph Curry
Golden State Warriors
57
11
–
–
Nikola Jokic
Denver Nuggets
50
–
12
8
Nikola Vucevic
Orlando Magic
43
–
19
–
Luka Doncic
Dallas Mavericks
42
–
–
11
Kelly Oubre
Golden State Warriors
40
7
8
–
---
Tale of Two Nikolas: Vucevic and Jokic
Vucevic is one of the most underrated players in the league. Fans in Orlando love the Vic, who averages 23.1 points and 11.4 rebounds per game. The Magic have been relying on Vucevic even more than before after they lost starters Aaron Gordon and Markelle Fultz to injuries.
Vucevic came out of the gate all fired up. He scored 13 of the Magic's first 15 points in the first quarter. He knocked down two free throws and sealed a 4-point win over the Chicago Bulls, setting a new career-high in the process.
"It's much better when you win because you can enjoy these things more when you win," said Vucevic. "I'm most happy about the win because I thought we had great effort from the beginning."
Jokic scored 47 last week as one of the NBA High Guys, yet topped that with a 50-point performance over the weekend. Despite the 50 points, the Denver Nuggets lost to the surging Sacramento Kings. Jokic missed out on a triple-double with 12 rebounds and eight assists.
"I was just really locked in," said Jokic. "We had a couple young guys in the game. I tried to help them a little bit."
"He knew we were undermanned," said Denver head coach Mike Malone. "He understood how important this game was. Nikola goes out and does his job. He doesn't care about 50 points. We lost the game, that's all he's going to care about."
Jokic, a favorite to win the MVP, is now ranked #7 in the NBA in scoring, averaging 27.2 points, 11.5 rebounds, and 8.6 assists per game.
40-Plus Guys: Doncic and Oubre
Oubre had a breakout year last season with the Phoenix Suns, averaging a career-high 18.7 ppg as a great compliment in their offense with Devin Booker and Deandre Ayton. The Suns traded Oubre to the Oklahoma City Thunder as a part of the Chris Paul deal. The Thunder quickly dealt Oubre to the Warriors for a 2021 first-rounder and a second-round draft pick.
Oubre struggled from 3-point range this season at just 27.5%, a drop off from a career-best 35.5% last season in Phoenix. His scoring is down at 13.3 ppg, but the team hopes the 40-point night against Dallas will boost his confidence.
Doncic can't get over the 42-point hump. He tied his career-high for the second time with 42 points in a big win over Golden State. The slumping Mavs finally have something positive to build upon after winning a shootout against Curry and the Warriors. Doncic led the Mavs with 42 points, 11 rebounds, and seven assists. He's averaging just shy of a triple-double with 27.9 points, 9.5 assists, and 8.7 rebounds per game.
Last season, Doncic notched a triple-double to go along with a 42-point night.
Almost High Guys: Curry, LaMelo, LaVine
On Friday, LaMelo Ball scored a career-high 34 points for the Charlotte Hornets in a loss against the smoking-hot Utah Jazz. The rookie, and favorite to win Rookie of the Year, also dished for eight assists.
On Saturday, Zach LaVine unleashed 39 points in a 26-point blowout against the Orlando Magic. LaVine has been linked in trade rumors with the New York Knicks, but while he's still with the Chicago Bulls, he's been lighting it up.
Steph Curry dropped 57 points on Saturday night, but that doesn't even blip on the radar anymore. Why? Because we almost expect Curry to do that every night, like in his 62-point career game against the Portland Trail Blazers in early January. The Warriors dropped a 2-point heartbreaker to the Mavs (see above) despite the 57-point eruption from Curry. He shot 19-from-31 from the floor, including 11 3-pointers.