After a slow start to the season, Steph Curry woke up, posting an explosive performance by dropping a career-high 62 points in a 15-point victory for the Golden State Warriors over the Portland Trail Blazers.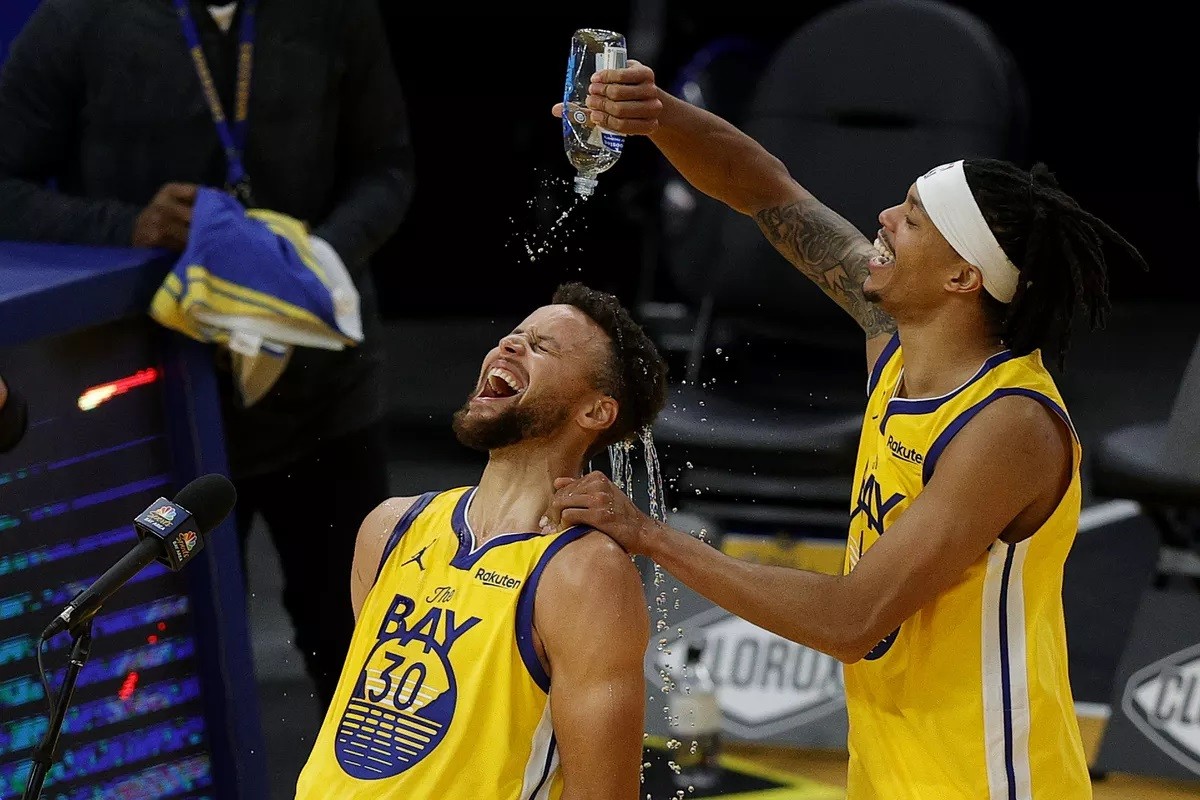 Curry busted out of his long-range slump, knocking down eight 3-pointers on 8-for-16 shooting from downtown. Overall, Curry shot 18-for-31 from the field and added 18 free throws with just one miss. Curry capped off his career night with five rebounds and four assists.
"That was right up there with one of his best performances that I've witnessed," said teammate Draymond Green. "He came out, he shot the 3, he started attacking the rim. I've been around him for so long I can kind of pick it up really quickly."
---
Points: 62
Mins: 36
FG: 18/31
3-PT: 8/16
FT: 18/19
---
It's been over 15 years since an NBA player scored 30 points in each half. Kobe Bryant was the last to achieve that rare feat in 2005.
Curry's new career-high came as he played in an empty stadium at Chase Center in downtown San Francisco.
"These games are eerie," said head coach Steve Kerr. "You come into this beautiful building and we're so used to our fans packing every seat and going crazy, and it's really sad. Every game, home or road."
62 PTS
18-31 FG
8-16 3PT

👀 Stephen Curry's career-high night 📽️ pic.twitter.com/kh1uR6ubOy

— Golden State Warriors (@warriors) January 4, 2021
Mark It Dude, 62!
Curry got off to a hot start with 22 points in the first quarter. Once Curry got that glint in his eye, his veteran teammates knew they had to do one thing — get him the ball.
"I could see it from the very first possession," said Green. "I told Looney early in the game, you keep screening and get in his way, he's not passing. Something's going on. He's shooting the ball. It was great to see, though. He came out looking like a man on a mission."
"It's crazy," said rookie James Wiseman. "It reminded me of NBA 2K because I used to play with Steph all the time and drop like 60. Actually watching it personally, that was phenomenal. He's a legend, so just watching in person, it was great."
Curry moved into second overall in scoring averaging 32.2 points per game. He trails only James Harden, who leads the NBA once again with 37 ppg.
Curry played only five games last season due to a fractured hand. Critics thought he lost his touch after a sluggish start to this season. Curry started the season in a slump, hitting 4-for-20 or just 20% of his treys. After three games, he was stuck in a rut after connecting on just 9-for-35 from long range.
Four games into the season, Curry began to shake off the rust with 31 points and 5-for-9 from downtown in a victory over the Detroit Pistons.
The Warriors started the season in an 0-2 hole, but improved to 3-3.
MSG Curry
I know some of you are thinking, Curry never scored 60-plus points before? No way!
Before last night's majestic performance, Curry only topped 50-plus six times, with four 51-point games. During the 2015-16 season, Curry unleashed three 50-point games.
Curry posted a previous high of 54 points in 2013 against the New York Knicks at Madison Square Garden. Every big-time player made their mark throughout history with an epic game at MSG. Curry secured his place in MSG history one night back in 2013 when he torched the Knicks for 54 points in one of the greatest single-game performances of his career.