Over the last four nights, four NBA players ,including Fred VanVleet, who unleashed 11 3-pointers and scored 54 points for the Toronto Raptors, posted huge scoring efforts to lift their teams to key wins. VanVleet's 54-point explosion set a Raptors' franchise high and a personal career high.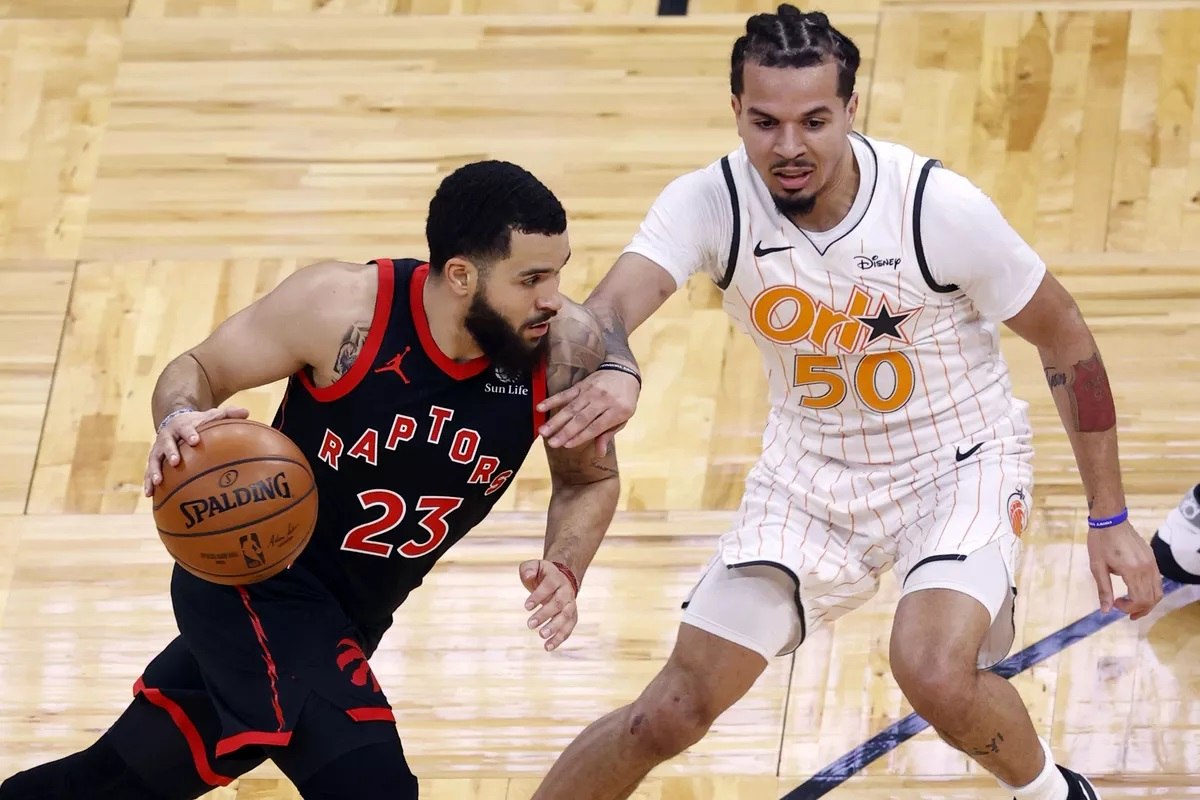 Last Saturday night, the unstoppable Damian Lillard worked the Chicago Bulls with 44 points and a buzzer-beater.
On Sunday night, Nikola Jokic scored a career-high 47 points to help the Denver Nuggets snap the Utah Jazz's 11-game winning streak.
---
Fred VanVleet (TOR) 54 points, 11 3-Pointers
Nikola Jokic (DEN) 47 points, 12 rebounds
Damian Lillard (POR) 44 points, 9 assists, eight 3-Pointers
Malik Monk (CHA) 36 points, nine 3-Pointers
---
On Monday night, Charlotte Hornets guard Malik Monk came off the bench and scored a game-high 36 points in an overtime victory over the Miami Heat. LaMelo Ball got his first start, but it was Monk who stole the show in Miami.
VanVleet Snipes 11 Treys
If you watch the Toronto Raptors a lot, then you're aware that VanVleet is a prototypical streaky shooter. But when FVV gets hot, you better run for cover. VanVleet lit up the Orlando Magic with 11 3-pointers. When the dust settled and all the carnage was over, VanVleet finished the night with 54 points.
He only missed three treys all night on 11-for-14 shooting. Overall, he shot 17-for-23 from the floor, including a perfect night from the free-throw line at 9-for-9. He also tallied three blocks and three steals.
"Unbelievable," said teammate Norman Powell. "Freddy V couldn't miss."
VanVleet set a new career-high in points for the Toronto Raptors and he set the franchise record as well. His 11 treys were also a career-high. He crushed his previous high of seven.
Joker Ends Jazz's Streak with Career-High 47
The Utah Jazz and Denver Nuggets have become fierce rivals over the past two seasons, especially after the Nuggets knocked the Jazz out of the playoffs last year. The Jazz were on a heater with 11-straight wins as they rocketed to the top of the Western Conference standings. That was until they arrived in Colorado.
Nikola Jokic destroyed the Jazz by himself, which is one of the reasons the Joker saw his MVP odds bump in recent weeks. He tied a career-high with 47 points.
"The main thing is just win the game," said Jokic. "I'm going to score however much I need just to win the game."
He shot an efficient 17-for-26 from the floor, including a perfect 4-for-4 from 3-point land. He also pulled down 12 rebounds and added five assists in the win.
Dame Rains Daggers
Lillard didn't skip a beat when backcourt mate CJ McCollum went down with a foot injury. Over the last six games he averaged 31.3 ppg and knocked down 28 3-pointers. Dame is ranked third in the league, averaging 28.9 ppg, and ranked #8 overall in assists with 7.2 dishes per game. He's now sixth overall with a 26.45 PER rating.
The Bulls lost a 1-point heartbreaker, 123-122, when Lillard hit a pair of 3-pointers in the final eight seconds. He nailed the first one a good 12-15 feet behind the arc to cut the deficit to two points. The second trey was a buzzer-beater and game clincher. Dame finished the night with 44 points, nine assists, and eight treys.
"This one is special because in these situations, where we are down five with, I think 11 seconds left, those are moments where the winning team thinks they have the game pretty much wrapped up and the opposing team is discouraged," explained Lillard.
Lillard's heroics resembled the Washington Wizards' sick comeback against the Brooklyn Nets. Bradley Beal and Russell Westbrook hit 3-point shots with less than 10 seconds remaining to steal a win against the haphazard Nets.
Monk Miami Sniper
Malik Monk came off the bench and scored a career-high 36 points to help the Charlotte Hornets pick off the Miami Heat, 191-121 in overtime. Monk played 40 minutes and shot 11-for-18 from the field, including a sizzling 9-for-13 from downtown.
"I was ready, and was just locked in," said Monk.
Monk inspired a late fourth-quarter rally. The Hornets made up a 10-point deficit. One of Monk's nine treys sent the game into overtime after he tied it up at 113-113.
"It's been a resilient group all year," added Charlotte head coach James Borrego. "We never dropped the sword. Our mentality is to keep fighting to the end. Malik stepped up. Big-time shot."