Praise the Graze of Glory! After six events in the latest marble racing series by Jelle's Marble Runs, the Duke and Duchess of Craven awarded Graze of Glory the coveted Cravendale Cup for winning the 2020 Last Marble Standing. Six teams battled in six events to determine the Last Marble Standing. Graze of Glory won three gold medals through the first five events to build a sizable lead. They only needed a fourth-place finish or higher to secure the Cravendale Cup. Team Purity won the gold medal in Event #6 Lap Race and finished second overall.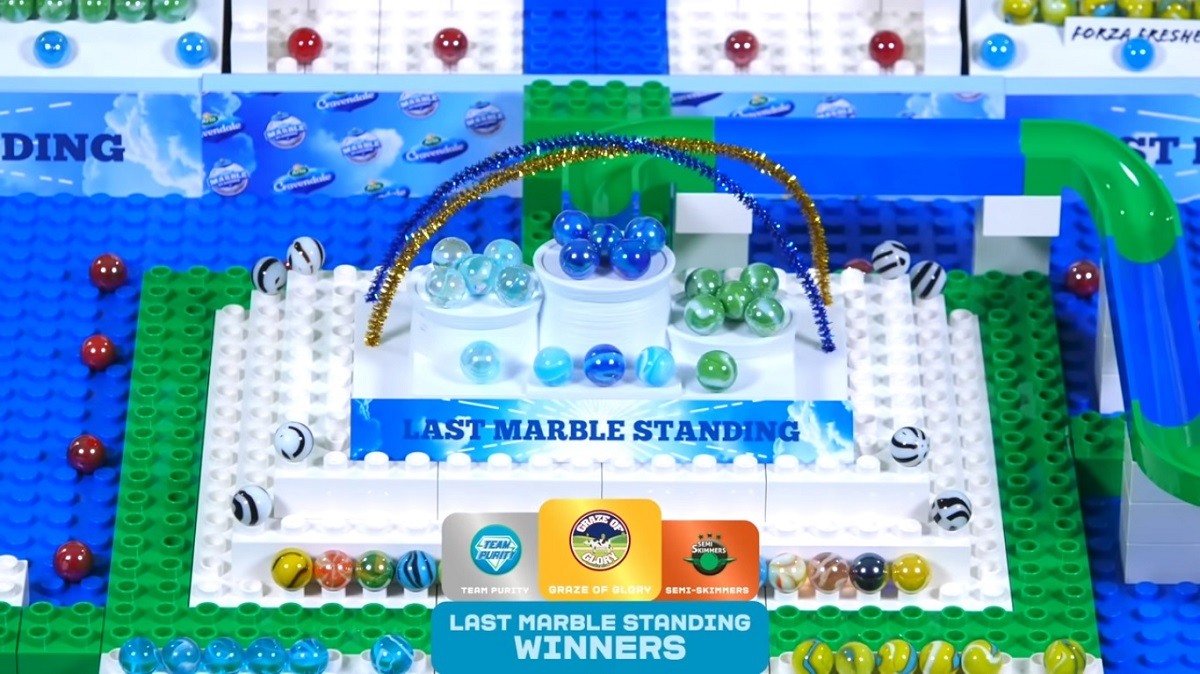 The big marble racing event this summer will be Jelle's Runs version of the Olympics called the Marble League, sponsored by John Olver's HBO show. Before the Marble League begins, Jelle hosted a special series that featured six teams competing in six events to determine the Last Marble Standing.
The six racing teams had milk-themed names: Milky Madness, Dairy Dash, The Freshers, Semi-Skimmers, Team Purity, and Graze of Glory. They battled at the Cravendome in the UK.
The gold medal winners in event were awarded six points. The team with the most points would win the prestigious Cravendale Cup.
LAST MARBLE STANDING – EVENT WINNERS
E1 Funnel Spin: Graze of Glory
E2 Balancing: Semi-Skimmers
E3 Long Jump: Graze of Glory
E4 Collision: The Freshers
E5 Block Push: Graze of Glory
E6 Lap Race: Team Purity
Last Marble Standing kicked off two weeks ago with the Event #1, Funnel Spin. Since then, Jelle's Runs hosted exhilarating mixed-games including Event #2, Balancing, Event #3, Long Jump, Event #4, Collision, and Event #5, Block Push. The chaotic and hectic Collision, with two teams hurtling at each at high speeds, became an instant hit among Marbleheads across the globe.
Event #6: Lap Race
Event #6 featured an old-school marble race with marbles racing each other for 16 laps. The racetrack, "Marbula Moo," resembled a set up from the Marbula One circuit.
Milky Madness, which was in last place coming into the finale, jumped out to an early start. Dairy Dash and Graze of Glory were in close pursuit after a strong start.
The Freshers stumbled out of the gate and fell behind during the first lap. They could never get anything going, and brought up the rear for the rest of the race. From the get-go, Event #6 felt like a five-team battle instead of six.
LAST MARBLE STANDING EVENT #6 RESULTS:
GOLD: Team Purity 5:23.73
SILVER: Graze of Glory +2.18
BRONZE: Milky Madness +2.30
4. Semi-Skimmers +2.75
5. Dairy Dash +3.90
6. The Freshers +10.28
By Lap 8, Milky Madness led, with a neck-and-neck battle for second place between Graze of Glory and Team Purity. By Lap 12, Milky Madness lost the lead, but got it back by Lap 13. Coming off the conveyor belt at the start of Lap 14, Milky Madness slammed into the first wall. Team Purity and Graze of Glory cruised by, and Milky Madness slipped to third place.
Team Purity took over the lead at the start of Lap 15 and didn't look back. Graze of Glory held off Milky Madness and finished in second place with a silver. Milky Madness blew their lead and settled on third place and bronze. Team Purity won gold.
Cravendale Cup, Three Golds for Graze of Glory
At the start of the final event. Graze of Glory topped the leader board with 22 points. They amassed a lead after securing three gold finishes through the first five events (Event #1, Funnel Spin, Event #3, Long Jump, and Event #5, Block Pushing).
With 22 points for Graze of Glory, the Cravendale Cup was theirs to lose: they simply had to avoid worse than fourth.
LAST MARBLE STANDING – FINAL RESULTS:
1. Graze of Glory 27 (3 Wins)
2. Team Purity 24 (1 Win)
3. Semi-Skimmers 21 (1 Win)
4. Dairy Dash 19
5. Milky Madness 18
6. The Freshers 17 (1 Win)
Heading into the finale, Semi-Skimmers and Team Purity were tied for second overall with 18 points each, and trailed Graze of Glory by four points.
Overall, Graze of Glory locked up Cravendale Cup with 27 points, three gold medals, and one silver finish. Team Purity finished the series as the runner-up with 24 total points that included one gold in Event #6 and two silver medals. Semi-Skinners finished in third overall with one gold medal (Event #2, Balancing) and one silver medal.