Jelle's Marble Runs completed four of six events in its latest racing series, the Last Marble Standing. The Freshers finished in first place in Last Marble Standing Event #4, Collision. With two events remaining, Graze of Glory leads overall despite a next-to-last place finish in the Collision event.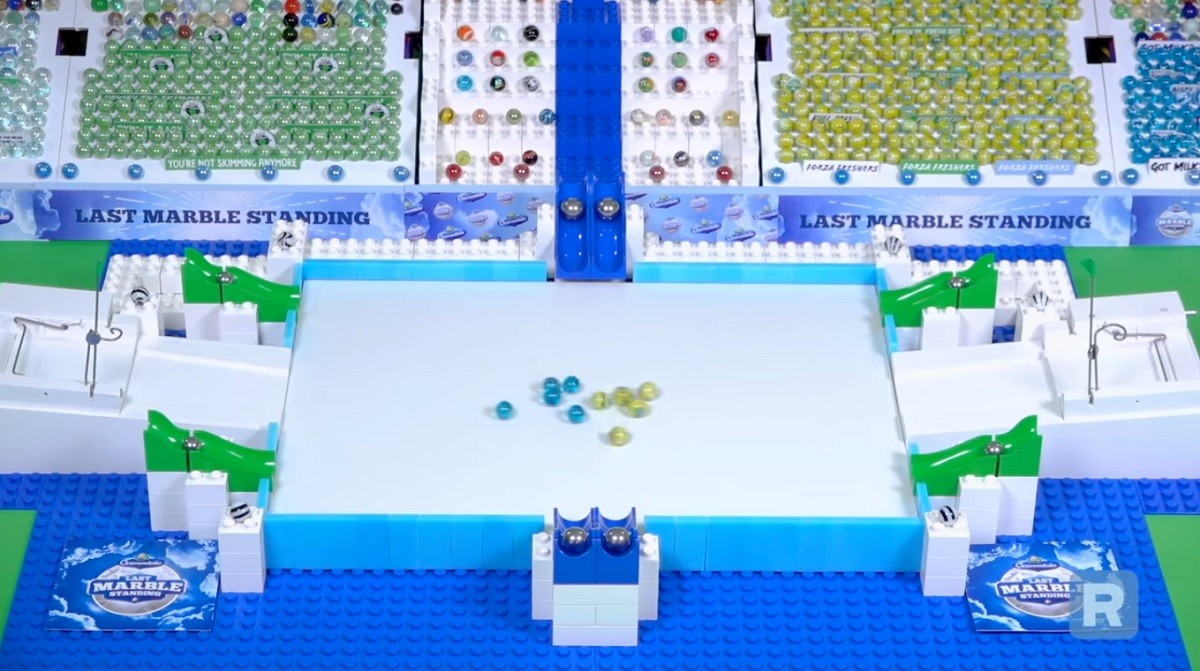 Graze of Glory tops the leader board with 16 points. They won Event #1, Funnel Spin and Event #3, Long Jump to put them out in front. It's still a tight race for the coveted Cravendale Cup. Only two points separate first place from the chase pack. Only three points separate last place from first place.
After securing their first win of the season, The Freshers have 14 points, moving them into a multi-way tie for second place with Team Purity and Dairy Dash.
LAST MARBLE STANDING STANDINGS (THRU EVENT 4)
Graze of Glory 16 (2 Wins)
The Freshers 14 (1 Win)
Team Purity 14
Dairy Dash 13
Semi-Skinners 13 (1 Win)
Milky Madness 13
Even though the Semi-Skinners won Event #2, Balancing, they're tied for last with Milky Madness. The Semi-Skinners posted a pair of second-to-last finishes in the Funnel Spin and Long Jump.
Milky Madness did their best to climb out of the Last Marble Standing cellar. They finished in second place in Collision. They added five points for a silver finish. With 13 points, Milky Madness and the Semi-Skinners are tied for last.
John Oliver's HBO show will sponsor the Marble Olympics (aka 2020 Marble League or #ML2020) starting June 21.
Event 4: Collision
The latest event in Last Marble Standing is exactly what you think it is, with hard-hitting marble action and high-speed collisions. In Event #4, two teams of marbles line up on opposite ramps. They collide into each other, and the team with the most marbles remaining in the field of play wins the match.
Teams were divided into two groups (Group A and Group B). They played a round-robin. The winner of each group was awarded a top seed. The second-place team in each group advanced as well. The last-place team got eliminated from Group play. Four teams advanced to the Collision Semifinals.
Group A included the Semi-Skimmers, Team Purity, and Milky Madness. Semi-Skinners won Group A with a 2-0 record. Milky Madness went 1-1 and advanced to the semifinals. Team Purity whiffed with an 0-2 record and were eliminated.
Group B featured Dairy Dash, The Freshers, and Graze of Glory. The frontrunners, Graze of Glory, didn't have an impressive performance with an 0-2 record in Collision. The Freshers and Dairy Dash tied each other 4-4 in their heads-up match. They were both 1-0-1, but The Freshers won Group B with a better point differential.
In the Semifinals, The Freshers defeated the Semi-Skimmers 3-2 to advance to the Collision Finals. On the other side of the bracket, Milky Madness edged out Dairy Dash 4-3.
Two Tiebreakers in Finals
The exciting and thrilling Collision Finals included a double-overtime scenario. In the first Finals match, Milky Madness and The Freshers were deadlocked at 3-3.
In the first tiebreaker match in overtime, the Freshers and Milky Madness were deadlocked once again at 1-1.
LAST MARBLE STANDING EVENT #4 RESULTS
Gold: The Freshers 6 points
Silver: Milky Madness 5 points
Bronze: Dairy Dash 4 points
4. Semi-Skinners 3 points
5. Graze of Glory 2 points
6. Team Purity 1 point
In the second tiebreaker, The Freshers prevailed 1-0 with a single marble left standing. The Freshers won the double-overtime affair, while Milky Madness settled for a runner-up finish. The Freshers secured gold and 6 points, and Milky Madness finished with a silver.
In the third-place match, Dairy Dash edged out Semi-Skimmers 4-3 to secure bronze and a third-place finish.
To calculate the leader board, the winning team in each event earns 6 points for a gold victory, 5 points for silver, and 4 points for bronze. Fourth-place earns 3 points, and fifth place gets only 2 points. Last place nets only a single point.
With two more events remaining, a total of 12 points are up for grabs.