We're in the middle of a special marble racing series by Jelle Marble Runs, with six teams battling in six different events for the Cravendale Cup in the 2020 Last Marble Standing. Graze of Glory took gold twice in two events, including the Funnel Spin and Long Jump, and they hold down first place on the Last Marble Standing leader board.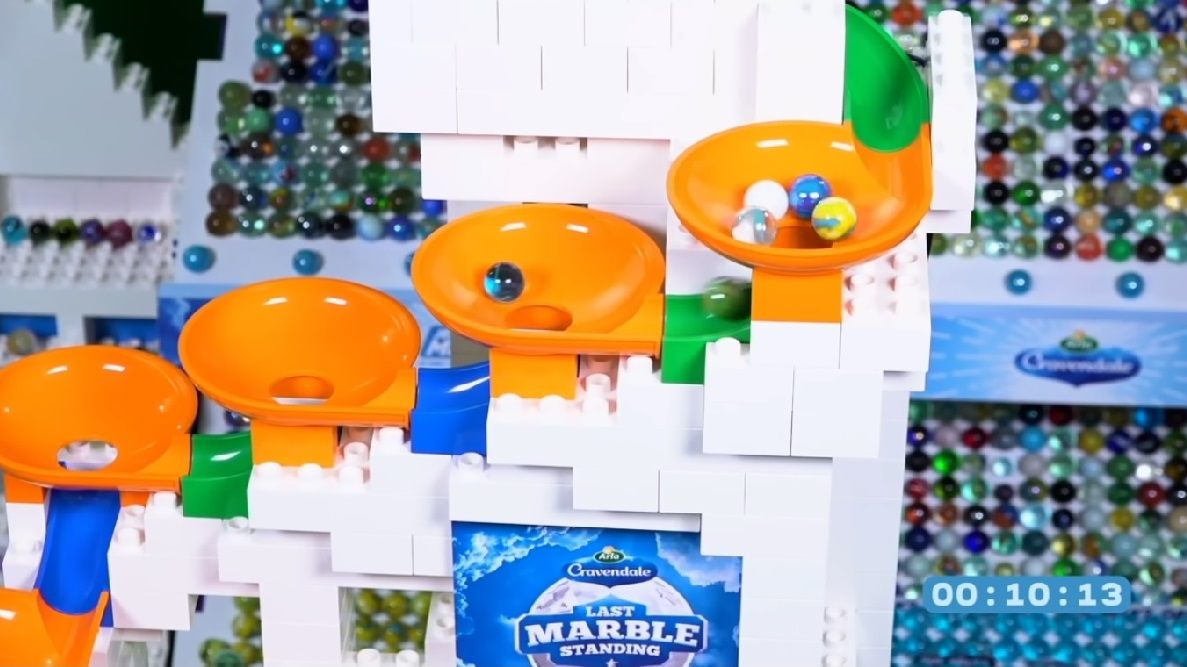 Marble racing returns! It became a huge hit at the start of the pandemic when pro sports were shut down. With the 2020 Olympics in Tokyo, Japan, postponed until next summer, Jelle Runs launched the Last Marble Standing with a special Marble Olympics (sponsored by John Oliver's show) to take place at the end of June.
Graze of Glory won the Last Marble Standing kickoff event last week with a first-place finish in Event #1, the Funnel Spin. Semi-Skimmers won gold in Event #2, Balancing, over the weekend. Team Purify sits in second place in the overall standings with a pair of second-place finishes.
2020 Last Marble Standing Standings (Thru Event #3)
Graze of Glory 14 points (2 wins)
Team Purify 13 (1 win)
Dairy Dash 10
Semi-Skinners 10
Milky Madness 8
The Freshers 9
Jelle Marble Runs will air Event #4, Collision, on June 11. The final two events in the latest marble racing series have yet to be named or determined. Jelle Marble Runs scheduled Event #5 for June 16 and Event #6 on June 20.
Event #1: Funnel Spin
The first episode of Last Marble Standing included the opening ceremonies at the Craven Dome in Craven Dales, UK. The six teams competing for the coveted Last Marble Standing Cup include The Freshers, Milky Madness, Semi-Skinner, Dairy Dash, Team Purify, and Graze of Glory.
In the first of six events, six teams battled in a race known as the Funnel Spin. Marbles went through 12 different funnels. The key to this race is to be the last marble down the funnel. The longest time will win in each heat.
Last Marble Standing – Funnel Spin Results:
GOLD: Graze of Glory 3:56.69
SILVER: Team Purity 3:56.55
BRONZE:  Dairy Dash 3:44.64
4. The Freshers 3:42.98
5. Semi-Skimmers 3:38.77
6. Milky Madness 3:30.68
In the first heat, Graze of Glory jumped out to an early lead when they clocked in at 2:05. The Freshers finished in second, but trailed by nearly 10 seconds. Dairy Dash finished third with a time of 1:51.
In the second heat, Team Purity clocked in at the best over time with 2:11 while Graze of Glory finished in fifth with a time of 1:51. However, GoG built up a big lead in the first heat to secure the best overall time.
Team Purity finished in fourth place in the first heat at 1:45. Overall, they finished in second place by 0.14 seconds. Talk about a squeaker! Team Purity took second place behind Graze of Glory.
Dairy Dash scored bronze and finished in third overall, with a third and fourth finish in their heats.
In the cumulative tally, teams are awarded 1 through 6 points in every event. First place, or gold, is worth 6 points. Last place is worth just a mere point. After one event, Graze of Glory led with 6 points.
Event #2: Balancing
The second event, Balancing, seemed the most difficult out of the first three events. Four marbles on each team traversed on a narrow path without any walls. They received 130 points for a successful run. Marbles racked up points depending on how far they traveled before falling off the track.
In the first heat, two marbles from Team Purity successfully made it to the finish line. They were awarded 130 points each. Dairy Dash and the Freshers were the only other teams to have at least one marble reach the finish line for a perfect 130 points.
Last Marble Standing – Balancing Results:
GOLD: Semi-Skimmers 645
SILVER: Dairy Dash 586
BRONZE: Milky Madness 584
4. Team Purity 580
5. Graze of Glory 461
6. The Freshers 435
Team Purity took down the first heat with 284 points, followed by Dairy Dash with 267, and the Semi-Skinners in third with 261.
In the second heat, the Semi-Skimmers were the only team with a marble that reached the finish line. The 130-point bonus helped Semi-Skinners secure the top score in the second heat with 384 points.
Semi-Skimmers took gold with 645 total points. Dairy Dash took silver with 586 total points. Milky Madness secured bronze with 684 points.
After two events, Dairy Dash led with 9 points on the leader board. Graze of Glory, Semi-Skinners, and Team Purity were all tied with 8 points.
Event #3: Long Jump
In the third event at the Craven Dome, the six teams competed in the exciting long jump. Marbles were released on a long ramp and then jumped into the sand.
In the first heat, Graze of Glory edged out Team Purity 80.4 to 80.3. The Freshers took third overall with 80.
Last Marble Standing – Long Jump Results:
GOLD: Graze of Glory 161.4
SILVER:Team Purity 161.1
BRONZE: The Freshers 158.0
4. Milky Madness 157.3
5. Semi-Skimmers 157.0
6. Dairy Dash 154.8
In the second heat, Graze of Glory posted 81 in their second marble long jump. They locked up their second gold with a total score of 161.4.
Team Purity jumped 80.8 in the second heat to finish second overall. They locked up silver with a 161.1 final score.
The Freshers posted a 78 on their second-heat jump. The Freshers took the bronze with 158 total points.
After three events in the Last Marble Standing, Graze of Glory secured two gold finishes and they top the leader board with 14 points. Team Purity has two second-place finishes (two silver), and sit in second place with 13 points. Dairy Dash and Semi-Skinners are tied with 10 points. The Freshers and Milky Madness are tied with 8 points each.