Dan Hooker escaped with a narrow victory in front of his home crowd on Sunday, defeating Paul Felder by split decision in the main event of UFC Fight Night 168 in Auckland, New Zealand.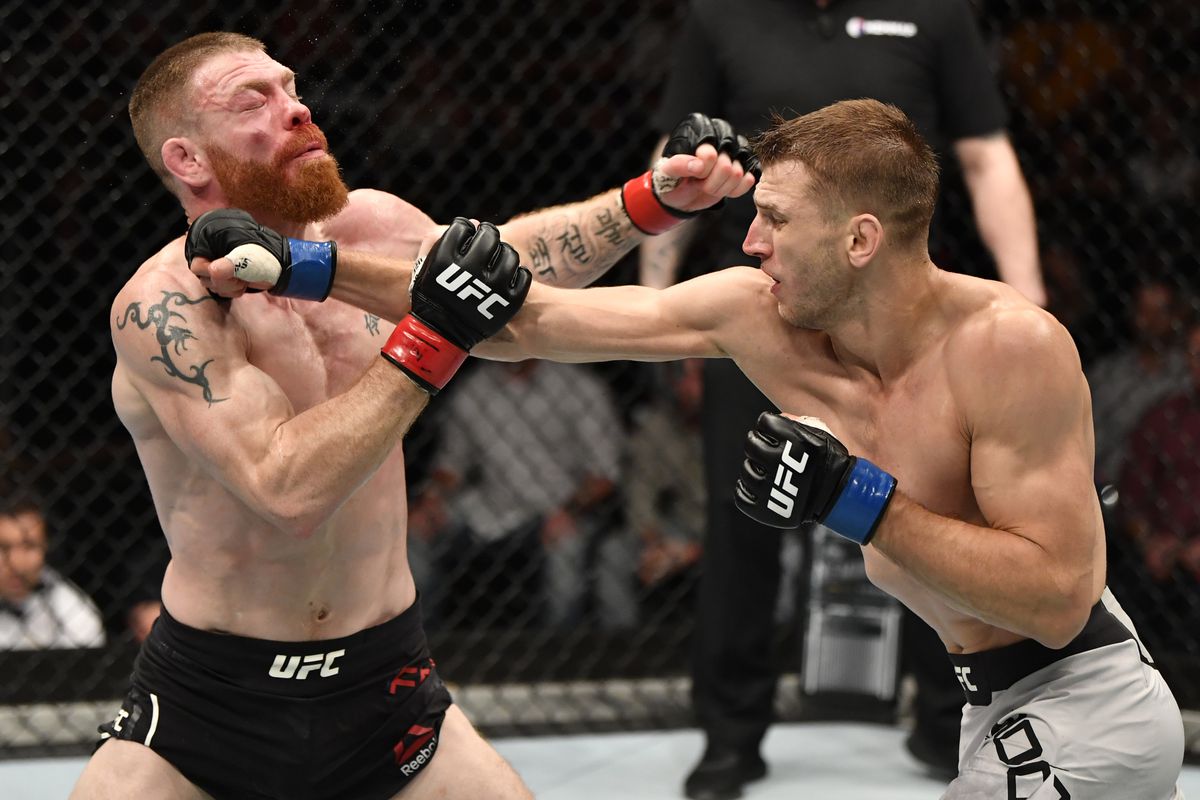 Hooker (20-8) earned a 47-48, 48-47, 48-47 victory from the ringside judges, handing him perhaps the biggest victory of his MMA career.
Hooker Wants Gaethje Next, Felder Considers Retirement
Nearly everyone who watched the fight agreed it was a close contest, so while there was controversy over Hooker's win, few saw it as a clear case of robbery. According to data collected by MMA Decisions, most media members had Felder narrowly winning, though there were those who saw Hooker in the lead. Tellingly, nobody had either fighter winning by more than 1 point.
While the win probably wasn't spectacular enough to earn Hooker much consideration for a title shot, it was still a major victory that should send him further up the rankings. Instead of champion Khabib Nurmagomedov, Hooker called out No. 4 contender Justin Gaethje after the match.
"I want the battle of the highlight reel," Hooker said afterwards. "I want Justin Gaethje next. Let's go!"
After one of the most entertaining fights in the UFC so far this year, Felder suggested he might be contemplating retirement.
"That might be it for me," Felder said in an interview. "I got a 4-year-old at home that misses me every time I go away like this."
Jung Opts for Surgery After Second Opinion
"The Korean Zombie" Chan Sung Jung (16-5) has decided to undergo eye surgery, a decision that will likely keep the featherweight contender out of action until sometime this summer.
According to Jung, he determined that he needed surgery to deal with some double vision issues after getting a second opinion from doctors in the United States. Korean physicians initially said that there was no need for surgery.
"Recently, it has been more important for me to figure out my double vision issue," Jung told MMA Junkie. "I am sure I will be able to get back to the cage around July or August because the surgeon says it is not a big surgery."
Jung also told MMA Junkie that he would like to fight featherweight champion Alexander Volkanovski or Brian Ortega when he returns to the Octagon later this year.
Weili Cleared to Travel to USA
The coronavirus outbreak continues to impact the world of sports, but it appears that women's strawweight champion Zhang Weili (20-1) has avoided any complications when it comes to her upcoming title defense.
Brian Butler, who manages the Chinese fighter, says that Weili will be able to defend her title against Joanna Jedrzejczyk at UFC 248 on March 7 in Las Vegas. Weili left China earlier this month, then spent time in Thailand and Abu Dhabi before finally earning clearance to fly to Las Vegas, where she will finish training in the leadup to the fight.