Zhang Weili took just 42 seconds to make history on Saturday, brutally knocking out women's strawweight titleholder Jessica Andrade in the first round to become the first Chinese UFC champion.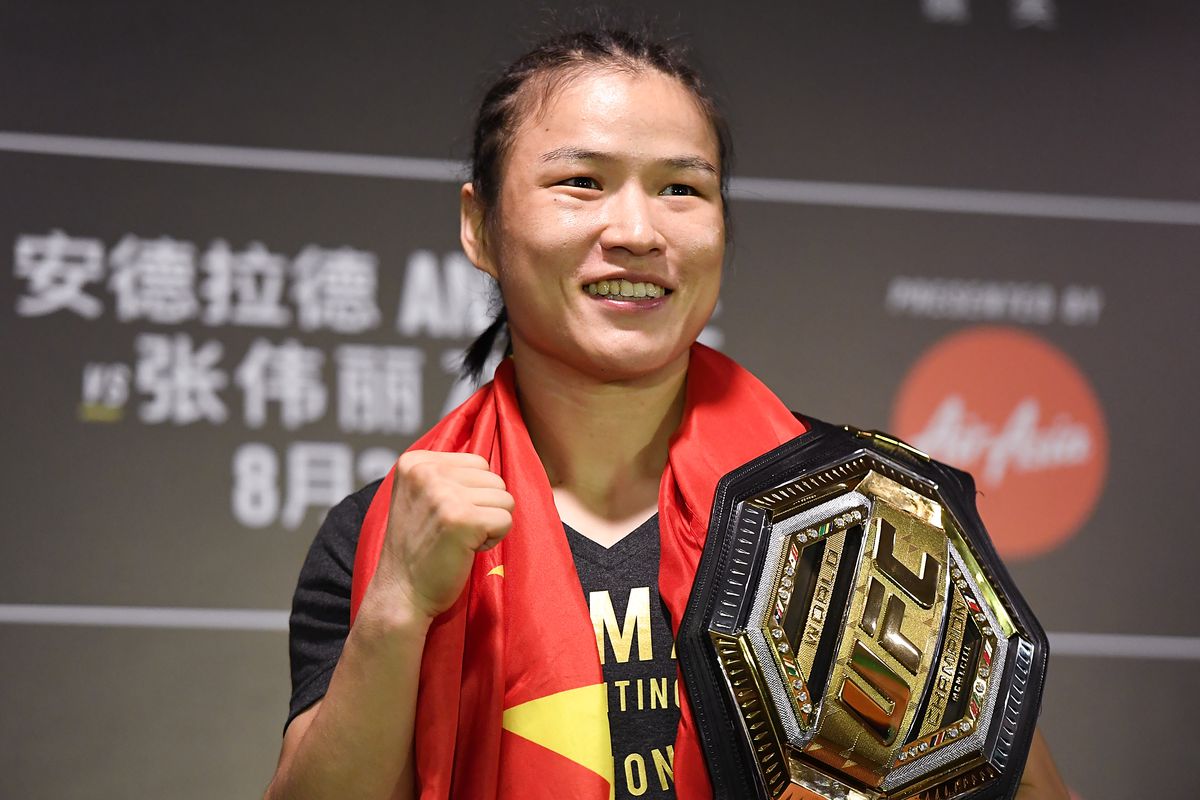 Zhang (20-1) won the title at a UFC Fight Night event in Shenzhen, China, in what proved to be her 20th straight MMA win and her fourth win in the UFC. Her only loss came by decision in her debut in China back in 2013.
Zhang Pounces on Overeager Andrade
The fight came down to whether or not Zhang was going to be able to handle Andrade's trademark aggression. The former champion attacked from the opening seconds, but Zhang was up to the task, hitting her with a right hand to the chin that immediately hurt Andrade.
From there, Zhang piled on the pressure, landing elbows before a knee made it impossible for Andrade to recover. Referee Leon Roberts stepped in to stop the fight, giving Zhang her historic moment.
"Last time in Beijing, I said I was going to be the first Chinese champion, and I made it," Zhang told the crowd after the fight.
Afterwards, Andrade (20-7) said she had no regrets about how she chose to approach the fight, saying that she was simply sticking with the style that had earned her so much success throughout her career.
"My master Gilliard Parana and my entire team PRVT did a good job," Andrade said in a statement written in Portuguese. "We have nothing to say or fix, or at least think that we could have done better, because we did the best. What would a winning streak be if it wasn't for the bitter taste of defeat? A champion isn't made of wins only. It wasn't my first loss and it certainly won't be my last."
Dana White heaped praise on the new champion, saying she had answered all of the questions over whether she could deal with the larger, stronger Andrade.
"She looked like a world champion tonight," White said in a press conference. "She looked like one of the most vicious women on planet Earth tonight. She looked incredible. No, the answer to your question is, 'No.' I did not see it ending like this."
Chinese Fighters Making Their UFC Mark
The next question to be answered is who Zhang will face in her first title defense. There doesn't seem to be much of an appetite for an immediate rematch with Andrade, likely because of the dominant nature of Zhang's win on Saturday.
One attractive option could be to have Zhang take on the winner of the fight between Joanna Jedrzejczyk and Michelle Waterson, both of whom are currently top-five ranked contenders. The two will fight on Oct. 12 in Tampa, Florida.
Zhang wasn't the only Chinese fighter to score a big win on Saturday. Li Jingliang finished No. 14 ranked welterweight Elizeu Zaleski dos Santos in the closing seconds of the third round to book his seventh win in his last eight fights. That could be enough to give the 31-year-old Li a fight against a top-10 opponent, something he said he wants next.
But Li was most excited about how the card could change the worldwide perception about Chinese MMA.
"Listen to the cheering [for Zhang]," Li said in the post-fight press conference. We just got our championship. It is historical. We are going to show the world China power, letting the world know that Chinese fighters are good at the sport."