Chan Sung Jung – who has become famous in the UFC under his nickname "The Korean Zombie" – picked up a big win on Saturday, finishing Frankie Edgar in the first round of their UFC Fight Night bout in Busan, South Korea.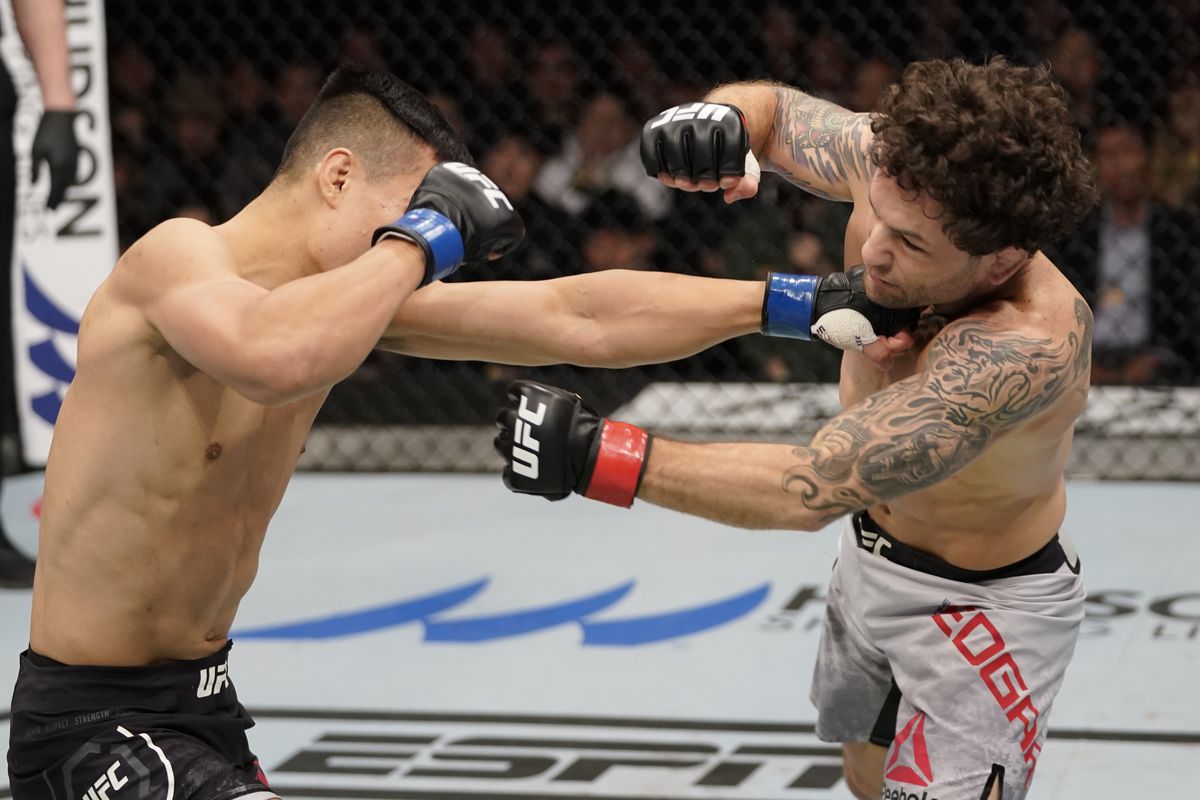 Jung needed just three minutes, 18 seconds to finish the former UFC lightweight champion, earning a TKO when the referee stopped the fight after he dropped Edgar (22-8-1) with a left hand, and then followed it up with devastating ground and pound.
Korean Zombie Moving Up Featherweight Rankings
Jung (16-5) earned his sixth win in his last eight fights, four of which have ended in first-round knockouts. His only two losses in that stretch are a fourth-round TKO defeat at the hands of Jose Aldo, and a final-second, fifth-round KO by Yair Rodriguez last November. Jung was prepared to go the distance in Saturday's bout, but that proved entirely unnecessary.
"When I first came out, I was ready to fight all five, 25 minutes," Jung said after the fight. "But my coaches and team said to me, 'That's not going to happen.'"
Jung came into the fight ranked as the No. 6 featherweight contender in the UFC, and should move up after soundly defeating Edgar, who was ranked at No. 4 in the division.
Cejudo Focusing on Bantamweight Championship
Two-division champion Henry Cejudo announced last week that he would voluntarily give up his flyweight title to instead focus on defending his bantamweight championship. According to sources cited by ESPN, the decision was made after Cejudo realized he wouldn't be defending his title at 125 pounds anytime soon.
In comments made to ESPN's Brett Okamoto, Cejudo (15-2) hinted that he might come back to fight in the lower weight class sometime in the future.
"I saved the flyweight division, but they're not saved from my wrath, because my name is still 'Triple C,'" Cejudo said. "Allow me to remind anyone who has forgot: I am the Olympic, flyweight, and bantamweight champion of the world."
Illness Scuttles Barnett's Bellator Debut
42-year-old Josh Barnett (35-8) was forced out of his Bellator debut in Honolulu on Friday after becoming severely ill the night before.
Barnett, who won the UFC heavyweight title in 2002 by beating Randy Couture – before having that title stripped because of a failed drug test – was expected to fight Ronny Markes (19-7). The Hawaii State Boxing Commission refused to clear Barnett to fight after he developed a fever and other symptoms Thursday night.
"Today was a travesty, and you won't find anybody more disappointed than me," Barnett said in a video posted to Twitter by Bellator MMA. "I've never been known as one to back out of fights or to not show up. So not only is this embarrassing for me, but it's like some sort of a weird nightmare."
Meanwhile, Liz Carmouche (13-7) signed a multiyear deal with Bellator. Carmouche was released from the UFC earlier this month after losing to Valentina Shevchenko in a women's flyweight title fight. According to Carmouche, UFC officials told her that she was hurting the division by regularly beating up-and-coming fighters before they could develop into legitimate contenders.
Carmouche is best known for her loss to Ronda Rousey in 2013, which was the first women's bout ever fought in the UFC. She has expressed a willingness to fight Bellator flyweight champion Ilima-Lei Macfarlane, a teammate of Carmouche's at Team Hurricane Awesome. Macfarlane defended her title on Saturday night with a one-sided, unanimous decision victory over Kate Jackson.