The Aztecs keep rolling. #4 San Diego State (SDSU) has yet to lose a game at 22-0, but face a difficult Mountain West foe in Utah State. Meanwhile, there's an old-fashioned cat fight brewing with the #13 Kentucky Wildcats facing #17 Auburn Wildcats in SEC action.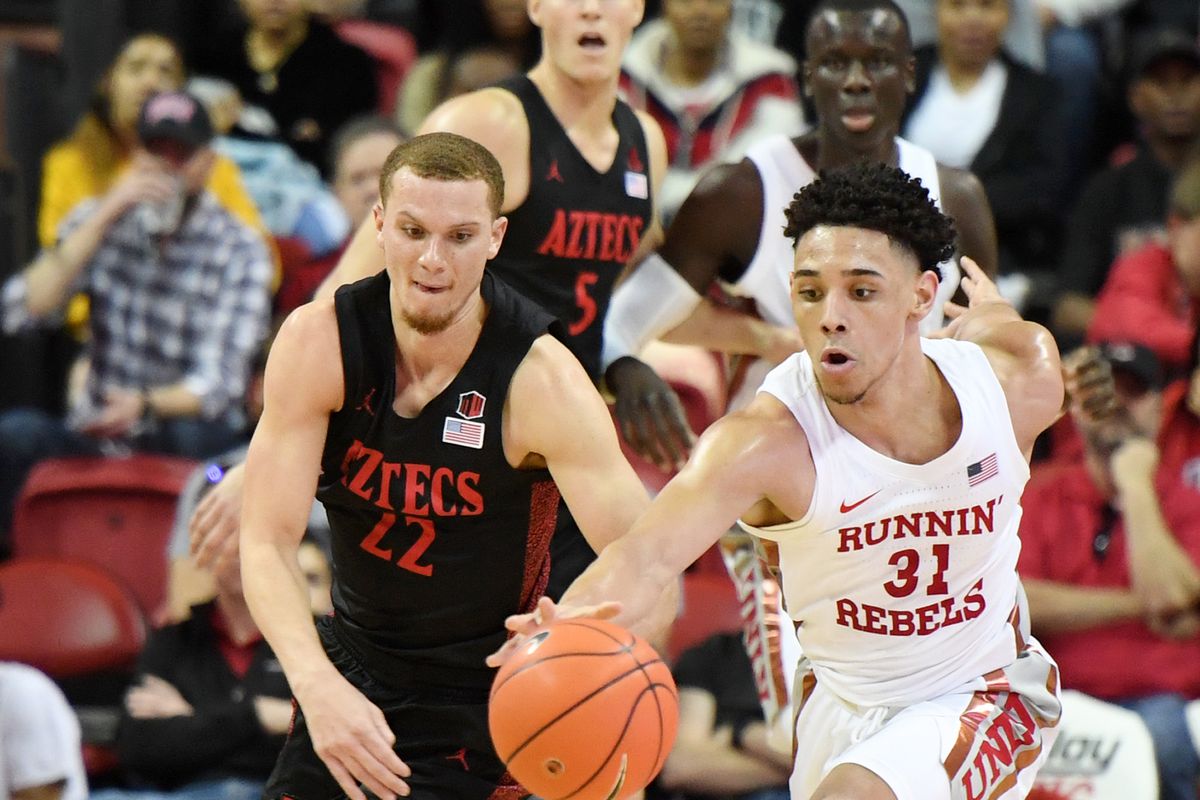 The Top 5 in the College Basketball AP Pool hasn't been a safe space for many teams. The #1 ranking has been passed around like a hot potato, while it seems like Top-5 teams are under constant assault from non-ranked opponents.
The #2 Gonzaga Bulldogs have a tough West Coast Conference road game at San Francisco. Meanwhile, inconsistent Texas Tech visits #3 Kansas, where the Jayhawks are 10-1 this season. Utah State is trying to derail the #4 SDSU Aztecs' undefeated season.
Saturday College Hoops
#2 Gonzaga at San Francisco
Texas Tech at #3 Kansas
Utah State at #4 San Diego State
Creighton at #8 Villanova
#13 Kentucky at #17 Auburn
#20 Colorado at USC
Cornell at Yale
In Big East action, Creighton could surprise #8 Villanova if Jay Wright's team overlooks the Blue Jays.
#20 Colorado has been stuck in the back end of the Top 25. They might get knocked out of the Top 15 after an upset loss to UCLA last night. They can save face with a win over USC on Saturday.
Yale is fighting to win another Ivy League berth to March Madness. They have two fairly easy games this weekend, but can't overlook their inferior opponents with a huge game against Harvard looming next weekend.
SDSU 23-0?
Utah State (17-6) at #4 San Diego State (22-0)… Utah State hit the skids in early January with a 1-4 clip after losing three in a row. The Aggies won three straight games since then. SDSU picked off Utah State in Logan, Utah, which is one of the loudest and most-obnoxious arenas in the country. If the Aztecs won in hostile territory, then they shouldn't have a tough time on the home court. SDSU is 13-0 at home this season. They're also 11-0 in Mountain West conference play. The over is 7-3 in SDSU's previous 10 games. Utah State is 3-7 ATS in their last 10 road games.
Zags Look to Extend Win Streak to 15
#2 Gonzaga (22-1) at San Francisco (16-7)… Gonzaga won 14 games in a row since they were upset by Michigan in the Bahamas. The Zags are 8-0 in the WCC this season. Heck, if the WCC were better, they'd probably be the #1 ranked team in the country. The San Francisco Dons are no slouch with an 11-3 home record. The Zags better be careful and not get mugged on the streets of San Francisco. The Dons are 6-11-1 ATS in their last 18 games. The under hit in 11 out of their previous 16 games. The over is 15-2 in Gonzaga's last 17 games. The Zags are 5-1 ATS in their last six WCC games.
Smart Kids Ballin'
Cornell (4-11) at Yale (14-4)… The Ivy League plays their basketball games on the weekends. That means the entire league is forced to play back-to-back games. The Saturday games are challenging, especially for the road team, facing a second game with a short turn-around time and commuting long distances in New England via buses. Yale hosts both games of this weekend's back-to-back with Columbia (6-12) rolling into New Haven on Friday. If you don't know, Yale is 13-3 ATS this season. Jimmy Boeheim, a 6-foot-8 junior swing man, leads Cornell with 18.6 points and 6.3 rebounds per game. If the name looks familiar, it is. Jimmy is the son of Syracuse's legendary coach Jim Boeheim.
Birds vs. Cats
Creighton (16-5) at #8 Villanova (17-3)… Creighton is seeking to avenge a 5-point loss in early January. The Blue Jays blew a halftime lead and choked in crunch time. Nova's Collin Gillespie dropped 24 points, including a crucial 3-pointer to knock off Creighton. Nova's defense shut down Creighton's leading scorer, Ty-Shon Alexander. If Creighton wants to pull off an upset in Philly, Alexander will need to shoot better than his 2-for-10 effort in their previous meeting.
Big 12 Scrum
Texas Tech (13-7) at #3 Kansas (17-3)… Texas Tech is one of those teams where you can't figure out if they're ready to turn things around, or ready to knock themselves out on the March Madness bubble. They lost four of their last six games. A victory at Kansas would certainly help their cause by propelling them back into the Top 25. Kansas is 11-4 ATS in their last 15 games, including a win against Kansas State in the infamous brawl game. The under is 14-6 for Kansas this season. The under hit in eight out of Kansas' previous 10 games.
Wildcat Bowl
#13 Kentucky (16-4) at #17 Auburn (18-2)… Another SEC cat fight between the Kentucky Wildcats and the Auburn Wildcats. Bruce Pearl seems like he's got Auburn back on track after losing two in a row two weeks ago. Auburn has yet to lose at home with a 14-0 record. Auburn is 2-5 ATS in their last seven games. Kentucky won four straight, including an overtime thriller against Texas Tech. Nick Richards, a rare upperclassman and 6-foot-11 junior big man, leads UK with 14.4 points, 8.3 rebounds, and 2.4 blocks per game. John Calipari's young Kentucky squad is 9-11 ATS this season. They're 2-4 ATS in their last six games. The over hit in eight out of Kentucky's last 10 games.
Colorado Buffs Melting in SoCal
#20 Colorado (16-5) at USC (17-4)… Oregon is the best team in the Pac-12, which isn't saying much. Colorado is the only other ranked team from the Pac-12 in the Top 25, and even that might be in jeopardy. The Buffs lost to UCLA (11-10) by four points on Thursday in a game they should have won, but failed to close out. If Colorado wants to stay in the Top 25, they need a win at USC. The Trojans are currently in second place in the Pac-12 with a 6-2 conference record. USC is 11-2 in their last 13 games, with road losses against Oregon and Washington. USC is tough to beat at home with an 11-1 record in Los Angeles. The Trojans are 9-4 ATS in their last 13 games.