A late steal and an ensuing block at the buzzer led to a brawl at the end of Kansas' 81-60 win over Kansas State on Tuesday, with at least one player suspended indefinitely for his role in the melee.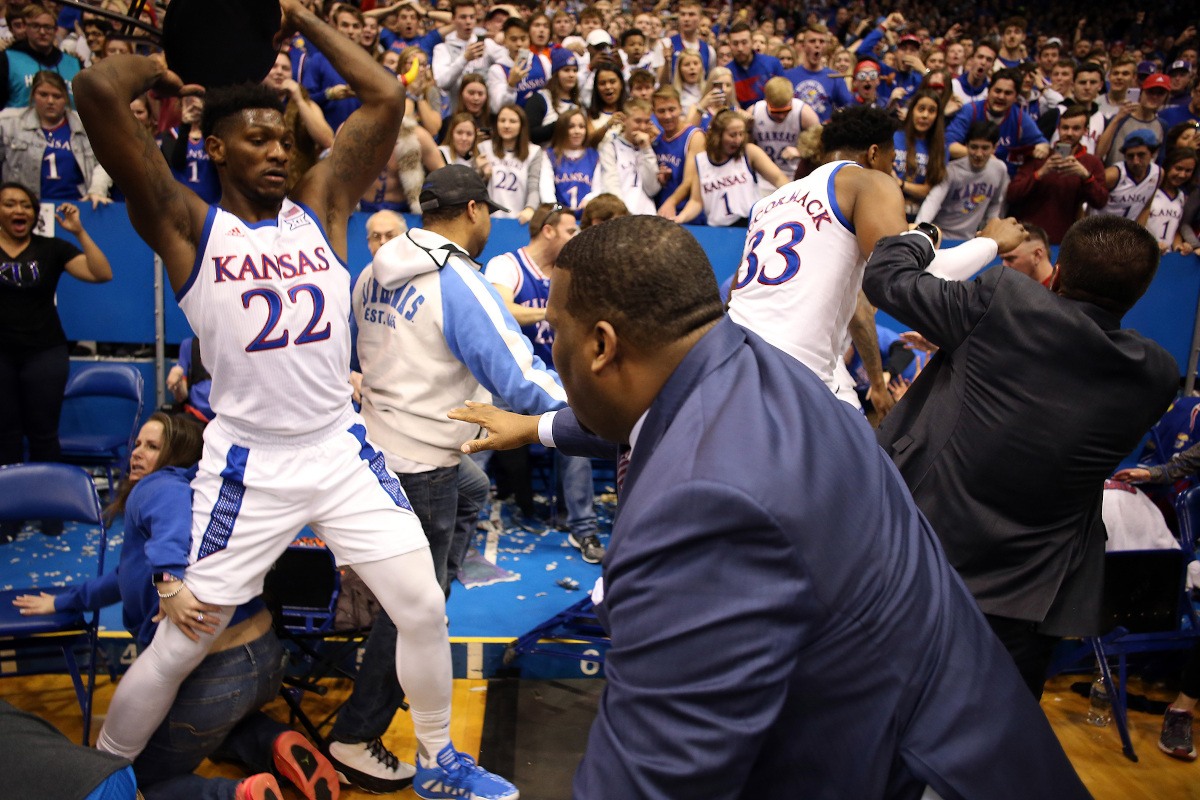 The sequence began when Kansas forward Silvio De Sousa began attempting to dribble out the final seconds of the second half. Wildcats freshman DaJuan Gordon stole the ball from De Sousa, then went in for an essentially meaningless layup. De Sousa followed the play, however, and emphatically blocked the shot out of bounds as time ran out.
Last Second Steal, Block Escalates to All-Out Brawl
De Sousa then stood over Gordon and taunted him, resulting in a technical foul. Players on the floor immediately starting pushing and shoving, leading to bench-clearing brawl that saw punches thrown by De Sousa and others. De Sousa also picked up a stool and held it about his head until an assistant coach grabbed it from him.
Benches emptied at the end of the Kansas State-Kansas game. pic.twitter.com/zWv46h3RJC

— ESPN (@espn) January 22, 2020
It took minutes for coaches and police officers to break up the fight and send the teams to the locker room. Officials then had to put one-tenth of a second on the clock and get five players from each team back on the court so that Kansas State could shoot technical free throws before the game officially ended.
After the game, both coaches acknowledged that their teams played roles in escalating the brawl.
"It's probably my fault," Kansas State coach Bruce Weber said afterwards. "I had told them not to foul. I had told them to back off, but the kids are young guys. They want to play hard. They were disappointed and frustrated. You don't want to take that fire out of their belly. You have got to handle it right. I guess it created a bad thing."
While Weber had instructed his players to back off in the final seconds, Kansas coach Bill Self said that since the clock was still running, the Wildcats had the right to play to the final whistle. Similarly, while Gordon had every right to react by blocking the shot following the steal, the taunting and everything that followed it was uncalled for.
"It's not something to be proud of," Self told reporters. "What happened showed zero signs of toughness. It's a sign of immaturity and selfishness more so than toughness."
Kansas Suspends De Sousa Pending Investigation
On Wednesday, Self released a statement saying that De Sousa would be suspended indefinitely by the team prior to any punishment handed down by conference officials.
"I have suspended Silvio De Sousa indefinitely pending the final outcome of the review by KU and the Big 12 Conference," Self said in the statement. "As I said last night, we are disappointed in his actions and there is no place in the game for that behavior."
De Sousa missed last season for his role in an ongoing FBI investigation into fraud and recruiting violations in college basketball. The junior was expected to sit out this season as well, but Kansas was able to successfully appeal the decision, which allowed De Sousa to rejoin the team. The NCAA also charged Kansas and Bill Self with several violations, including a lack of institutional control.
Kansas is among the favorites to win the national championship this year. FanDuel Sportsbook lists the Jayhawks as a +1100 pick to win a title this season, making them the joint second choice along with Louisville behind Gonzaga (+1000).