The Kansas Jayhawks (9-2) did not hold on to the #1 ranking in college basketball for very long after a 56-55 loss to the #18 Villanova Wildcats (9-2).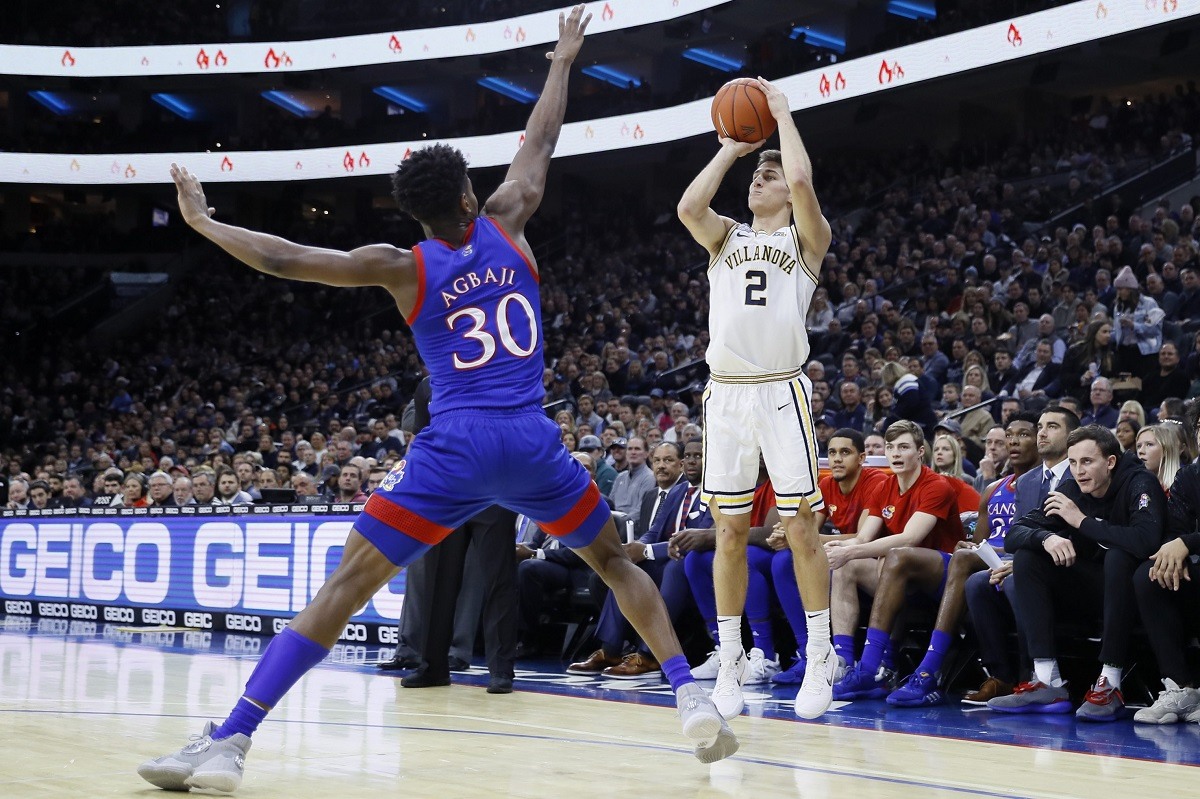 According to ESPN Stats and Information, "The five losses by an AP No. 1 team are the most in a single season before Jan. 1 in the poll era."
Kansas had won nine games in a row since dropping the opening game of the season 68-66 to #4 Duke. Both of Kansas' losses this season were by a margin of one score.
College Hoops #1 Team Losses
11/5/19 #2 Kentucky 69, #1 Michigan State 62
11/12/19 Evansville 67, #1 Kentucky 64
11/26/19 Stephen F. Austin 85, #1 Duke 83 (OT)
12/10/19 Texas Tech 70, #1 Louisville 57
12/21/19 #18 Villanova 56, #1 Kansas 55
The curse of the #1 college basketball team in America continues this season. The Kansas Jayhawks became the fifth team in the top spot of the AP Top 25 Poll to fall since the season began. Kansas joined Michigan State, Kentucky, Duke, and Louisville as the former #1 teams who lost this season shortly after earning the top ranking. Only Duke and Louisville managed to hold on to their top ranking for a second week before they fell.
"It's one of those years," said Villanova coach Jay Wright. "There isn't one team that's dominant."
Jayhawks Lose Cat Fight
The Villanova Wildcats were a +2.5 home dog in Philadelphia against the visiting Kansas Jayhawks. Both teams started out slow and sluggish during an ugly offensive showing that resulted in an 18-18 halftime score.
Marcus Garrett, a 6-foot-5 guard, left the game midway through the first half after he suffered an ankle injury. He did not return
"He's our toughest kid, so if he says he can't play, it's probably not good," said Kansas coach Bill Self. "I don't think that it is going to be something that, hopefully, drags out to conference play, but we don't know yet."
Kansas blew a four-point lead late in the second half against Villanova. Collin Gillespie, a junior point guard from Nova, converted a layup off a steal to cut the deficit in half. Jermaine Samuels, a junior swing man, knocked down a three-pointer to put Nova ahead by one point.
Devon Dotson, the Jayhawks leading scorer averaging 19.2 ppg, missed the potential game winner. When the buzzer sounded, Villanova won a one-point game against Kansas and knocked off the #1 team in the country.
"Devon actually got a decent look," said Self. "He was off-balance a little bit, but that was about the best we could hope for in that situation."
Dotson finished with 15 points on 5-for-15 shooting. Kansas big man, Udoka Azubuike, added 12 points and 11 rebounds for his fourth double-double of the season.
Samuels led Villanova in scoring with 15 points. Gillespie added 12 points in the victory.
Who Will Be Next #1?
Gonzaga, who were ranked #2 in last week's pool, crushed Eastern Washington 112-77 on Saturday. The Bulldogs improved to 13-1 on the season with their sole loss against Michigan in the Battle 4 Atlantis tournament in the Bahamas. Gonzaga is expected to take a turn at #1 when the newest AP Poll comes out.
Louisville dropped to #3 after they lost to Texas Tech. They defeated Miami (Ohio) in a 24 points blowout the other night. The Cardinals improved to 11-1 and won both their games since the loss to Texas Tech. Louisville will probably move up one spot to #2. They have a huge rivalry game looming against #6 Kentucky on December 28.
The #4 Duke Blue Devils (10-1) recently destroyed the Wofford Terriers in a 31-point thumping. The big question remains whether or not Kansas will fall behind Duke after their loss to Villanova. Duke won four in a row since suffering a shocking loss to Stephen F. Austin, which was one of the worst upsets in college basketball in the 21st Century.