The University of Kansas received a notice of allegations from the NCAA on Monday that outline five, Level I violations, including a lack of institutional control.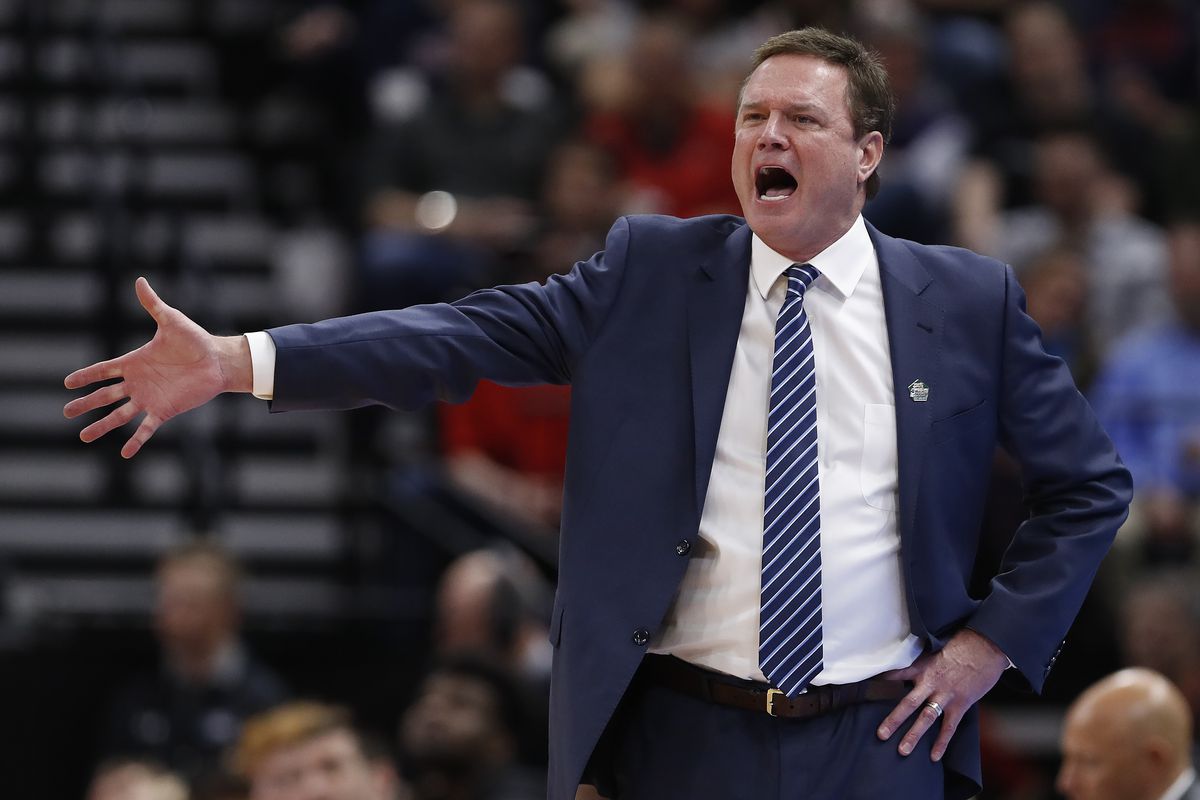 Kansas basketball coach Bill Self was also hit with an accusation of head coach responsibility violations, while the Jayhawks' football program has been charged with two less serious Level II violations.
NCAA Looks at Kansas, Adidas Connections
The accusations are part of the fallout from a federal investigation into bribes and corruption in college basketball, a probe that centered on apparel company Adidas.
Former Adidas consultant, T.J. Gassnola, was sentenced to probation and fined for his role in the scandal earlier this month. In closing arguments in a case last October, a lawyer representing former Adidas executive James Gatto said his client approved a $20,000 payment to the guardian of Kansas basketball player, Silvio De Sousa, after Self and assistant coach Kurtis Townsend asked Gassnola for such a payment.
Gassnola himself testified that he paid De Sousa's guardian $2,500, though he denied the $20,000 payment. Texts between Gassnola and Self about Adidas' efforts to help Kansas recruit players were also introduced as evidence in the federal corruption cases.
Kansas and Adidas have a long-term sponsorship agreement, and the relationship between the Jayhawks coaching staff and the shoe company plays a central role in the NCAA allegations against the school.
NCAA vice president Stan Wilcox has said that at least six schools will be receiving notices of Level I allegations in relation to the corruption probe. NC State was the first to receive such a notice, receiving two violations, while Kansas is the second.
Other schools that were involved in the federal investigation included Arizona, Auburn, Louisville, LSU, South Carolina, and USC.
Self Strongly Denies Allegations
The crackdown could help the NCAA show its serious about policing high-profile programs in the same way that rank-and-file schools are punished for rules violations. But Self has vigorously denied all of the charges against him, saying the NCAA is looking to make an example of him and Kansas rather than pursue any actual justice.
"By the NCAA's own admission through its public statements early this summer, it's no secret that there is tremendous pressure on the NCAA to respond to the federal court proceedings involving college basketball," Self said in a statement. "In its haste and attempt to regain control, the enforcement staff has created a false narrative regarding me and our basketball program…I will strenuously defend myself and the program, but I will respect the process and will not speak to the details of the case."
Self has been tremendously successful as the head coach for Kansas. Since taking over in 2003, Self has compiled a 473-106 record. The school has reached the NCAA Tournament every year during his tenure, winning or sharing 14, Big 12 regular-season titles, and winning the 2008 NCAA championship.