The Orlando Magic hit paydirt with the #1 pick in the 2022 NBA Draft, and Jabari Smith from Auburn is the betting favorite at DraftKings at -125 odds, followed by Chet Holmgren from Gonzaga at +150 odds.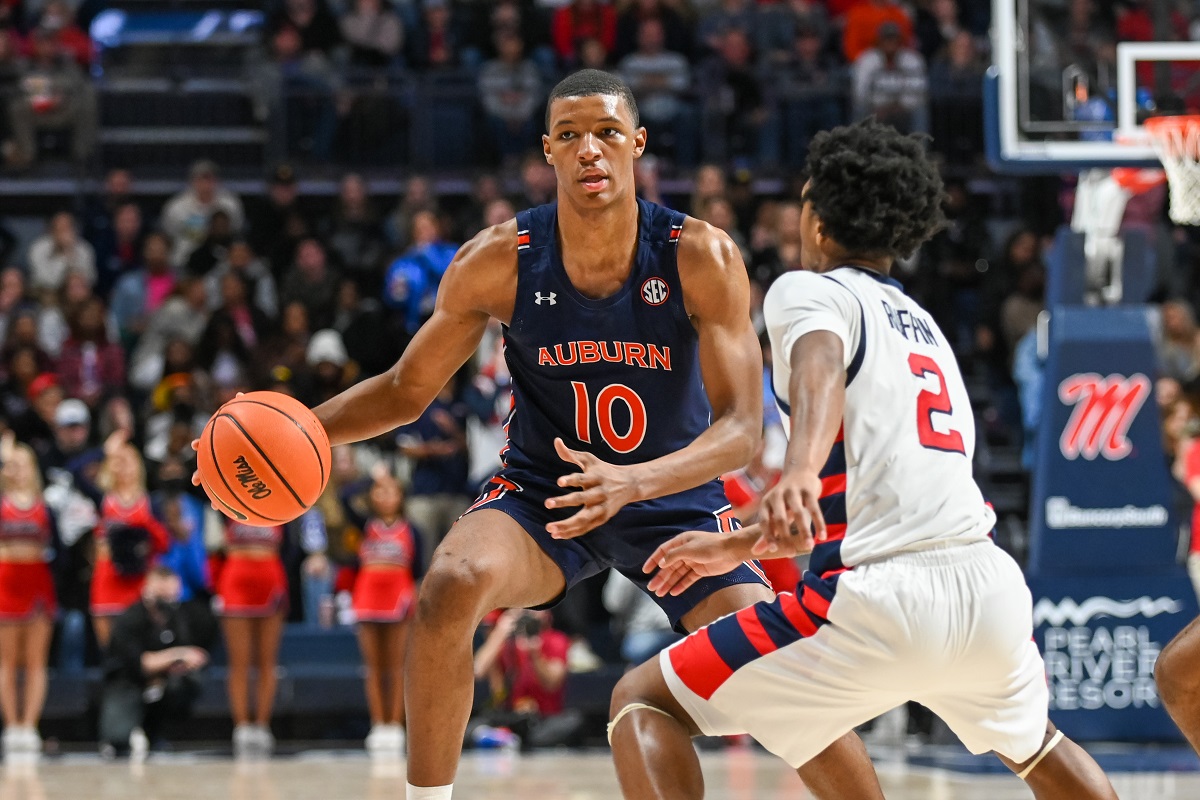 The Magic hit the jackpot last night when they officially won the Draft Lottery and secured the rights to the #1 pick. This is the fourth time that the Magic were awarded the top pick in the draft. The Magic previously selected Shaquille O'Neal, Chris Webber, and Dwight Howard with the #1 pick.
2022 NBA DRAFT #1 PICK ODDS
Jabari Smith (Auburn) -125
Chet Holmgren (Gonzaga) +150
Paolo Banchero (Duke) +450
Jaden Ivey (Purdue) +4000
Shaedon Sharpe (Kentucky) +5000
Keegan Murray (Iowa) +20000
Bennedict Mathurin (Arizona) +20000
AJ Griffin (Duke) +20000
Johnny Davis (Wisconsin) +30000
Jalen Duren (Memphis) +30000
Tyty Washington (Kentucky) +35000
Ochai Agbaji (Kansas) +35000
Dyson Daniels (G League) +40000
Tari Eason (LSU) +40000
Marjon Beauchamp (G League) +50000
Jaden Hardey (G League) +80000
Nikola Jovic (Mega Basket) +80000
---
This year's NBA Draft — which consists of two rounds — will take place at Barclay's Center in Brooklyn on June 23.
Last year, the Detroit Pistons secured the #1 pick and selected Cade Cunningham out of Oklahoma State.
Magic and Thunder: Smith or Holmgren
The humongous question everyone in central Florida on everyone's mind: will the Orlando Magic select Jabari Smith or Chet Holmgren with the #1 pick in the 2022 NBA Draft?
Smith is the betting favorite at -125 odds to add his name to an impressive list of NBA players that were the #1 pick in the draft. Smith, a 6-foot-10 forward, averaged 17.1 points and 6.9 rebounds per game as a freshman at Auburn. He also shot an impressive 43.6% from 3-point range. Smith has drawn comparisons to Harrison Barnes and Michael Porter, Jr.
Holmgren, a true 7-footer from Gonzaga, averaged 14.2 points, 9.6 rebounds, and 3.6 blocked shots as a freshman. He also knocked down 41.2% of his 3-pointers. Holmgren is super skinny and he'll have to bulk up if he does not want to get thrown around like a rag doll. One scout dubbed Holmgren the "Mini Unicorn" as a smaller version of Kristaps Porzingis.
The Oklahoma City Thunder secured the #2 pick in the draft, and they'll have an easy choice by selecting whomever the Magic do not pick — either Smith or Holmgren. Of course, Duke star Paolo Banchero could enter the mix, then the Thunder will be faced with another decision to pick Banchero or Smith/Holmgren.
Blue Bloods: Paolo Banchero, Shaedon Sharpe, AJ Griffin, Tyty Washington
Duke has two players that should get drafted in the top ten with Banchero and AJ Griffin. My brother nicknamed Banchero as the "Italian Jayson Tatum" during Duke's run to the Final Four during the 2022 March Madness tournament. Banchero, a 6-foor-10 forward, averaged 17.1 points and 7.7 rebounds per game during his lone season at Duke. Scouts compared him to Chris Webber and Julius Randle. Banchero is +450 odds to become the #1 pick, but he's third on DraftKings's 2022 NBA Draft board.
AJ Griffin only averaged 10.3 ppg as a freshman at Duke. But the 6-foot-6 swingman reminds a lot of scouts of Jaylen Brown and Jimmy Butler, which is impressive company.
Kentucky is known as "One and Done U" these days. Shaedon Sharpe and Tyty Washington  are the latest prospects to spend a short stint in Lexington under coach John Calipari. In the case of Sharpe, he didn't actually play in a single game. Sharpe, a 6-foot-6 guard, enrolled at Kentucky this spring with intentions to play for the Wildcats for the 2022-23 season, but he declared for the 2022 NBA Draft without suiting up once for UK.
Washington is a 6-foot-3 guard who averaged 12.2 points and 4.1 assists per game as a freshman. He's often compared to former UK-star Immanuel Quickley, who currently plays for the New York Knicks.
Ochai Agbaji, a 6-foot-5 guard from Kansas, is one of the rare seniors that's slated as a lottery pick. The 22-year old guard averaged 19.8 points for Kansas, while shooting 41.1% from 3-point land.
Big Ten Sophs: Jaden Ivey, Keegan Murray, Johnny Davis
The Big Ten has a trio of super sophomores that could get selected in the top five of the 2022 NBA Draft. That includes Jaden Ivey from Purdue, Keegan Murray from Iowa, and Johnny Davis from Wisconsin.
Jaden Ivey, a 6-foot-4 guard, averaged 17.2 ppg during his sophomore season with Purdue. Victor Oladipo comes to mind when watching Ivey hoop it up. One scout compared him to Donovan Mitchell as a guard that can light it up. Ivey is fourth on the board at DraftKings, but he's +4000 odds to get picked #1.
With a name like Johnny Davis, he sounds more like an old-school Wisconsin running back than a potential top five lottery pick. Davis, a 6-foot-5 guard, averaged 20 ppg and 8.1 rebounds as a sophomore. Scouts love his defensive tenacity and he's often compared to Khris Middleton.
Keegan Murray, a 6-foot-8 forward, averaged 23.3 points and 8.6 rebounds per game as a sophomore at Iowa. Murray reminds scouts of TJ Warren, Al Horford, or Pascal Siakim.
Long Shots: Dyson Daniels, Nikola Jovic, Jaden Hardey
A couple of players from the NBA developmental league aka the G League are long shots to get selected #1. They will most likely go somewhere in the first round, but save your money on wagering on Dyson Daniels (+40000), Marjon Beauchamp (+50000), or Jaden Hardey (+80000) as the #1 pick in the upcoming NBA Draft.
Keep an eye on Nikola Jovic. The British-born Serbian player is a long shot at +80000 odds to go #1, but he's been rapidly rising on mock draft lists. Jovic had a strong season playing pro ball with Mega Basket in Belgrade, Serbia in the Adriatic Basketball Association. Jovic earned a prestigious honor as the ABA's top prospect. NBA.com conducted a survey of general managers and they voted Jovic as the top international player.
Jovic had a late growth spurt, so he's a 6-foot-10 big man with serious guard skills. The Ringer compared him to Italy's Danilo Gallinari, but the 19-year-old has some raw talent that's worthy of a flier for a team that has the opportunity to develop the next overseas superstar. These days, everyone is looking for the next Nikola Jokic or Luka Doncic.