Nikola Jokic from the Denver Nuggets became the first player in NBA history to score 2,000 points, pull down 1,000 rebounds, and dish 500 assists in a single season, making him the lone member of the newly-minted 2K/1K/500 club.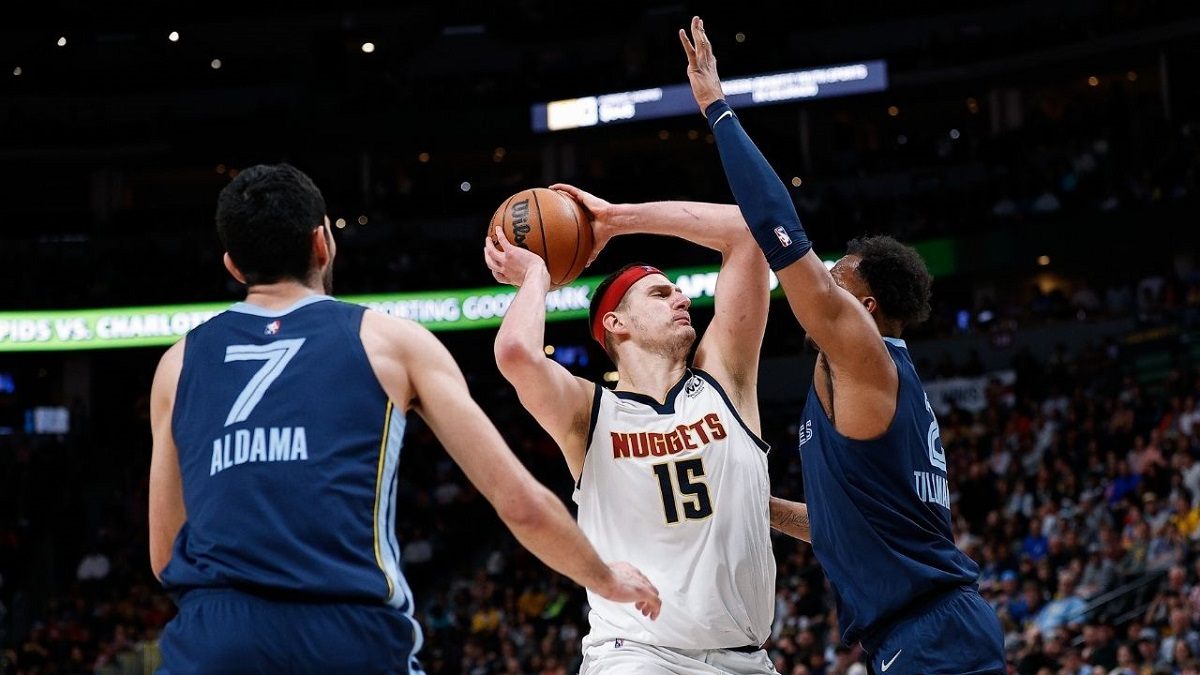 Jokic passed 1,000 rebounds for the first time in his career after recording 16 last night in a victory over the Memphis Grizzlies. It was a sensational evening for Jokic, who scored a game-high 35 points and added 16 rebounds, six assists, four steals, and one block.
"Joker? Dude is really great at basketball," said Denver teammate Bones Hyland.
Meanwhile, Jokic has the inside track to winning back-to-back MVP awards in one of the closest races in the last 20 years against Joel Embiid from the Philadelphia 76ers. Embiid finished a close second to Jokic in an ESPN straw poll of MVP voters. But after a hot run by Jokic in the final week of the season, the reigning MVP is now -320 odds to win the MVP versus +220 odds for Embiid.
"The MVP isn't even a competition," said Nuggets coach Michael Malone. "He was good last year, and he's even better this year. "
In April, Jokic is averaging 38 points, 17.5 rebounds, 6.0 assists, and 2.3 steals per game. Overall this season, Jokic averages 27.1 points, 13.8 rebounds, and 7.9 assists per game. His PER rating of 33.02 is top in the NBA.
The Nuggets are 48-33 and sit in sixth place in the Western Conference standings, just a half-game behind the slumping Utah Jazz in the #5 seed. If the Nuggets can pass the Jazz, they'll avoid a first-round matchup against the #3 Golden State Warriors and play the #4 Dallas Mavericks instead.
Good morning. Check out these "advanced stats" from Jokic:

— First 2000/1000/500 season ever

— First to average 25/13/6 in a season ever (he's averaging 27/14/8)

— First player in top 10 PPG, RPG, APG, FG% in last 50 seasons pic.twitter.com/9rXYm4BzS1

— StatMuse (@statmuse) April 8, 2022
Jokic: 2K/1K/500
There's a reason why no one has reached the 2K/1K/500 club before Jokic. Not even Oscar Robertson and the Big O himself could tally such a momentous feat. It's because it's hard for big men to notch 500 assists, and it's even harder for guards to pass the 1,000-rebound threshold. Jokic is widely considered the best passing center in the NBA, and one of their best passing big men of all time.
Jokic is in the top eight in three major statistical categories this season, including points (8th), assists (8th), and rebounding (2nd).
---
| | | | | | | |
| --- | --- | --- | --- | --- | --- | --- |
| | Points | Rebounds | Assists | Steals | Blocks | FG% |
| 2020-21 | 26.4 | 10.8 | 8.3 | 1.3 | 0.7 | 56.6% |
| 2021-22 | 27.1 | 13.8 | 7.9 | 1.5 | 0.9 | 58.3% |
---
Jokic will win the MVP this season due to posting better numbers than he did last year. He's shooting 58.3% from the floor even though his 3-point shooting dipped a tad. He's hauling down three more rebounds per game this season, which is why he set a career-best and passed the 1K mark for the first time. His assists are down 0.4 per game, but that's because he's essentially all of the offense this year with two key starters out with injuries.
Jamal Murray missed the entire season while rehabbing a blown-out ACL. Michael Porter injured his back in the first couple of weeks of the season and had season-ending back surgery in late 2021. Without two max-contract players, Jokic carried the Nuggets all season.
"He's the MVP for a reason," said Memphis Grizzlies head coach Taylor Jenkins. "It's nearly impossible to guard. He's going to beat you from inside, outside, playmaking."