It was an elating-yet-disappointing morning in Semmering for Slovakian speed specialist Petra Vlhová.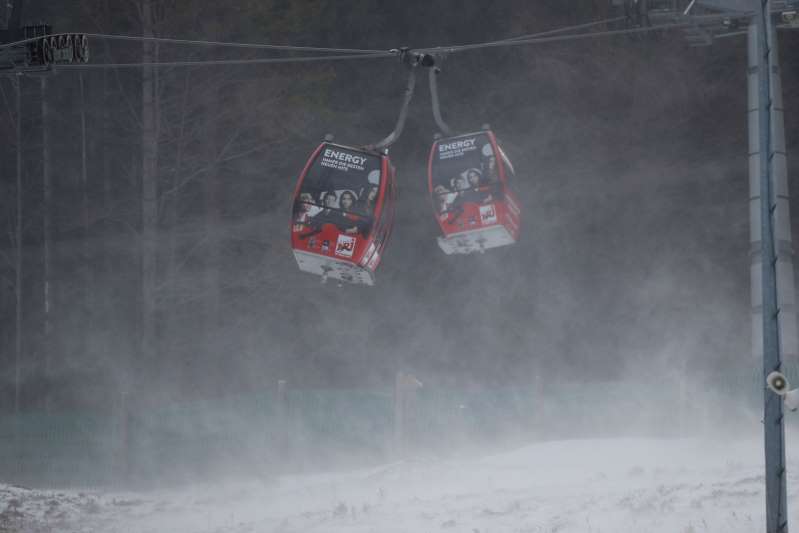 With a technically sound and fast bottom half of the course, she topped the leaderboard after the first run. But by the start of the second run, hurricane-force winds of up to 62 mph laid waste to the finish area with gusts blowing away safety fencing, rolling over sponsor banners, throwing inflatables up to the sky, and frying electronic timing equipment.
🚨BREAKING: today's Giant Slalom in Semmering cancelled due to strong wind 💨💨💨 #fisalpine pic.twitter.com/fm8L0C4JlI

— FIS Alpine (@fisalpine) December 28, 2020
By 1:25 p.m. local time, the second run was canceled.
"It's a really dangerous thing, even just staying in the finish area," said the International Ski Federation's (FIS) race director, Peter Gerdol.
Familiar Faces on Leaderboard After Run 1
After rumors that the racers may try to pick up the second run before Tuesday's slalom event, Gerdol said the grand slalom will be rescheduled at another venue during the season, noting "now it's too early to decide where and when."
Overall World Cup leader Vlhová came in at 1:02.15, 0.22s faster than Italy's Marta Bassino.
Michelle Gisin (+0.35), the 2018 Olympic gold medalist in PyeongChang, was a surprise third, and Mikaela Shiffrin at +0.59s was just off the podium in fourth.
Giant slalom series leader and reigning overall World Cup champion Federica Brignone couldn't find her speed and was 1.71 seconds off the lead in eighth place.
Night Slalom on Tuesday in Semmering Still On
Winds should subside Monday evening, and action will resume under the lights Tuesday as the women's slalom is scheduled on the same course at Semmering. Run 1 is set to start at 3.15 p.m. (1415 GMT), with Run 2 at 6.30 p.m. (1730 GMT).