William Byron dominated Saturday's Bristol virtual NASCAR race from the start, but the real action came from those that trailed him. Several crashes punctuated the contest, one of which led Bubba Wallace to quit before the end. It was a move that cost him a sponsor.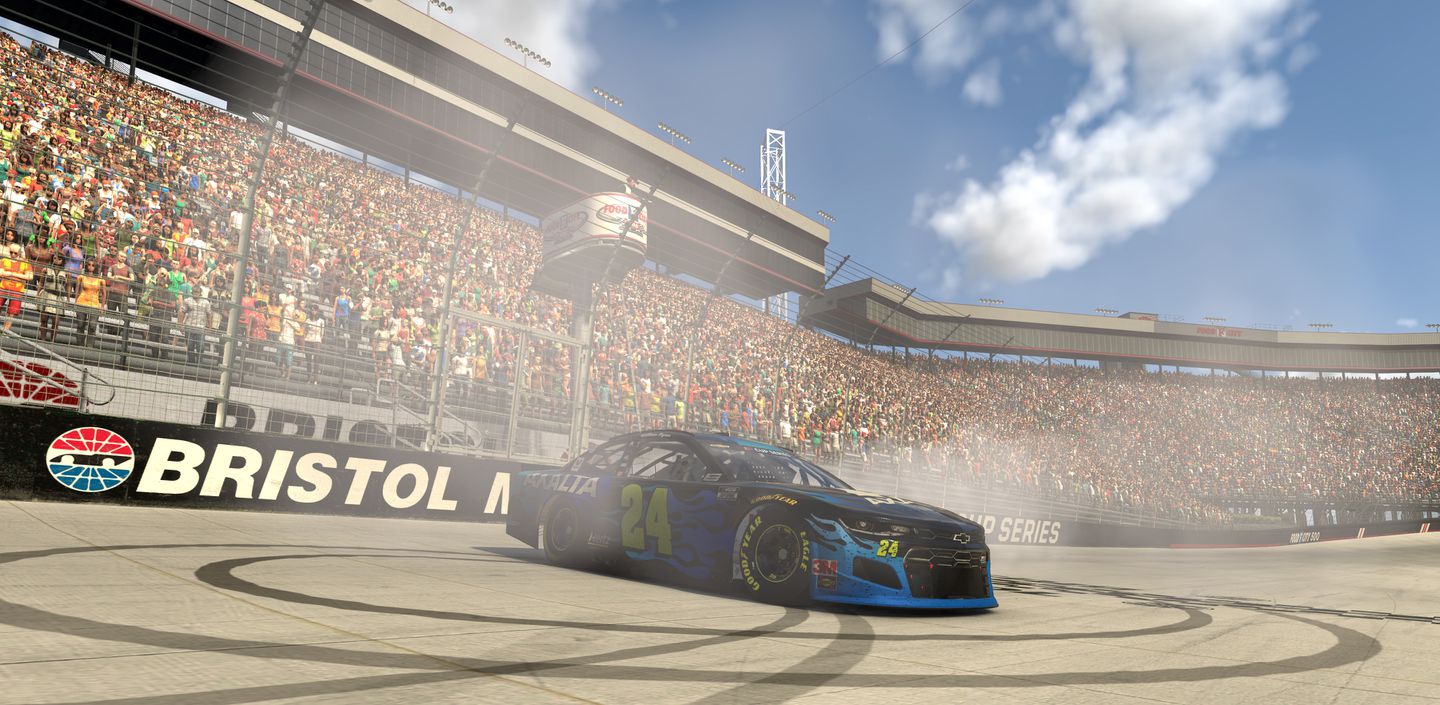 The format for the Bristol virtual race was a bit different from the previous two iRacing contests. NASCAR implemented single-car qualifying, then two, 50-lap heat races to determine race position.
Bristol Virtual Race Results, Odds
William Byron (7/1)
John Nemechek (30/1)
Timmy Hill (4/1)
Denny Hamlin (12/1)
Matt DiBenedetto (30/1)
Ryan Preece (12/1)
Parker Kligerman (15/1)
Tyler Reddick (40/1)
Garrett Smithley (7/1)
Michael McDowell (35/1)
Byron won the pole, and unlike in the previous two races, where he led a majority of laps but didn't win, took home the checkered flag after leading 116 of the 150 laps. Byron, a 7/1 pick to win, said after his victory that being familiar with the Bristol Motor Speedway helped in Saturday's virtual race.
"Some things are different, but a lot of things are similar, and this is a racetrack I've always enjoyed coming to," Byron said. "It's fun to have some pressure on iRacing. I usually just run it to have some fun and get better."
Wallace Quits Race, Loses Sponsor
While Byron was winning the Bristol virtual race in rather mundane fashion, there was plenty of drama occurring on other parts of the track. The biggest incident involved Bubba Wallace tangling with Clint Bowyer. After the incident, which knocked Bowyer out of the race, Bowyer joked about it.
Wallace apparently was a little miffed. He quit the race and then posted on Twitter.
"That's why I don't take this s*** serious. Bye bye. Peace out!" Wallace tweeted just before his stream went dark.
That didn't sit well with one of his sponsors, pain-relief brand Blue-Emu. They tweeted their displeasure with Wallace.
"Bye bye Bubba. We're interested in drivers, not quitters," someone on the company's account wrote.
They then dropped Wallace, pulling their sponsorship from the driver.
Virtual Crash Triggers Real Emotion
Wallace's wasn't the only noteworthy crash during the Bristol virtual race. Kyle Larson and Daniel Suarez tangled on the track. Suarez posted a tweet about the incident.
I was waiting for @iRacing to get him disqualified like i was last weekend in 5 seconds, but they never did… and by the way our "racing incident" was him pushing me to the apron… if this was real life my amigo would get his but kicked 🍑🤷🏻‍♂️ https://t.co/2Lyj7Xf53j

— Daniel Suárez (@Daniel_SuarezG) April 5, 2020
The reaction by fans towards Suarez was harsh. One follower said about Suarez's words, "But it's not real racing. If it was, Daniel Suarez would [be] 30 laps down and wrecking himself."