The first esports races in Formula 1 and NASCAR were run this weekend and were a success with both the drivers and the fans. With most of the sports world forced to the sidelines because of the coronavirus global pandemic, auto racing has been able to provide a safe, and by most accounts, entertaining, alternative with the virtual races.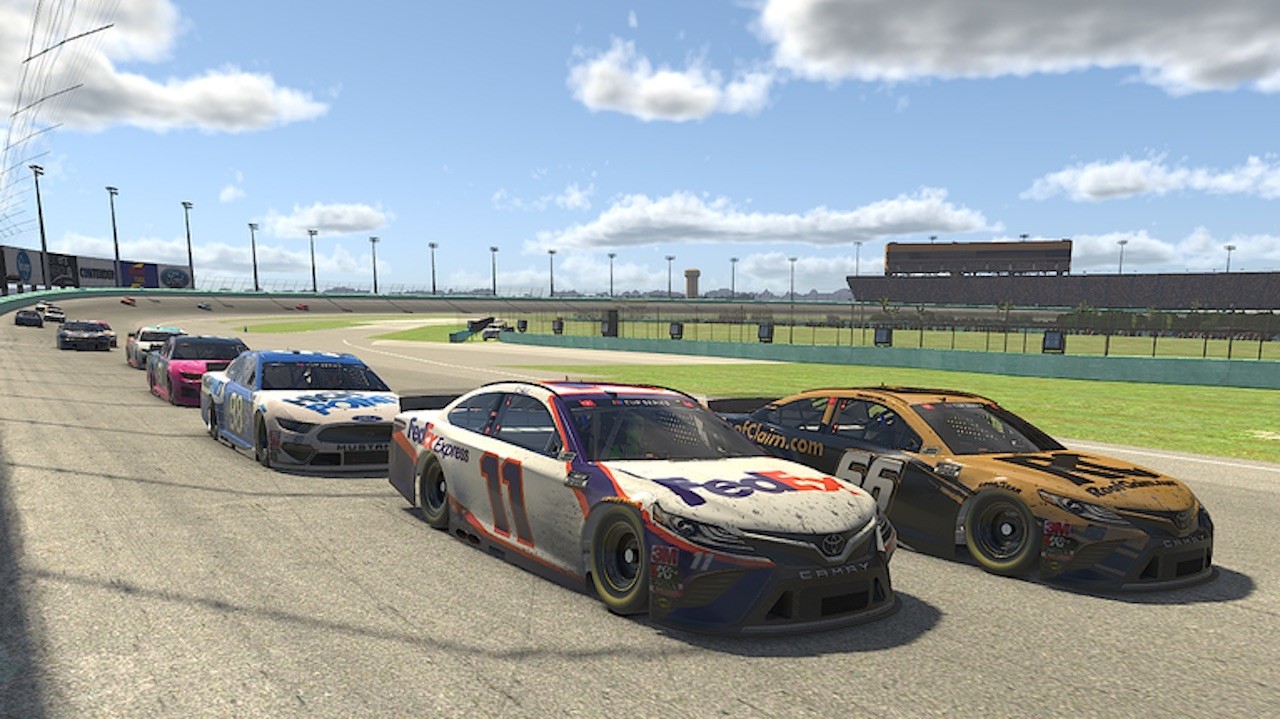 NASCAR driver Denny Hamlin won the eNASCAR iRacing Pro Invitational event, held Sunday at the virtual Homestead-Miami Speedway. He said afterward it was a success.
"People are talking about it," Hamlin said. "If we got five new fans that were just sitting at home watching TV today that thought it was exciting and [are] willing to tune in next week or willing to tune in to a NASCAR race or go to a NASCAR race because they got introduced to racing today by iRacing, it's a success. If you made positive gains in your audience, whether it be one person or 1,000, it's a good thing."
The race also satisfied gamblers who had something to bet on after a week of searching for any type of sports to place a wager on. Bovada had Hamlin as the 5/1 favorite to win the esports race.
Different Formats for Esports Races
The esports race for NASCAR and Formula 1 utilized different formats. The NASCAR esports race mostly had professional drivers. Retired Cup Series driver Dale Earnhardt Jr. was also thrown in with the group and finished second.
CHECK UP, @ClintBowyer!

The @NASCARONFOX booth tried to help the No. 14 through this crash at virtual @HomesteadMiami. pic.twitter.com/jwJEMt1kGC

— NASCAR (@NASCAR) March 22, 2020
The virtual Grand Prix, held at the virtual Bahrain track, was more of a celebrity pro-am format. Professional Formula 1 drivers like Nicholas Latifi and Lando Norris shared the virtual track with less-experienced racers like singer Liam Payne and professional golfer Ian Poulter.
The race was won by 20-year-old Renault test driver Guanyu Zhou.
Some of the most entertaining moments had nothing to do with the esports races. Formula 1 television analyst Anthony Davidson drove the 29 laps, but didn't realize the race had been restarted, so was basically driving around the track by himself.
NASCAR driver Alex Bowman needed a bathroom break during his race, so he enlisted his dog, Finn to take the wheel.
Clint Bowyer said the light-hearted moments were the point of the esport races, calling the event a great diversion for both drivers and fans.
"With everything going on in the country right now, I hope the fans were satisfied," Bowyer said. "I hope they got their minds off of things for a little bit. We will be back. I will be better and, I promise you, if you get on iRacing and get online, you're gonna see these boys, probably tonight, battling it out again."
Fans Tune In
If the fans have a vote, they apparently would like to see more esports races, which is good because, for now, they're the only races they will likely get to see. NASCAR races are postponed through the first week of May. Formula 1 is out of action through June.
Lando Norris reported several hundred fans following him on Twitch while he desperately tried to fix a computer glitch. He eventually got back in the race.
Several NASCAR drivers reported they had had thousands of likes and retweets of videos they put up on Twitter.
Twitter user EricS18_9 summed up much of the fans' reactions when he posted, "Can we do this next week it's a lot of fun!"