Robert Whittaker proved he's still a championship-caliber middleweight on Saturday, defeating Darren Till by unanimous decision in the main event of UFC Fight Night in Abu Dhabi.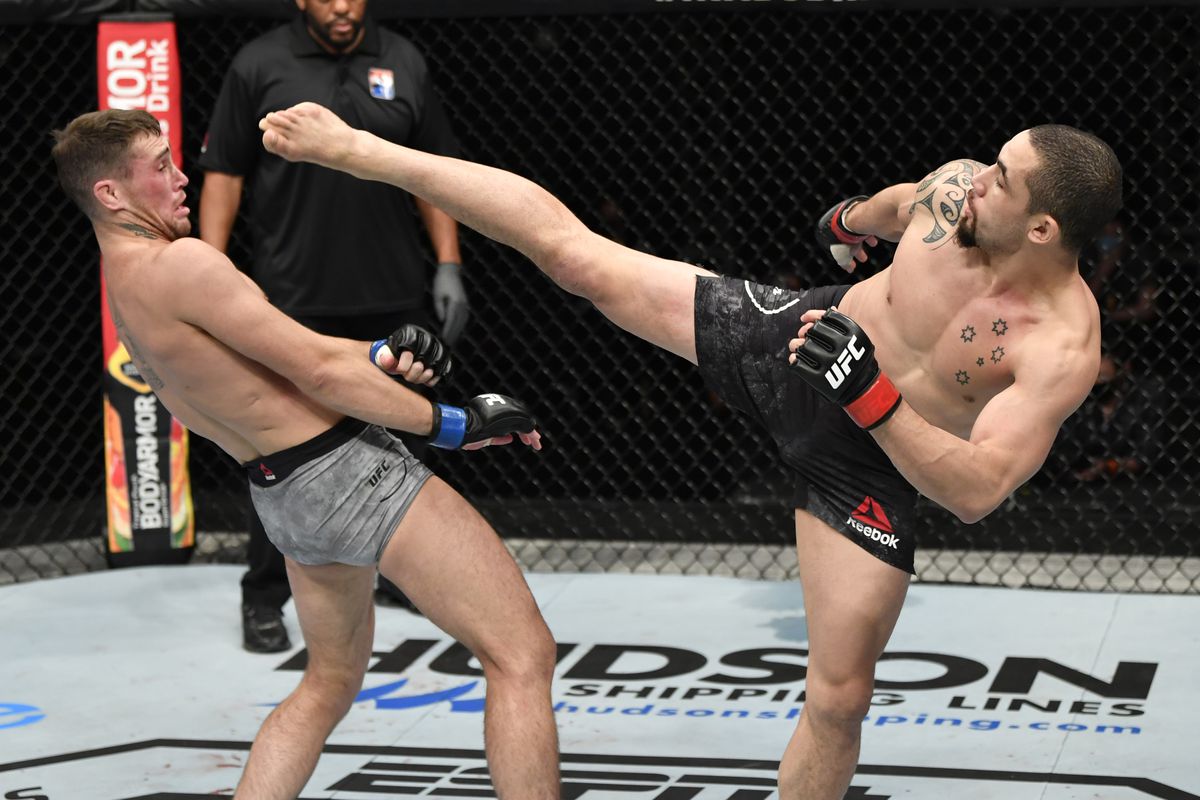 Till took the first round on all three cards, but Whittaker controlled much of the rest of the fight, winning 48-47, 48-47, 48-47.
Whittaker Praises Till for 'Technical' Fight
Whittaker (21-5) lost the UFC middleweight title last October when Israel Adesanya knocked out the former champion in the second round. But, Whittaker still occupies the No. 1 contender slot in the UFC rankings. The win over Till (18-3-1) should secure him an eventual shot at reclaiming his title after Adesanya takes on Paulo Costa at UFC 253.
"My brain is on overload," Whittaker said after the bout. "That fight was so stressful. Honestly, I hope the fans and everybody can appreciate it. For me, it was one of the most technical fights I ever had to fight."
Till scored a knockdown via an elbow in the first round. Whittaker got revenge in the second, dropping Till with a right and following it up with ground-and-pound strikes.
After the fight, Till said that a Whittaker kick blew out his right knee in the second round, and that he might need surgery.
"That was it then for the whole fight," Till said.
Despite the injury, Till was proud of his performance, though he didn't take anything away from Whittaker, either.
"I feel like we both won the fight," Till said. "I'm not saying I feel like I won it – we both won. It was a clinically great match."
Dean Blasts Commentator for 'Dangerous' Stoppage Call
Referee Herb Dean and color commentator Dan Hardy argued after a preliminary bout between Francisco Trinaldo and Jai Herbert on Saturday over the timing of a stoppage – and Hardy's reaction to what was happening in the ring.
Trinaldo knocked down Herbert with a punch in the third round of the fight. Herbert fell to the floor, and Trinaldo hesitated to throw additional strikes. But Dean allowed the fight to continue until Trinaldo landed several more punches, at which point the referee stepped in to stop the action.
Many observers believe Dean waited too long to call the fight, and that he failed to protect Herbert. Hardy was among them, yelling "stop the fight!" after Herbert fell to the ground. According to Dean, however, Hardy's scream could have been dangerous for the fighters.
"If you put on your Superman shirt and decide that you're the smartest person in the room – smarter than the physician and smarter than the corner who works with the guy and smarter than the referee – [there's a] chance you could bring in information that could do the fighter a disservice," Dean said in a video he posted to Instagram on Sunday. "Under no circumstances would I, even as a referee, get up and yell and tell another referee to stop the match."
Dean said he will post another video explaining how he makes decisions about hurt fighters. Still, Hardy said he thought Dean made two late stoppages on Saturday, which he called "clear negligence."
"When I make a mistake, I look stupid on live TV," Hardy said on social media. "When a referee makes a mistake, people are left vulnerable and can be seriously damaged."