Israel Adesanya unified the UFC middleweight title on Sunday in Melbourne, Australia, knocking out Robert Whittaker in the second round to remain undefeated for his MMA career.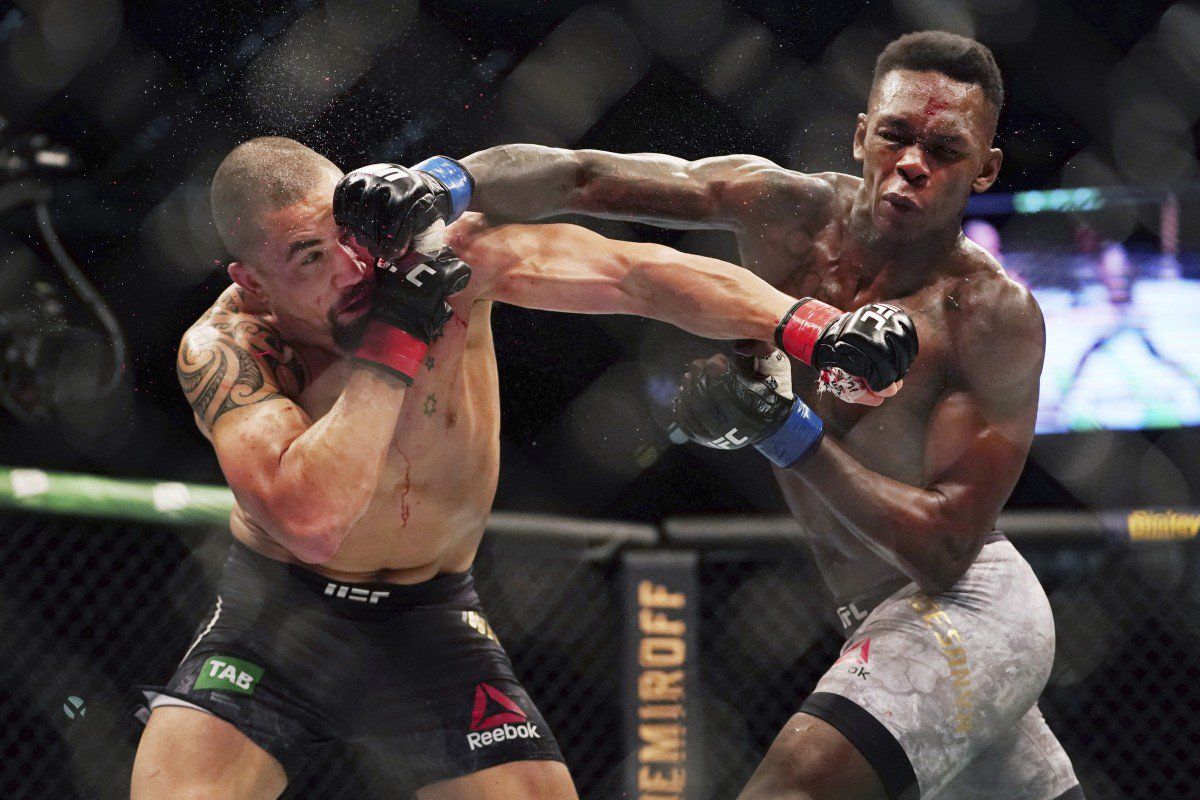 Whittaker (20-5) had been the official champion, but was coming off a period of inactivity during which, Adesanya (18-0) earned the interim middleweight title.
Adesanya Controls Fight From Start to Finish
Adesanya looked to be in control for most of the fight, which lasted just over eight and a half minutes in total. The fight nearly ended in the closing moments of the first round, when Adesanya landed a punch that dropped Whittaker to the mat. Some thought that Adesanya had won the fight, not realizing that the bell rang just has Whittaker hit the floor.
Whittaker put in a worthy performance, never backing down and finding occasional opportunities to get inside on Adesanya, who had a significant reach advantage. But Adesanya never looked worried, and took advantage of one of Whittaker's advances to score the finish. Avoiding a strike, Adesanya landed two big hooks on Whittaker, dropping him to the floor yet again. After following up the attack, the fight was quickly called off at 3:33 of the second round.
"I can take it and give it back," Adesanya said after the fight. "He's right, I hate to get hit. It's stupid to get hit. I'm tough and smart. And the end of the day, my team and I were smart."
Whittaker won the title from Yoel Romero in 2017. Due to injury and illness, Whittaker only fought once after that — a rematch against Romero that he also won. Because Romero failed to make weight for that fight, however, Whittaker's championship run technically ended without a successful defense.
After his win, Adesanya called out the man most expect to be the opponent for his first title defense: the undefeated Paulo Costa (13-0).
"You know who's next," Adesanya told the Melbourne crowd, which included Costa. "I have a heavy Ricky Martin wannabe next. 'Borrachinha.' This is my Octagon. I'm going to smash him."
Costa later responded to those comments during the post-fight show on ESPN+.
"I know he cannot handle it from me," said Costa. "He cannot handle it from me when I close the distance, and I can kill him."
McGregor Faces Assault Charges in Ireland
In other UFC news, Conor McGregor has been charged with assault for an April incident in which he punched a man at a pub in Dublin, Ireland. McGregor's punch – thrown at a man in his 50s – came during an event in which the fighter was promoting his whisky brand, Proper No. Twelve.
McGregor has since apologized for the incident.
"I was in the wrong. That man deserved to enjoy his time in the pub without having it end the way it did," McGregor told ESPN in August. "That's not who I am. That's not the reason why I got into martial arts or studying combat sports. The reason I got into it was to defend against that type of scenario."
McGregor has a court date in Dublin on Oct. 11. According to The Irish Independent, McGregor could face up to six month in prison and a fine of up to €1,500 ($1,650) if convicted for the assault.